It's arguably the best rivalry in hockey, maybe even sports in general. The battle of Pennsylvania between the Pittsburgh Penguins and Philadelphia Flyers has stood the test of time with no foreseeable end in sight. A quick look at social media heading into last night's matchup, the first meeting between the two clubs this season, will tell you all you need to know about how the fan bases feel about each other. The players that have been involved in this rivalry over the years feel the same way. They simply don't like each other.
Both the Penguins and Flyers have turned things around in a big way in recent weeks. While most outside of Philadelphia expected little of the Flyers heading into 2015-16, their struggles were still quite surprising when you consider the inability for players like Jakub Voracek to contribute on the score sheet. General manager Ron Hextall has his hands full but is slowly shedding the troubling contracts left behind by Philly's previous regime and, this may not be popular among my Pittsburgh readers, but he's doing some great things for that organization. And it's impressive to see them surging as of late, despite being in a partial rebuild and working with a lot of dead money on their cap.
The Penguins are no stranger to struggling stars either, but when you look at what Sidney Crosby, Phil Kessel and Evgeni Malkin have done under head coach Mike Sullivan's tutelage, it's pretty obvious that these guys aren't washed up, as some have indicated over the past few months. Speaking of Sullivan, the Flyers got their first taste of his Penguins and the result was far from what we've seen in recent history.
Flyers Evicted From Their Second Home
Consol Energy Center hasn't treated the Penguins well in matchups against Philadelphia. The Flyers were 13-3 heading into last night's contest, including playoffs. They were also on an eight-game winning streak vs. the Penguins. The Flyers have all but claimed ownership of Pittsburgh's building and they aren't shy about it.
Home sweet (second) home #PHIvsPIT pic.twitter.com/XldNMVAhCJ

— Philadelphia Flyers (@NHLFlyers) January 21, 2016
Last night, the teams followed a familiar script with Pittsburgh coming out strong, only to find themselves in the penalty box watching the Flyers' power play tally points. Philadelphia's power play, which was 27th in the NHL prior to last night, cashed in twice to put the Flyers up 2-0 in the first period. History tells us that the NHL could essentially cancel the remaining two periods, right? The Penguins would likely fold, falling victim to frustration and poor play, and the Flyers would leave Consol with another two points in the standings. Except, these Penguins are different.
The resiliency of this team since Sullivan took over has been quite impressive. As Dan Kingerski also points out at PittsburghPostGame.com, the Penguins have overcome three 2-0 deficits since their New Year's Eve game in Detroit. Last night will only add fuel to the fire that's burning in that locker room, as Pittsburgh finally chased the demons from Consol and escaped victorious over their most bitter rival. And, they did so in fairly convincing fashion.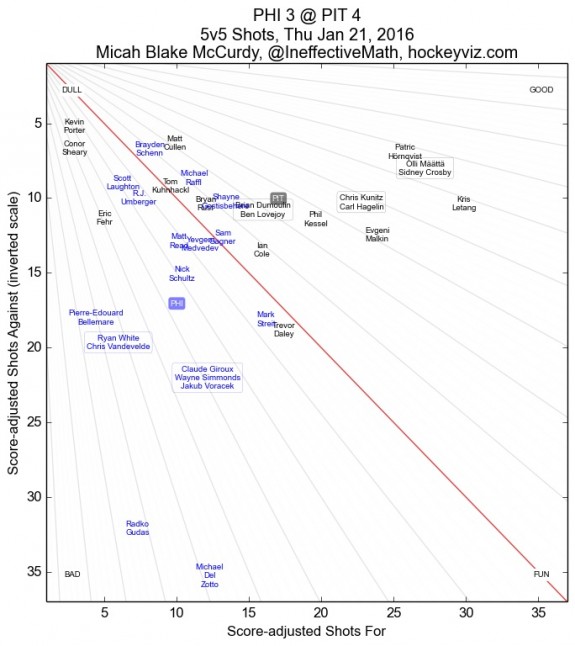 The above shot chart, courtesy of hockeyviz.com, shows just how dominant the Penguins were from a possession perspective. They owned the puck for most of last night's even-strength play, while holding the Flyers' most dangerous trio of Claude Giroux, Wayne Simmonds and Jakub Voracek to very few chances. According to War on Ice's matchup data, that trio faced Pittsburgh's top line of Crosby, Chris Kunitz and Patric Hornqvist for the most part, with the trios recording nearly 12 minutes against each other. The result? Giroux and company ended up with even-strength Corsi-for percentages ranging from 25-28 percent.
The most important storyline for me is Kessel netting two goals, one of which on the power play in a situation that we've seen him blunder quite frequently this season. Kessel has been holding his stick tightly, visually frustrated and second guessing himself. Last night, which saw him add another goal off a Carl Hagelin setup, will hopefully instill some confidence in him going forward. Crosby and Malkin are threats each and every time they take the ice. If Kessel can find the level he's capable of, the home stretch could be very fun to watch if you're a fan of the Penguins.
Another Major Test Awaits the Pittsburgh Penguins
Unfortunately for the Penguins, there isn't much time to celebrate this much-needed victory, as they have to prepare to face the class of the Eastern Conference on Sunday. Pittsburgh will travel to Washington to face a Capitals team that boasts the best record in the NHL on the back of stellar goaltending from Braden Holtby with a contest against the Vancouver Canucks sandwiched in between. The Canucks are 6-2-2 in their last ten and shouldn't be considered a slouch opponent. Also, stacking up wins against Metropolitan Division opponents is equally as important as finally dismissing the Flyers at home, but it won't be an easy task on Sunday.
While the Penguins wait to see if Sunday's game will indeed take place, considering a winter storm is set to drop record amounts of snow on the nation's capital, they need to mentally prepare themselves for another dogfight. They also need to do a better job of staying out of the box, as the Caps possess the league's best power-play unit led by none other than Alex Ovechkin. This is a great chance for the Penguins to prove they're ready to compete with the big boys and also an opportunity to close the gap on second place in the Metro. They have an opportunity to tally four points in the standings this weekend, and another Metropolitan Division win. It's up to them to build off the momentum from Thursday night.
Thanks for reading. As always, leave your thoughts below and give me a follow on Twitter at @Michael29Angelo for more Pens talk.