At the halfway mark of the season, things are looking good for the Pittsburgh Penguins. The team is 29-11-1 (59 pts.) and sitting in first place in the Metropolitan Division with a staggering 14-point lead over the Washington Capitals (who have played one fewer game). They are also leading the Eastern Conference with a 5-point lead over the Boston Bruins (who have played two fewer games).
While things currently look good, the team has overcome several hurdles to arrive at this point and will still have several more in the upcoming months. Here is a look at the half-season that was and some questions that will be lingering for the half-season (and more) to come.
Questions Entering the Season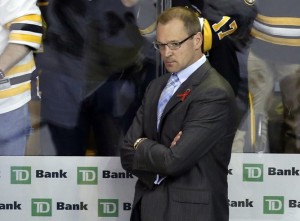 Would Head Coach Dan Bylsma prove that he was worthy of the two-year extension that the organization gave him entering the final season of his contract?
Could Marc-Andre Fleury bounce back after being pulled in the first round of the playoffs and seeing a sports psychologist over the summer?
With several offseason departures, would there be enough forward depth beyond the first two lines to support the team through injuries and slumps?
Could Rob Scuderi's return and Jacques Martin's arrival help strengthen a defense that looked lost at several key moments during the playoffs?
How would General Manager Ray Shero manage the salary cap with very little breathing room entering the season?
Early Answers
1. Though it still depends on his playoff results, the answer is a resounding YES for whether Bylsma was worthy of his two-year extension so far. He has maneuvered a team that leads the league in man games lost (220) to the best record in the Eastern Conference. The Penguins have been without the likes of James Neal, Kris Letang, Paul Martin, and Rob Scuderi for significant portions of the season. At one point, they were without their best four defensemen. Regardless of the circumstances, Bylsma and his staff have led this team to victory after victory.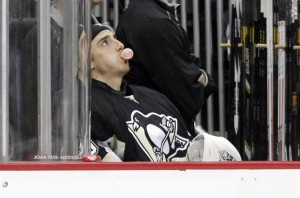 2. Much like Bylsma, Fleury will be judged mostly for what he does in the playoffs. However, a 22-9-1 record with a 2.16 GAA and .920 save percentage certainly looks like a strong bounce back. Fleury hits the halfway mark with numbers much better than his career averages (2.62 GAA and .910 save percentage) and looking like a goalie on a mission to put the past few playoff runs behind him.
3. Forward depth has been adequate so far but it is likely an area that the Penguins still need to improve on. Joe Vitale has proven himself to be a very versatile forward and is already approaching a career high in points with 12 in 39 games so far. Meanwhile, forwards Jayson Megna, Chris Conner, and Brian Gibbons have all contributed when called upon, though now Megna is out with an injury as well. With the recent injury to Pascal Dupuis, this is one area that Ray Shero may have to keep an eye on extra closely.
4. Rob Scuderi's return remains a work in progress since he missed 29 games with a broken ankle. However, Jacques Martin's addition to the coaching staff has certainly had a positive influence on the team. Martin and Dan Bylsma have both undertaken the task of breaking down games in terms of player responsibility. Martin is geared more towards the defense, and to a man, every Penguins player is demonstrating better positioning and a more consistent defensive effort.
5. Luckily or unluckily, Ray Shero has had very little salary cap maneuvering to do this season. After some interesting early moves to stay under the cap for opening night, Shero has had the "opportunity" to rotate player after player on the long-term injured reserve list to save cap space. For Shero, this season has turned into the salary cap nightmare that never was.
Offensive Performances Through 41 Games
At the halfway point, the Penguins are currently 5th in the NHL in goals per game (3.1) and have the best powerplay in the league, operating at 25.7%. The players leading the charge are hardly a surprise.
The offense is not-so-shockingly led by Sidney Crosby, who is currently leading the team and the NHL with 58 points. The biggest surprise (knock on wood) is that Crosby has played in all 41 games for the Penguins. That alone might be the biggest blessing the Penguins could ever ask for given Crosby's history over the past few seasons. Crosby is currently 4th in the NHL in goals (22), 2nd in assists (36), 3rd in powerplay points (20), and 2nd in points per game (1.41).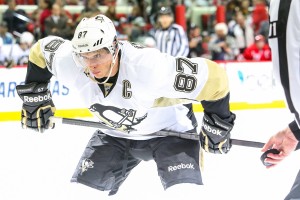 Who could possibly be ahead of Crosby in points per game? The answer is his newest temporary linemate, James Neal. Though Neal has only played in 21 games due to a mix of injuries and suspension time, he has still put up 30 points (14 goals and 16 assists) for a 1.43 points per game average. Neal has done half of his damage on the powerplay, notching 15 points so far with the man advantage.
Speaking of players doing well on the powerplay, the Penguins' other superstar center is 5th in the league in powerplay points with 19 in just 32 games. Though Evgeni Malkin has missed a few games recently, he still ranks 10th in the league in points (41) and is 5th in points per game (1.28). Yes, the Penguins currently have three players in the top five in points per game.
Not to be left out with 42 points in 41 games is Chris Kunitz, ranking 16th in points per game (1.02) and 7th in scoring overall. While Kunitz has been the focal point of several articles and arguments regarding whether he should be on Team Canada or not, the fact that he's in the conversation is a testament to how well he has played – with or without Sidney Crosby.
This group of four has produced just over 50% of Pittsburgh's goals so far this season and there is little reason to believe that will change.
http://youtu.be/OK78vqntDwE
Credit Todd Reirden for the powerplay's success and Dan Bylsma for his work with the forwards as he finds new ways to keep his key guys open and productive with a rotating cast of linemates.
Defensive Performances Through 41 Games
While the offense has been solid, Pittsburgh's defense should not be overlooked either. The team currently ranks 5th in goals against per game (2.3) and 2nd on the penalty kill (87.7%).
Unlike the offense, which can largely be attributed to four solid players, the defense has required the contributions of eleven different players already.
Leading the charge has been Matt Niskanen, one of only two defensemen on the team to play in all 41 games so far. Niskanen started the season as possible trade bait and then found himself as the top defensemen on the team for multiple weeks. He has 18 points in 41 games and a +19 rating that has kept the Penguins afloat through injuries and suspensions.
The other defenseman to play in all 41 games so far is rookie 19-year-old Olli Maatta. Maatta beat the odds by just making the team in October and eventually found himself on the top pairing with Niskanen as the defense disappeared game by game. Maatta has 12 points through 41 games and a +2 rating as he looks far smarter and wiser than a 19-year-old defenseman should.
http://youtu.be/h5IAInFKj24
The rest of the group has been solid when active and available. Ranging from Paul Martin (arguably the Penguins' best defenseman when healthy) to Philip Samuelsson (admirably filling in for five games well ahead of his projected NHL debut), every NHL and most of the AHL defensemen have contributed to this team's success so far.
Credit Tony Granato for coaching the penalty kill, Jacques Martin for coaching up the defense, and the entire AHL coaching staff for preparing several of these players for the NHL.
Goaltending Performances Through 41 Games
Last, but certainly not least, there are the two goaltenders. Marc-Andre Fleury and Jeff Zatkoff have combined for the 5th best GAA (2.29) and the 11th best save percentage (.916) in the NHL.
After an offseason full of questions, Fleury has shown that he can at least be a strong regular season goalie still. He is 2nd in the NHL in games played (33), 1st in wins (22), 9th in GAA (2.16), 15th in save percentage (.920), and 2nd in shutouts (3). He has played so well that several writers have at least brought him back into the discussion for Team Canada's goaltending battle, though it is almost certain that his previous playoff failures will keep him out of that race. Regardless, the fact that Fleury's performance can even bring up an argument is enough proof that he has having a fantastic regular season so far.
Meanwhile, his backup had a very rocky start but has come around impressively since then. Jeff Zatkoff had an abysmal NHL debut in a 6-3 loss to the Florida Panthers early in the season. Since then, he has brought his numbers back to respectability and looked steadier in net with each game. Despite the blowout loss, he now has a 7-2 record with a 2.52 GAA, .910 save percentage, and 1 shutout.
All of a sudden, the loss of Tomas Vokoun to injury doesn't seem like nearly the issue that it appeared to be in the first week of the season.  Credit new goaltender coach Mike Bales and a sports psychologist for this one.
Questions at the Halfway Point
With a few preseason questions answered, and a few still to be determined, here are some things to watch for in the second half of the season.
What kind of magic will Ray Shero work at the trade deadline this year? Possibilities on his shopping list include: A top-6 forward with the loss of Dupuis, bigger wingers to shore up the 3rd and 4th lines, and possibly (but unlikely) a veteran backup goalie. Now that Shero has been forced to showcase most of the defensive talent in the organization, the big question turns into which defenseman is he willing to part with?
How will Dan Bylsma and Marc-Andre Fleury handle increasing pressure heading into the playoffs? While the regular season success has been nice in a very weak division, all eyes will be on these two men going into the playoffs. It is possibly a make-or-break year for both as the expectations are very high in Pittsburgh.  On top of it, Dan Bylsma has a big task looming as he coaches Team USA in the Olympics.
Can Sidney Crosby stay healthy? In Crosby's 8+ seasons, he has never played all 82 games. He has played 81 twice (in '05-'06 and '09-'10). With the addition of the Olympics, Crosby is in for a grueling schedule this season. If he can stay healthy, the NHL is in for a treat and his awards room might need an expansion in the offseason.
How much, if at all, will Olli Maatta wear down? Maatta has played minutes far surpassing his expectations and has played at a level that no one could have foreseen going into the season. However, it already appears that he is wearing down and he is only halfway through the toughest season of his young hockey career. The Penguins have a plethora of NHL-worthy defensemen, but Maatta's high level of play could be the difference maker in the end.
How soon will the Penguins clinch the Metropolitan Division? This one is half tongue-in-cheek, but a division championship appears to be a foregone conclusion at this point. The bigger question is actually will any other team in the Metropolitan make a run to even challenge the Penguins? Pittsburgh may need it to help them gear up for the playoffs.