For the Pittsburgh Penguins, the 2018 NHL Trade Deadline is quite unique. Jim Rutherford and the Penguins, after a few under the radar moves that included adding Jamie Oleksiak and Riley Sheahan, have placed themselves in a position to compete for a Stanley Cup championship as is. Their stars are hitting on all cylinders right now and Matt Murray, after a rough first half, has seemingly returned to form. 
That doesn't mean they aren't shopping, though.
Center depth should remain a priority for Rutherford and his staff. Riley Sheahan has played well and his recent performance is strikingly similar to what the Penguins received from Nick Bonino throughout their last two Cup runs but, ultimately, adding another center that can hold down fourth line duties and move up the lineup if needed is important.
Outside of that, another wing that fits the Penguins' style of play and can contribute on the score sheet would certainly be a welcomed commodity. And that's the thing that's so interesting about this year's deadline.
Pittsburgh has a ton of options.
Penguins' Realistic Options
This isn't a fantasy hockey league, nor are we sitting down to play an EA Sports video game and trying to accomplish trades with a computer. NHL general managers and their team of scouts are well aware of how a player is performing, has performed in the past and how well they're predicted to perform in the future. Of course, some are better than others and awful decisions are made on a regular basis, despite how knowledgeable these professionals may or may not be. But realistic expectations are important.
Michael Grabner is a name that's been tossed around a lot in terms of Pittsburgh's interests and according to Jason Mackey of the Pittsburgh Post Gazette — they're targeting him.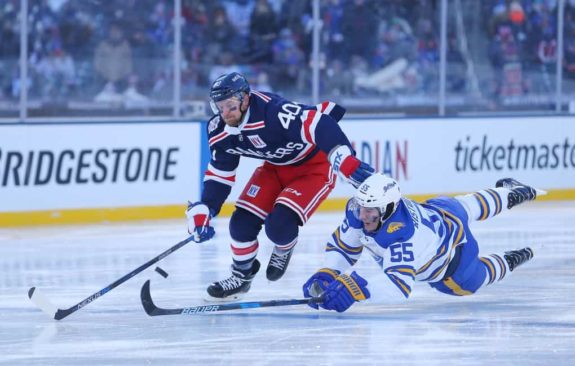 He's one of the better skaters in the NHL with blistering speed that would bolster an already insanely fast team and he can score. It's hard not to get excited at the thought of him joining this group. While the Penguins haven't taken part in the rental market much with Rutherford at the helm, this could and should be an exception to the rule.
You don't get many opportunities to three-peat as Stanley Cup Champions.
Rutherford wants to keep Pittsburgh's first-round draft picks, but getting Grabner may require exactly that. Whether or not he's willing to take the plunge remains to be seen but a player that can contribute on the score sheet the way Grabner does, while only carrying a $1.6 million cap hit is a rare find. Imagine having to deal with a combination of Phil Kessel, Carl Hagelin, Bryan Rust, Conor Sheary and, quite possibly, Grabner. That sort of speed throughout a lineup is pretty intimidating, especially in a seven-game series.
Derick Brassard is considered another likely candidate for Pittsburgh. Brassard would provide the Penguins with scary center depth headed into the postseason and, like Grabner, he can score. Unfortunately, though, it's hard to imagine a scenario where they could grab both and Grabner should be the preference. Pittsburgh is set up pretty well with Sheahan at third line center so depth should be their priority.
Mark Letestu fits that bill.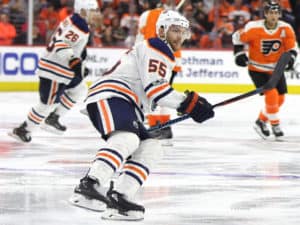 Letestu, a former Penguin, would provide the Penguins with a fourth line center that's a slight upgrade over Carter Rowney and, honestly, that's really all they need. He's a player that could move up the lineup in a pinch and while he won't light the world on fire, he'll be a reliable stopgap in the top-nine in case of injury. His underlying numbers are underwhelming but it's hard to gauge exactly how he'd fare with a better team and better linemates. Edmonton is hardly a team to use as a barometer of performance, considering they aren't very good past their top three or four forwards.
Getting Grabner and Letestu is doable, and it's arguably all they need in order to be considered the most dangerous team in the postseason — if, they aren't already.
Hey, It Could Happen…
The interesting thing about the Penguins during peak trade times is… You really never know what Rutherford is up to. Most of his deals since taking over as Pittsburgh's GM were out of left field and weren't leaked by insiders beforehand. So, is it wise to rule out a big trade?
He has a knack for pulling off blockbusters.
Part of the smorgasbord of options Pittsburgh has at this trade deadline is a major move that would bring in a name like Evander Kane, Max Pacioretty or even Ryan Nugent-Hopkins if he is indeed available like some folks believe. They have plenty of picks to move, and youngsters like Jake Guentzel, Daniel Sprong, Zach Aston-Reese and Dominik Simon that could really push a blockbuster trade. It's a situation to watch closely, but still, it isn't likely a deal anywhere near this magnitude goes down. And, for good reason.
Related – NHL Trade Deadline: 14 Stanley Cup-winning Additions
The idea that adding rentals at the deadline or selling the farm to infuse a big name is necessary to push a team over the top is flawed. Sometimes, it's best to leave well enough alone. It could certainly happen, but the Penguins are in good shape now — and, they're poised to contend for a few more years with their youth developing so rapidly.
Consider me on board for getting Grabner or Brassard, and even a more minor move that brings depth like Letestu. Past that, it's best to stand pat and let this team continue the run of terror they're already imposing on everyone. One thing is certain, though. While Pittsburgh is pegged to be active at the deadline but not necessarily in the blockbuster department, the options are definitely there.
The next few days should be interesting.
Pittsburgh Penguins writer for TheHockeyWriters.Com and PittsburghHockeyNow.Com. Youth hockey coach, and student of the game.