According to Tracey Myers, the Blackhawks players have brought on Kenny McCudden, the skating and skills coach of the Chicago Wolves, to help them run practices on an interim basis.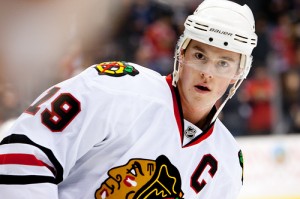 McCudden is still employed by the Wolves but will help them run drills at least three times per week.
Kenny has a past history with the Chicago Blackhawks, working in the organization for six years before spending 17 years in with the Wolves. When he got the call to get involved with Chicago's best players, the decision was a no-brainer.
"I've always dreamed of being on the ice with the Patrick Sharps and Patrick Kanes, and here we are," McCudden said. "I'm going to try to do as many skates as possible as an independent contractor, and this is what I do professionally." [Tracey Myers]
The players saw  the needed an opportunity for an outsider to bring in an organized plan. Apparently the player run practices were beginning to look more like summer rat hockey than an attempt to get into game shape.
"When guys go off by themselves they play a lot of shinny hockey and just drop the puck and away they go," McCudden said. "They were looking for direction, with drills and situations and feeding off of one another in those situations and getting their timing with their hands and their feet." [Tracey Myers]
According to Dan Carcillo the drills are not too intense, but helps the players remain sharp during the lockout.
"He's awesome. His drills are great," Daniel Carcillo said. "As you can see there aren't many guys out here but he keeps the line moving. They aren't the same drills so it's not redundant. It's not too hard; but it's a lot of puck-handling and things you need to sharpen up and the other stuff will come if and when we get back to work." [Tracey Myers]
This is particularly beneficial for players such as Jonathan Toews and Jamal Mayers to focus on playing rather than drawing up drills like they did in prior weeks. The depth has thinned out since they first started planning these practices, but Patrick Kane, Patrick Sharp, Dave Bolland, Steve Montador, Sheldon Brookbank, Dan Carcillo, among others have attended these practices while players such as Bryan Bickell, Viktor Stalberg, and Johnny Oduya have headed overseas. Duncan Keith has not participated in practices nor opted for Europe, but instead he has stuck to his off-season workout plan.
Troy Brouwer of the Washington Capitals has also attended the practices.
Forwards Marcus Kruger, Jimmy Hayes, Brandon Bollig, Brandon Saad, and Andrew Shaw, along with defenseman Nick Leddy and Dylan Olsen have been playing for the Rockford IceHogs so they have not participated in recent practices.
As of publication today, the NHL has officially cancelled games through October 24th, which means if a CBA deal is resolved the Blackhawks will play their first game on October 27th.
I started covering the Chicago Blackhawks in 2007 for IndianHeadNation.com and eventually on Twitter and now The Hockey Writers. Although I've never played at a professional level, I have followed the NHL religiously, analytically, and statistically since 1999, and a born fan since 1989. I have one true passion: HOCKEY.