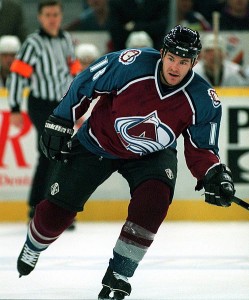 I miss Adam Deadmarsh.
Deadmarsh was a rugged, 6′, 195-pound winger who never backed down from a challenge. Ever. Ultimately, his take-on-all-comers attitude led indirectly to his downfall, as a huge right hand by the 6'3″, 218-pound Ed Jovanovski during a fight early in the 2000-01 season dropped Deadmarsh, causing his first serious concussion. His second, courtesy of teammate Craig Johnson's accidental knee, forced him to miss the remainder of the 2002-03 season, one in which he had started unbelievably hot with 13 goals in just 20 games. After two long, futile years attempting to rehabilitate, Deadmarsh finally retired on September 22, 2005.
Few skilled players displayed the balls-to-the-wall fervor the gritty Adam Deadmarsh exemplified throughout his too-short NHL career. He was an energy line player with world-class skills, a power forward in the purest and rarest sense. He fearlessly drove the net, delivering hits, messages, and timely goals. Speaking of which, although he was a reasonably consistent goal scorer, perhaps his greatest contributions revolved around an undeniable force of will. He hated to lose — period. It showed in practically everything he did, even when (albeit recklessly, as it turned out) taking on Ed Jovanovski.
How did that force of will manifest itself? Let me count the ways. Deadmarsh was a legitimate top six forward, scoring 20 or more goals five times and only missing in his other seasons due to injuries. He was a +43 during his career and was tough as nails, fighting about once every nine games. Incidentally, he was victorious more often than not. Speaking of winning, his teams made the playoffs every year but one, not just in the NHL but going all the way back to his stint with the Portland Winterhawks. In 2001, Deadmarsh scored one of the most dramatic goals in Los Angeles Kings history, batting in the rebound of a Josef Stumpel shot to eliminate the heavily-favored Detroit Red Wings in six games. He won a silver medal playing for the U.S. in the 2002 Winter Olympics, and of course, the Cup with the Colorado Avalanche in 1995-96.
Despite playing less than two full seasons with Los Angeles, Deadmarsh remains at the top of my all-time favorite Kings list. His overtime goal against the Wings was one for the ages, so much so that even veteran team play-by-play announcer Bob Miller's voice cracked like that squeaky-voiced teenager on The Simpsons. First, the kid:
Now, the game-winning goal in the Los Angeles/Detroit first-round series mentioned above. Bob Miller has called Kings' games since 1973, but rarely if ever did he display as much emotion as in this clip:
Notice the similarities?
In all seriousness, Deadmarsh lived on energy and focused intensity. How many hockey players float or take shifts off, some squandering even greater skill sets than #28? Not Deadmarsh. When he was on the ice, you knew he was going to give it everything he had. He didn't need an "A" or a "C" on his sweater to prove anything. He led by actions, words and deeds, so much so that even his NHL contemporaries took notice. Gary Roberts once said, "I love the way Adam Deadmarsh competes. He's fun to watch." Barret Jackman said, "I always looked up to Adam." Scott Stevens issued high praise with the comment, "He's a good player and one tough kid." Jason Allison labeled him "a great leader" and Aaron Miller called him "the heart-and-soul of this team."
Alas, due to an inability to shake the only opponent that he couldn't overcome — his own health — Deadmarsh retired far too early, ending his playing days when he was just 27 years old. Eventually accepting the inevitable, he officially retired three years later. Sadly, as indicated here, concussion-related symptoms continue to effect him, even today. Upon his stepping down as an assistant coach for the Colorado Avalanche this past year, his wife Christa sent the following message:
Adam was hurt (concussion issues) this season and decided that health/family and safety are his priority … Adam enjoyed coaching, but this was the right decision … We are back in Idaho and will love being close to our family again:) Hello Idaho friends … we are home:)
It was unquestionably the right decision, but his being forced to leave the NHL diminishes the game yet again. A fitting tribute to Adam Deadmarsh's career can be seen in this 2:42 clip, which captures just about everything you need to know about the player and the man who patrolled the ice for 567 regular-season games and another 105 post-season encounters:
Good luck, Adam. The game just hasn't been the same without you.