Although a preseason is never an entirely accurate way of predicting a regular season, if you're a fan of the Dallas Stars or their AHL affiliate, the Texas Stars, it's hard to not be excited and hopeful right now.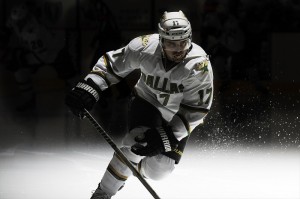 The Texas Stars powered through their preseason games with a fury, going 3-0 and outscoring their opponents by a largely lopsided combined score of 14-3. The Stars beat the Houston Aeros 7-2 on Wednesday to open up their preseason, before then dropping the San Antonio Rampage 4-1 and then 3-0 in back-to-back games this past Friday and Saturday. The performances were a night and day difference from what was seen last year, when Texas finished a woeful 29th in the AHL.
While it's too early to know if the team will be able to carry this sort of dominant success into the span of an entire AHL regular season, especially considering the influx of NHL-caliber talent that will be playing in the minors this year due to the lockout, on paper it's difficult to find anything to suggest that the Stars would do otherwise.
Since 2009, the first of four consecutive seasons in which the Dallas Stars missed the playoffs, the team's general manager Joe Nieuwendyk has focused primarily on the drafting, acquisition and development of prospects for the organization, and now, after a few years of setting up, that plan is finally starting to bear fruit.
Nieuwendyk, going back as far as his playing days, has always been considered to possess elite hockey IQ, and that trend looks to have carried over to his ability to build a team. Despite a lack of high draft picks (Scott Glennie being drafted 8th overall by the Stars in 2009 is the only top-10 pick that the franchise has had in 15 years), Nieuwendyk has given Dallas a deep, balanced core of youth that will be on display this season in the AHL, guided along the way by a group of savvy veterans, a glimpse of which was seen within the last week.
The most notable trait about the Texas Stars that Nieuwendyk, along with the help of Texas GM Scott White, has developed is balance. From top to bottom, the team looks more than capable in every regard, and is without any considerable weaknesses.
Offense was no trouble last season for Texas, as the team finished tied for 8th in the AHL in goals scored, and all signs point to that trend increasing this year.
Travis Morin, Matt Fraser, Colton Sceviour, Francis Wathier, Scott Glennie and Mike Hedden were the team's top scorers last year, but now that group will be assisted by the additions of NHL talent in Cody Eakin, Tomas Vincour and Toby Petersen, along with highly touted prospects Alex Chiasson, Reilly Smith and Austin Smith. The depth that the forward core boasts is astounding, with at least nine players that could easily be ready for full-time NHL duty, creating a varied group that is capable of rolling four dangerous offensive lines that are both speedy and sizable, a well-rounded blend of passers, snipers, and checkers that can compete in any situation. The mix of veteran and rookie is also impressive, with youthful enthusiasm to push the pace and veteran leadership, led by 397-game NHLer Petersen, there to properly guide and maintain it. The 14 goals in only three preseason games were scored by committee, including on a powerplay that went 8-for-24, and should be a sign of things to come.
Defensively, the Texas Stars finished a disappointing 29th in the AHL in 2011-2012 with 251 goals against, which would normally suggest that the team will struggle in this area again, but there's nowhere to go now but up, and the on-paper trajectory indicates that they will.
Young blueline leaders Jordie Benn and Brenden Dillon are now another year older, and both benefited from the experience of NHL callups last season. Tyler Sloan, a big shutdown defender that was brought in this summer because he possessed the experience of 99 career NHL games, and longtime Texas defenceman Maxime Fortunus are both in the prime years of their careers, and will provide veteran leadership and stability. While Jamie Oleksiak and Patrik Nemeth are both going to be AHL rookies, both have high pedigrees (Oleksiak was drafted 14th overall in 2011, Nemeth 41st overall in 2010, and both have played for their countries at the World Juniors), both have played against much older competition (Oleksiak in the NCAA as an 18 year old, Nemeth with four years playing in Sweden's top leagues), and both play a no-nonsense, defense-first style that the team so sorely lacked last season. The wildcard right now is Cam Barker, a former 3rd overall draft choice with 296 games NHL experience and a 40-point 2008-2009 season in Chicago. His stock has fallen dramatically over the last three seasons, but is still young enough for a turnaround. He is currently in Texas' camp on a tryout basis, but will likely be signed for the season, and somewhere deep down might still have the potential to be a game-breaking offensive player, although Texas will survive just fine even if he doesn't. Much like the forwards, the blueline core possesses speed and size, the abilities to score and defend, youth and experience, and looked dominant in the preseason, allowing only three goals in the three games, along with an average of 20 shots against per game.
The goaltending situation has more question marks than it does check marks, but what it lacks in proof it makes up for in potential and backup plans, with three goalies vying for ice time.
Few prospect goaltenders in the world feature the pedigree of 20 year-old Jack Campbell, a WJC gold medalist and top goaltender award-winner. Though his two years in the OHL were shaky (combined 3.62 G.A.A. and .890 save percentage, albeit playing on bad defensive teams), the 2011 11th overall draft choice posted a .912 save percentage in a 12-game cup of coffee in the AHL at the end of last year, despite playing behind the aforementioned 29th place defense. Swede Christopher Nihlstorp has yet to play a regular season game at the NHL or AHL level, but has a decade of high-level Swedish hockey under his belt, including a 2011 Swedish Elite League championship playing for Färjestad. At 28 years of age he is in the prime of his career, and after coming off of two stellar seasons was thought to be a strong contender for the backup spot in Dallas if training camp had happened on schedule. If Campbell and Nihlstorp falter, the Stars have a third option in net with Tyler Beskorowany, a 2008 2nd round pick. Beskorowany impressed with a 7-8 record and a .921 save percentage for Texas in 2010-2011, but fell into a downward spiral in 2011-2012 that saw him finish with a 10-19 record and .886 save percentage. He'll likely start the season in Idaho of the ECHL to regain his confidence, but has proven to be capable of winning at the AHL level and will certainly be tried there again if the situation calls for it. Though none of the three goalies can currently be considered as a lock to be Texas' reliable number one, each has that potential, and the strong competition will allow the team to play whoever is hot at any given moment. Campbell stopped 29 out of 31 shots in the preseason, while Nihlstorp stopped 28 out of 29.
Overseeing the team, and deserving of his own recognition with regards to who will be an important factor in it's success, is head coach Willie Desjardins, who starts fresh in Texas this year after two seasons as an associate coach in Dallas. Many consider Desjardins as being ready to head coach at the NHL level, and with 2004 and 2007 WHL championship victories with the Medicine Hat Tigers in his past, he is an ideal candidate to lead this year's wave of promising young talent. The strengths of the Texas Stars lie in all areas, and coaching is no exception.
With the NHL lockout having no foreseeable end in sight, NHL talent could be spread throughout the AHL for the entire year, creating the most competitive season for the league since 2004-2005 when the last lockout occurred. There will be an abundance of dangerous teams, but if their three game preseason and the outlook of their roster are any indication, the Texas Stars are poised to be right there as one of them.