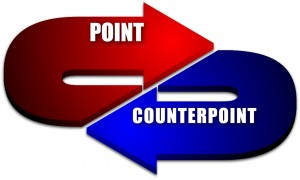 For those old enough to remember the 1970's, 60 Minutes once featured the Point/Counterpoint segment, in which James J. Kilpatrick (conservative) and Nicholas von Hoffman or  Shana Alexander (liberal) would engage in an always lively, and frequently acerbic debate over a political or social issue of the time.  However, the more famous version of this segment was the Saturday Night Live parody, with Dan Aykroyd and Jane Curtin starring as the combatants.
In today's Columbus Dispatch, columnist Michael Arace addresses the Blue Jackets' efforts to transition to new coach Scott Arniel's more aggressive, up-tempo style of play, from the defense-oriented, more passive system employed by former coach Ken Hitchcock. (Arace's column can be found here/source has been removed).   Apparently motivated by last night's pre-season game, in which Columbus defeated the Minnesota Wild 3 – 2 in a shootout, Arace argues that the rough road Minnesota has experienced in moving from the trapping style of former coach Jaques Lemaire portends equally perilous times for Columbus.  As I disagree with his conclusion, and some of the analytical basis for that conclusion, it seemed appropriate to present a countervailing view to the Oracle of Doom.  However, since we are talking about hockey, and since Dan Aykroyd is Canadian by birth, I will attempt to keep this in the spirit of the SNL version.  That being said . . . "Mike, you ignorant slut . . .  "   (If you find this shocking, not amusing, you really need to Google the SNL Point/Counterpoint)
Arace argues that Columbus fans should be wary of a bumpy road ahead in moving from "Hitch-Hockey" to Arniel's style.  In support, he points to what he refers to as the "Wild Model", namely Minnesota's effort last year to adopt a more open style of hockey after eight years (not ten) of stifling defensive hockey under former coach Jacques Lemaire.  To be fair, Arace does not categorically predict disaster, but strongly suggests that Minnesota's failure to increase their goal scoring last year, while having a significant increase in goals against, is indicative of the problems the Blue Jackets will face.  Here is how Arace phrases his central point:
But the point here is this: Last season, the Wild shucked Lemaire's trap and increased the tempo, yet generated no more offense, left itself noticeably naked – hello, three-on-ones – and slid in the standings.
Now, we all have our perspectives and biases that we bring to the table, and Arace is no different (nor am I).  The Dispatch was the prime proponent of hiring Kevin Dineen for the coaching slot this summer, and, as evidenced by Arace's unnecessary reference to Dineen in his piece, have apparently not recovered from Dineen's rejection.  Time to get over it and move forward, boys.  While Arace grudgingly concedes that the landscape of the NHL has changed to precisely the type of hockey that Arniel seeks to implement, he appears to secretly long for the "grit" that was Hitchcock's (and Dineen's) style.
More fundamentally, however, the parallels he draws between Minnesota and Columbus are largely superficial, and he ignores more basic differences that come closer to the heart of the issue.  True, the Wild and the CBJ are NHL "cousins", having entered the league at the same time.  Indeed, among  certain elements in Columbus, Minnesota has been pointed to as having had more significant success than the Blue Jackets. However, success is a relative thing, and Minnesota's 3 – 1 edge in playoff appearances over their nine year history does not place these clubs in different strata.  Both clubs have struggled offensively over the course of their existence. Minnesota has never ranked higher than 18th in goals scored, and has been 22nd or below in seven of their nine years on the ice.  Columbus was 16th in 2002-2003, but has been 20th or below every other year, and in the bottom three  in five seasons.  However, the similarities end there, as their respective lack of offensive production arises from totally different reasons.
What Arace fails to account for is that the Minnesota franchise was built from the ground up on a foundation of defensive hockey, and the organization was stocked with that in mind.  Lemaire, like Hitchcock, prided himself on the ability to win games 2 -1 or 1 – 0, and that was the focus of personnel decisions.  For years, the fortunes of the franchise followed Marian Gaborik, with Rolston and Brunette providing backup vocals.  Capable forwards all, but largely left to fend for themselves in generating offense.  In the years where they were healthy and productive, the team did well.  When they weren't , it didn't, despite being in the top 10 stingiest teams in goals allowed for 6 of the first 9 years.
Columbus, in contrast, was not built with defense in mind.  Former President/GM Doug MacLean tried, in his own way, to build offensive capacity, but simply didn't succeed.  For every great free agent signing (Ray Whitney) were several counterbalancing moves that undid the good.  Drafting Rick Nash was, of course, a tremendous boon, but other seemingly solid picks (Gilbert Brule and Alexandre Picard) didn't pan out.  Nash was compelled to carry most of the offense, with results that are predictable when you don't have a deep supporting cast.  When Scott Howson came on the scene, he turned the roster upside down, bringing in young, dynamic talent with lots of offensive upside.  However, this talent was brought into a system that discouraged the type of offensive production and creativity that these players could bring to the table.  While last season's drama involving winger Nikita Filatov was superficially a struggle between the player and the coach, it was simply a metaphor for the more fundamental philosophical divide between Hitchcock and Howson as to the future direction of the club.   Columbus has had plenty of players, including its defensemen, who are more than capable of playing in Arniel's system, but simply have not been given the opportunity.
To analogize, Minnesota is like a Formula One team trying to design, build and race a NASCAR car.  They know what they want to do, but really don't have drivers or mechanics who have done it.    In contrast, Columbus is like a NASCAR team that has the drivers and has the cars — it just needs the damn restrictor plate taken off!  Stralman, Tyutin, Russell, Commodore, Huselius, Vermette, Filatov, Nash . . . all are on the record as saying that this is the type of hockey they are used to playing, enjoy playing and believe they can be most successful playing.  That means a lot, but seems to be absent from Arace's analysis.
Finally, lets look at the actual facts — what has happened under Arniel's system, both with these players and with others.  In Manitoba, during Arniel's four year tenure, the Moose scored north of 2.9 goals per game in 3 of the four years.  During those same three years, the goals against averages were 2.51, 2.46 and 2.21.  Columbus has never approached those numbers in any year.  Sure, it's the AHL, but what it does show is that Arniel knows how to coach offensive production in tandem with defensive responsibility.
Fast forward to this year.  I'm not sure how many pre-season games that Mike has watched, but there has not been the parade of odd-man rushes of which he warns.  Certainly no more than in past years.  Goals against have, for the most part, stemmed from missed assignments or turnovers within the zone.   Last night's assemblage of largely neophyte talent managed to implement things pretty well, with nary an odd man rush in sight.
For me, the bottom line is that Columbus finally has a marriage of coach, system and players that has the potential to produce some good results.  The fact that change is not always smooth is not exactly "Stop the Presses!"  kind of stuff.  However, there is nothing in Arniel's history, the character of the players or the nature of the system that leads me to believe that Armageddon is imminent.  Let's let the guys actually play the games, and see how it goes, shall we?
If Mike is reading this, he is probably thinking (paraphrasing Jane Curtin's typical salutation to  Dan Aykroyd) :  "Jeff, you pompous ass . . . "  Guilty as charged.
Fan of hockey at all levels, with focus on the Blue Jackets, Miami RedHawks and the business side of the game. I try to bring a rational, even-handed analysis to my writing, wtih just a touch of snark. I use my legal background to bring some more insight on the business side. Love family, travel, hockey, golf and curling.