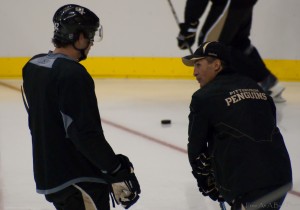 By Mike Colligan
When the Pittsburgh Penguins traded Ryan Whitney to the Anaheim Ducks in February of 2009 they were dealing from a position of strength.  With a surplus of up-and-coming offensive defensemen, swapping Whitney for gritty winger Chris Kunitz allowed the team to immediately address their glaring weakness at wing.
But in the year and a half since the trade, attention has shifted to the second player who came over from Anaheim: Eric Tangradi.  What Tangradi ultimately produces for the organization could determine whether the Penguins and GM Ray Shero got the better end of the deal.
As the top prospect in the Penguins system, Tangradi's development has been slowed because he hasn't been able to escape the injury bug that's plagued both Whitney and Kunitz since the trade.  His most serious setback was a severed tendon in his thumb that required surgery in April 2009.
After spending a season in Wilkes-Barre of the AHL, Tangradi now finds himself on a line with Evgeni Malkin and Mike Comrie and in the mix for a roster spot on opening night.  "Eric is a guy who is making a difference and playing his game," coach Dan Bylsma said last night after a 4-1 victory over Chicago.  "A challenge for anybody who plays with [Sidney] Crosby or Malkin is you think you have to change your game."
Tangradi knows that by using his 6-4, 221 pound frame he can open up space on the ice for Malkin and Comrie to focus on what they do best: scoring goals.  "I think I'm making more of an effort to get to the front of the net and do little things to create space for those guys," Tangradi said.  "In the past I've been a playmaker, but right now I'm just trying to create space for my linemates and get to the net-front and it's been effective so far."
Bylsma specifically pointed to a first period goal by Evgeni Malkin where Tangradi played his role effectively by screening Blackhawks goalie Alec Richards.  "The first goal was a perfect example for Eric.  He knows what he's supposed to do.  He goes right to the net, stands in front of the goalie and he's a factor on the goal that way; not making a saucer-pass at the blueline or trying to dangle and make a play because he's playing with a good player.  He's been effective on the forecheck, he's been good with the puck down low, and he's gone to the net to create space regardless of who he's played with."
The combined length of Tangradi's goals in this 3:16 AHL highlight reel (via Eric P. of The PensBlog) wouldn't add up to the length of an NHL ice surface and should remind many Penguins fans of Ryan Malone.  Malone had a career year with Malkin and Petr Sykora in 2007-08, scoring 27 goals and landing a 7-year, $31.5m contract with Tampa Bay.
When I asked Tangradi about other NHL players he feels play a similar style, he pointed to two of the premier power-forwards in the Western Conference:
"I think [Tomas] Holmstrom is one of those guys especially and [Johan] Franzen as well from Detroit.  They're skill guys, but they use their big frame to get to the front of the net and they're able to play with high-level players.  As a group they're very effective because of the big guy driving down the middle to the net."
Cracking a lineup already filled with 12 NHL forwards won't be easy.  Mark Letestu has also made a strong bid for a roster spot, but unlike Tangradi, Letestu would need to clear waivers in order for the team to re-assign him to Wilkes-Barre (putting him at risk of being lost to another team).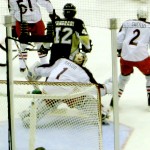 Tangradi's added value comes from his ability to screen the goaltender on the powerplay.  With Bill Guerin gone to free agency and Jordan Staal out for at least a month to start the season, the Penguins have a need for a forward with the ability to create traffic around the net.
Producing scoring chances for his linemates will surely help his cause, but Tangradi admits he needs to work on something else in order to make the decision an easy one for the coaches:
"I think really the defensive play.  I've done a pretty good job so far but that's something that has to really be flawless when you're a young guy.  You can't be a defensive liability out there, especially when you're young.  There's no way, being a rookie, you're going to be able to fight for a veteran's job if you can't do the little things right."
News and Notes:
~ The Penguins re-assigned 11 players today including camp surprises Brett Sterling and Corey Potter. As we noted Monday, Sterling's inability to contribute in multiple situations ultimately cost him a spot in the lineup.  He and Potter, along with Chris Conner, John Curry, Steve Wagner and Tim Wallace will need to clear waivers before being assigned to Wilkes-Barre.
~ Ryan Craig (groin) has not resumed skating but remains on the roster.  His penalty killing ability could keep him in the mix during Jordan Staal's absence.
~ 30 players remain on the Penguins' roster including 18 forwards, 10 defensemen, and two goalies.  Expect five to seven additional cuts by Friday evening's game in Chicago.