The New York Post recently reported that there's a good chance the NHL's salary cap will not increase for the 2015-2016 season.  It should be noted that this article contains a fair amount of speculation, but it's not unfathomable that it could be correct. The argument primarily hinges on the fact that the Canadian dollar has been performing weakly in comparison to the US dollar. That can cause issues, especially for Canadian teams, who still pay salaries in U.S. dollars, as mandated by the CBA.  The article even suggests the league may not exercise the 5% escalator – which has been used and counted on by GMs for the last several years.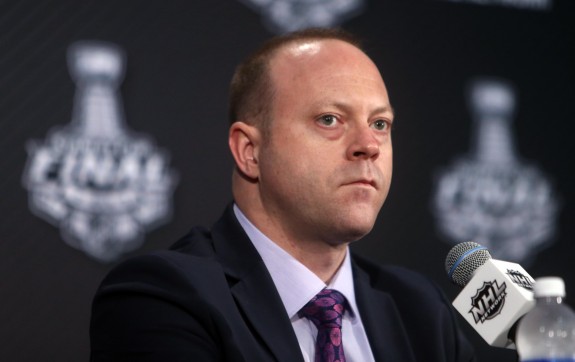 With the understanding that this is just speculation, it's still interesting to examine what might happen to the Blackhawks, amongst other teams, if this prediction comes to fruition. In fact, even if there is an increase, the Blackhawks could still be stuck making some difficult decisions. They wouldn't be alone, of course, the New York Rangers and Philadelphia Flyers have even higher payrolls right now, and the Los Angeles Kings, Boston Bruins and even the Washington Capitals are quite close against the cap this year as well.
The Blackhawks are already tight against the Salary Cap
As can be seen via Capgeek, the Blackhawks already have $65 million committed to just 15 players for 2015, with a current cap of just $69 million.  That list of players includes just 9 forwards, 4 defensemen and 2 goaltenders.  The jump in salaries for Jonathan Toews and Patrick Kane puts $21 million, a full 30% of available salary cap space, into just two players. If it's not becoming clear yet: if the salary cap were to remain at the $69 million figure, the Blackhawks would be in the midst of an absolute disaster – there would be absolutely no way to sign 7 players (to bring them to a typical and maximum sized roster of 23) for just $4 million.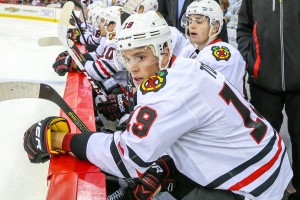 It's also worth noting that key Blackhawks forwards Marcus Kruger ($1.325 million) and Brandon Saad (just $764,167) are due raises. If we speculate a modest raise for 4th line grinder Kruger at $1.5 million, and Saad getting his power forward due of perhaps $2.5 million, this puts the Blackhawks right at the cap with only 17 players on their roster. All this comes without accounting for free agent defensemen Johnny Oduya and David Rundblad (it's relatively safe to assume that Roszival will not be renewed).
Ultimately, some big contracts may well need to disappear whether or not the cap increases. Without that cap increase, the hit of a player like Bryan Bickell ($4 million) or Patrick Sharp ($5.9 million) will have to go. Marian Hossa's name could be in the mix, but at his age the likelihood of anyone taking on his extremely long contract is quite minimal. There's also the option of moving Corey Crawford, who has been especially good so far this season (1.76 GAA, .931 sv%), but may not be an option to keep given the potential of a cap crunch.
What will 2015-16 hold for the Blackhawks without a Salary Cap Increase?
Essentially, if the cap doesn't increase, the Blackhawks can't afford anything but bargain basement players for their depth positions. The 3rd and 4th lines would likely be staffed by players from AHL affiliate the Rockford Icehogs, and the same would be true for the 3rd defensive pairing.
It's certainly arguable that Bickell's salary is an albatross given his repeated lackluster production in the regular season, but unloading his $4 million contract may not be quite enough relief without a salary cap increase. They'd likely need to move a more expensive player in order to get comfortably under the cap with a full roster.
For example, if the Blackhawks unload a player like Patrick Sharp, that still only drops them to $59.1 million with 8 players to sign, leaving just under $10 million in space.  This is about what it would take to sign a comparable set of bottom tier forwards and defensemen to what they have right now – the bottom 8 forwards make a combined total of about $9.6 million, and the bottom 2 defensemen make a bargain-bin total of just under $1.5 million. This does leave out a mid to high tier replacement for Johnny Oduya, however, which weakens them at the blue line significantly.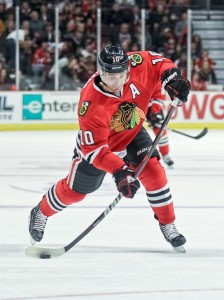 Even if the cap does increase modestly, a 5% escalator on $69 million is only $3.45 million. That's hardly enough to make up for the additional $8.4 million being paid to Toews and Kane, let alone raises for Kruger, Saad and the signing and/or re-signing of a few defensemen. In order to fill out those last 7 spots (8 if they trade a player away to shed salary) without sacrificing too much talent, the Blackhawks need more like $12-14 million in additional space, which would require a cap increase of something more in the range of $8-10 million.
Without being able to hold on to key players like Oduya, Saad and even Kruger, the Blackhawks depth is significantly lessened. If the Blackhawks are forced to lose a star like Sharp or Seabrook, it would be a significant blow to their top talent.
No matter how you slice the numbers, it seems as if 2014-15 could very well be a "Stanley Cup or bust" year unless the Salary Cap increases significantly next season.