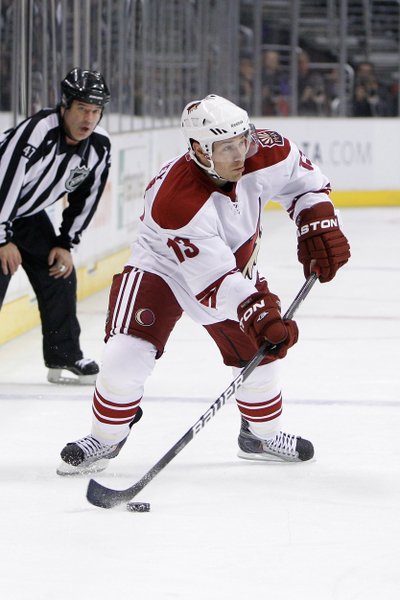 Everyone has already piled on the sarcasm to this unlikeliest of all-Southern market series. It's the Retirement Community Desert Dogs vs. the Music City Sabre-toothed Tigers. Red wine-coloured jerseys vs. Mustard-coloured jerseys. The team Jim Balsillie tried to buy and move to Ontario vs. the team Jim Balsillie tried to buy and move to Ontario. It's May and we're talking about Phoenix and Nashville in the 2nd round of the playoffs?
In other words, it's not a hockey traditionalist's dream. But notwithstranding Damien Cox's correct assessment that these two teams are not Winter Classic material, we should have a very interesting series on our hands. Both teams are young, skilled, and disciplined. You could argue that many of their less experienced players have benefited from the relative quiet of their two cities' media markets, and might not have performed at their current level if they'd been distracted under the 24/7 megawatt media glare of Toronto, Montreal or Vancouver. If this made players better in theory (and of course it is just a theory), then it would improve the quality of hockey in this series. So while the low profile of these franchises might not be good for ratings, we might see better hockey than we have anywhere else all season, which is the point of the playoffs. Right?
Whether the style of play might be another strike against the excitement level around this series is another question mark altogether. Phoenix and Nashville are not teams I can picture spending a night skating circles around each other and turning on the red light with abandon. There are no weak links on either D, and both teams both totally buy into their coaches' tight defensive systems. They also resemble Swiss cheese with their 2.48 and 2.56 goals-allowed averages this season (advantage Phoenix), compared to who they are playing to square off against next (St. Louis and L.A. were the #1 and #2 stingiest teams in the league this year, respectively). But outside of that stat-geekery their reputations as defence-first teams are well-earned and well-established.
Hockey fans will have a lot of great talent and style to watch here, even if a lot of it is newer and coming out of unlikely quarters. Seeing if the unlikely heroes of the first round continue or if new ones emerge should make for great viewing, even if it takes a long string of 2-1 and 3-2 games to produce a winner. Since that is certainly a possible outcome, this series may be won more on intangibles than anything. But let's assess some keys and see if we can make out any favourites in certain departments.
These teams are evenly matched in that they don't rely on marquee scorers for their offence or goalies to stand on their head for defence. For Nashville on any given night, it could be forwards as diverse as Legwand, Spaling, Fisher, the Kostitsyn brothers, Halischuk, Bourque or Erat chipping in. No 100 point men there, but also no 30-40 game funk types. Phoenix has twelve reliable forwards and just seems to find the right goals when it needs them. No one really stands out to draw extra attention from a matchup/shutdown perspective. Having said that, if Phoenix does beat a path to victory, you can count on the very creative and playing much younger than his 39 years Ray Whitney being in on a lot of key plays (Led all Coyotes with a +26 rating this year) The star-power factor is there just a bit more for Nashville up front and it makes them more intimidating as opponents, so I give them a slight edge here (although unlike Phoenix, they do not possess a 30 goal scorer in 2011-12).

Stingy defensive series tend to emphasize goaltending. Yes, Mike Smith has been lights out all of this year, but Pekka Rinne is physically bigger and has been getting talked up and improving for a few years. He secured the 2012 Vezina nomination that Smith missed. No offence to Corey Crawford, but this is definitely stiffer competition for Smith to deal with. Despite what he's accomplished, he's the underdog going into this match up, as Rinne would be the biggest pile of hotcakes out there if he became available. This round way more is pivotal for his value than Smith's either way.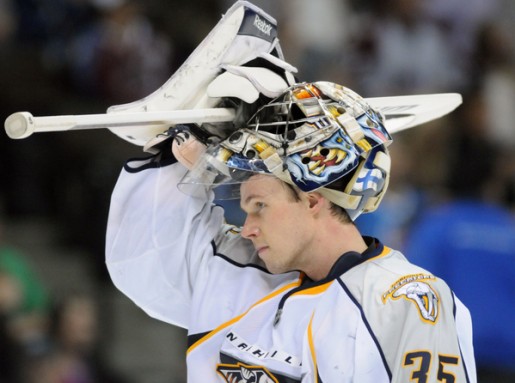 Conversations around the Preds the last few months often descend into talk about Radulov, Radulov, and Radulov, and while the prodigal-sniper Russian has lived up to billing, the Coyotes have a talented Euro sniper of their own in Radim Vrbata (who could not make much of an impact in the last round due to his shoulder industry). For big hits and big minutes, Nashville has two well-established stud defencemen in Weber and Suter. Phoenix has two soon-to-be if not already stud defencemen in Yandle and Ekman-Larsson. Nashville has to be given the edge here on "experience", but then again, what has that counted for so far in these wild and upset-filled playoffs?
Hockey teams are also financial actors, and if people are likelier to be financially responsible if they're forced to live within their means: here are two clubs which fit that analogy perfectly. They both have excellent rosters and depth because they haven't had the luxury of engaging in the recklessness certain rich franchises do by signing big free-agent contracts and trading away draft picks. Not only are the players on both sides good, they both have loads of confidence from growing into their success – knocking off two perennial Western Conference powerhouses in the first round. Nashville's nucleus has been together longer though, so you have to wonder if they might just be hitting their stride a bit more. They have also not had the chagrin Phoenix has of watching several of their high draft picks walk, in addition to not being able to compete for free agents.
It seems like Phoenix can continue to achieve by living in the present and may triumph by feeling freer, lighter, and stronger (There's also the home ice advantage). The situation in Glendale has never been iffier and the NHL is going into its third year of ownership, but for all the players insistence in the past that it wasn't their focus, this year it seems like they made a tacit agreement was made that it truly would be the last thing on their minds. If we go by the way they've been playing
Nashville, on the other hand, is going for broke. They gave up their draft picks to go after Andrei Kostitsyn and Paul Gaustad and know that with Suter and Weber's free agency on the horizon, this is the year they have to push deep and finally earn the right to use the "hometown discount" New Jersey Devils model, where visions of polished silver attract what green dollar signs can't. It's a compelling narrative, and most people have the Preds eking out a victory in 6 or 7. But I think the crew of misfits and mavericks in the desert may have something to say about that.
http://www.cbc.ca/sports/hockey/opinion/2012/04/goalie-battles-highlight-west-semifinals.html