It's time to defend Peter Laviolette and his Jack Adams Award nomination.
When the candidates for the NHL's top coach were released earlier in the week, there were a lot fans upset about their coach being snubbed.
A Wide-Open Adams Trophy Field
Anaheim Ducks fans feel coach Bruce Boudreau got passed over or the award. Winnipeg Jets supporters feel coach Paul Maurice should've been among the top three. Vancouver Canucks fans thought Willie Desjardins should've been considered, and Barry Trotz has done amazing work with the Washington Capitals.
Recent Predators Posts
[catlist categorypage="yes" numberposts=3 excludeposts=this]
I agree that these coaches have a legitimate argument to win the Adams Trophy. However, let's not forget about the accomplishments of Nashville Predators coach Peter Laviolette.
Peter Laviolette Takes Preds Back to Playoffs
There were a lot of questions about the Nashville Predators going into 2014-15 season about how an offensive-minded coach like Pete Laviolette would mold a mostly defensive team. Some had high expectations for the Predators, but I was a leery.
However, Peter Laviolette got Nashville to be the best team in the first half. Pekka Rinne played like a nominee for the Vezina Troph, and Shea Weber and Roman Josi were the best defensive pair in the NHL. Filip Forsberg was the clear-cut Calder Trophy favorite.
The Predators would've swept all of the first-half awards if they were handed out.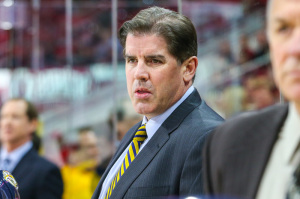 Fighting Past a Tough Second-Half
Pekka Rinne led the long list of injuries that included Shea Weber, Ryan Ellis and Mattias Ekholm. Those injuries caused second-half struggles for Nashville.
The St. Louis Blues won the Central Division after a pair of six-game losing streaks torpedoed the Preds. However, you can't argue that Peter Laviolette made Nashville a playoff team.
How Laviolette Stacks Up
Laviollete did wonders with a team that was in the tough Central Division after missing the playoffs two years in a row. Nashville has the pieces to contend for a division title in more thanks to the work of General Manger Dave Poile and coach Laviolette.
However, Laviolette might not be taking home the Jack Adams Award. Calgary Flames coach Bob Hartley deservedly earned a nomination. New York Rangers coach Alain Vigneault won the President's Trophy despite missing Henrik Lundqvist for a big stretch.
The Verdict
The Predators late-season woes should've made Peter Laviolette the odd man out, but he's changed the culture in Smashville. The Predators are on the upswing because of his great coaching. He might not win, but he deserves to be in the conversation.
In any case, Philadelphia Flyers fans sure do miss him.
What do you think? Vote in our poll and leave comments below.
Subscribe to our Predators stories to get email updates every time a new story is published.
Dan Mount is a Nashville Predators staff writer for The Hockey Writers. You can follow him on Twitter, @DanMountSports.
Covered hockey since attending SUNY Oswego in Upstate New York in the early 2000s. Has written about college, major junior and professional hockey for the last five years.
Resides in Watertown, NY.