Although everyone who watches the Vancouver Canucks knows what kind of team this is, apparently Jim Benning still needs more time to figure it out.
In an interview on TSN 1040 Thursday afternoon, Benning said the team will take "the five games left before the deadline" to figure out what the franchise will do at the trade deadline. Game One ended up in a 4-3 loss to the St. Louis Blues. Game Two will take place at Rogers Arena against the Calgary Flames on Saturday night.
Benning's recent comments appear to be a smokescreen for the organization in order to let the players focus on just playing hockey. By doing this, he is putting the criticism and pressure on himself rather than the players. It's a smart strategy, unless it's not a strategy at all. With the team falling out of the playoff race and a seller's market, the time for Benning to act is fast approaching.
The Flames will look to slash the Canucks slim playoff hopes during Saturday night's tilt. Calgary has been an up and down team over the last ten games (5-5-0), but they are clinging onto the final Wild Card spot. The Los Angeles Kings are their main enemy, and it looks like Wild Card battle will come down to these two teams.  The Flames would do themselves a favour by scoring more at even-strength, or by adding a goalie at the deadline. However, Brian Elliott was solid in his last start, allowing only one goal and making 33 saves in a victory over the Philadelphia Flyers.
This is the fifth and final meeting between these teams this season, with the home team winning every match-up. However, the Flames badly outplayed the Canucks during their last match-up at Rogers Arena, but Vancouver was bailed out by Ryan Miller.
---
Calgary Flames at Vancouver Canucks
Saturday, February 18th, 2017 – Rogers Arena, 7:00 p.m. PST
Broadcast Channels: CBC, SN
2016-17 Season Series: Oct. 15, Flames 1 – Canucks 2 (SO), Dec. 23, Canucks 1 – Flames 4, Jan 6, Flames 2 – Canucks 4, Jan. 7, Canucks 1 – Flames 3
Calgary Flames: 29-26-3, 61 Points, 8th in Western Conference
Hot Players: Mikael Backlund (5 points in last 5 GP)
Key Injuries: Ladislav Smid
Projected Lines
Forwards
Johnny Gaudreau – Sean Monahan – Kris Versteeg
Matthew Tkachuk – Mikael Backlund – Michael Frolik
Micheal Ferland – Sam Bennett – Troy Brouwer
Lance Bouma – Matt Stajan – Freddie Hamilton
Defence
Mark Giordano – Dougie Hamilton
T.J. Brodie – Deryk Engelland
Matt Bartkowski – Dennis Wideman
Starting Goaltender
Brian Elliot
[irp]
Vancouver Canucks: 25-27-6, 56 Points, 11 in Western Conference
Hot Players: Bo Horvat (Goals in three straight games), Markus Granlund (5 points in last 6 GP)
Key Injuries: Erik Gudbranson, Derek Dorsett, Anton Rodin, Sven Baertschi
Projected Lines
Forwards
Daniel Sedin – Henrik Sedin – Markus Granlund
Alex Burrows – Bo Horvat – Jannik Hansen
Loui Eriksson – Brandon Sutter – Jayson Megna
Reid Boucher – Michael Chaput – Jack Skille
Defence
Alex Edler – Troy Stecher
Luca Sbisa – Chris Tanev
Ben Hutton – Nikita Tryamkin
Starting Goaltender
Ryan Miller
Game Notes
[miptheme_dropcap style="normal" color="#222222″ background=""]1)[/miptheme_dropcap] Ryan Miller was absolutely brilliant last time he played the Calgary Flames. In a game where the Canucks were outshot 46-13, Miller was able to stave off the storm and give the Canucks a 4-2 win. Brian Elliot gave up four goals on 13 shots in that matchup, but he will likely get the nod after a strong game against the Flyers on Wednesday.
[miptheme_dropcap style="normal" color="#222222″ background=""]2)[/miptheme_dropcap] Both teams have struggled to score at even-strength this season. Calgary and Vancouver are ranked 25th and 27th respectively in terms of goals for at even-strength. The reason why Calgary has scored more overall than Vancouver this season, is because of their strong power play. It has cooled off in recent weeks, but it still sits 13th overall in the NHL. The Canucks power play picked up on the road trip, although it put up another no-show against the St. Louis Blues. Vancouver failed to convert on the power play while allowing two power play goals in the third period.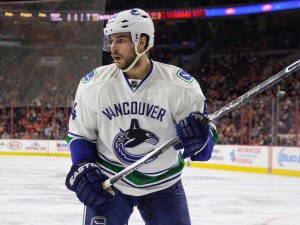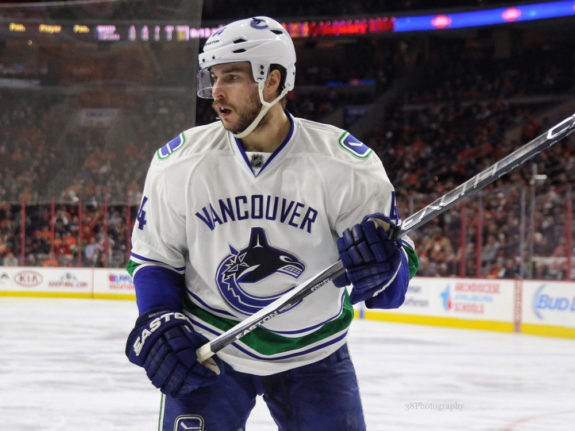 [miptheme_dropcap style="normal" color="#222222″ background=""]3)[/miptheme_dropcap] Matt Bartkowski, Vancouver's favourite whipping boy, makes an NHL return against his former team tonight. Bartkowski led all Canucks defencemen with 80 games played last season. His poor season meant he had to settle for professional tryout contracts, and he was released by the Ottawa Senators during the preseason. The Flames wanted to add a defenceman who was eligible for the expansion draft, and Bartkowski fits the bill.
Which side of Bartkowski will we see on Saturday night? Will we see a hungry defenceman, eager to prove that he was worthy or another NHL shot? Or, will we see a turnover prone player who too often tries to skate the puck out of his own zone rather than make the simple play?
[miptheme_dropcap style="normal" color="#222222″ background=""]4)[/miptheme_dropcap] Johnny Gaudreau has taken a lot of criticism in Calgary recently, after Glen Gulutzan put him on the fourth line in their loss to the Arizona Coyotes. He's been streakier and less productive than Flames fans are accustomed to, but are his struggles a little bloated in the media? He had a four game point streak before going pointless in the last three. His shooting percentage has also taken a dip. After shooting 14.1% in his first two seasons, Gaudreau is shooting 8.3% this year. He's also shooting only 5.4% at even strength, below both his career totals and the team average.
[miptheme_dropcap style="normal" color="#222222″ background=""]5)[/miptheme_dropcap] The Markus Granlund/Hunter Shinkaruk comparison rages on, but it's worth noting that Granlund has played well since being put on the "top line" with the Sedins. His hard work to turn the puck over led to Henrik Sedin's goal against the St. Louis Blues on Friday. Last time the Canucks faced the Flames at Rogers Arena, Granlund potted two goals and added an assist.