High Noon is a classic film. In the climactic scene, Marshal Will Kane, alone, shoots it out with a gang of outlaws. He could've taken the easy way out and run from the fight, but the lawman was determined to do the right thing, no matter the cost.
Saturday's contest between the Dallas Stars and Philadelphia Flyers should be billed as High Noon 2, featuring the Stars in the marshal's role. The boys from Big D head to the City of Brotherly Shove determined to do the right thing, i.e., replicate the effort they showed Thursday night in their 5-2 rout of Nashville.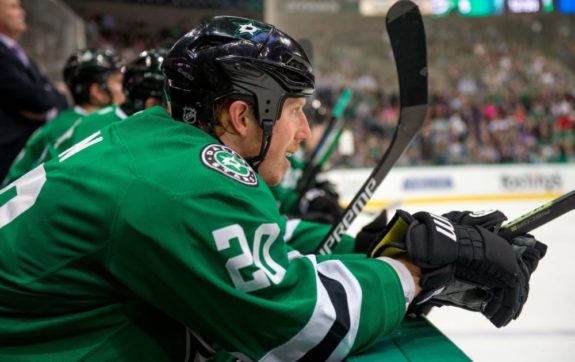 Injuries, individual slumps and an overcrowded blueline have led to frustrating inconsistency for Dallas. They're 1-6-3 following a win; put another way, the Stars' longest win streak this season is two games, which they've done only once. Following Thursday's victory, Saturday represents another opportunity to get on a roll.
Standing between the Stars and their second two-game win streak of the year are the red-hot Flyers, who enter the match looking for their eighth consecutive victory. The odds may be long for Dallas, but as the movie marshal learned, determination, a lucky shot (or two) and some unexpected help could change the outcome.
---
Dallas Stars at Philadelphia Flyers
Wells Fargo Center – 12:00 pm CST
Broadcast channels – FS-SW, CSN-PH, SN1
2016-17 Season Series: First Matchup of the Season
Dallas Stars: 11-11-6 – 28 Points
Road Record: 4-7-4
Hot Players: Antoine Roussel, Tyler Seguin and Jason Spezza
Key Injuries: Julius Honka, Patrick Sharp, Mattias Janmark and Ales Hemsky
Projected lines:
Forwards
Jamie Benn – Tyler Seguin – Jason Spezza
Antoine Roussel – Radek Faksa – Brett Ritchie
Lauri Korpikoski – Cody Eakin – Jiri Hudler
Curtis McKenzie – Devin Shore – Patrick Eaves
Defense
Esa Lindell – John Klingberg
Patrik Nemeth – Jamie Oleksiak
Dan Hamhuis – Stephen Johns
Goaltender
Antti Niemi
[irp]
Philadelphia Flyers – 16-10-3 – 35 Points
Home Record: 10-5-2
Hot Players: Wayne Simmonds, Jakub Voracek, Claude Giroux, Shayne Gostisbehere and Ivan Provorov
Key Injuries: Sean Couturier, Matt Read and Michal Neuvirth
Projected lines:
Forwards
Michael Raffl – Claude Giroux – Jakub Voracek
Brayden Schenn – Travis Konecny – Wayne Simmonds
Chris VandeVelde – Pierre-Edouard Bellemare – Roman Lyubimov
Taylor Leier – Nick Cousins – Dale Weise
Defense
Andrew MacDonald – Ivan Provorov
Shayne Gostisbehere – Brandon Manning
Mark Streit – Radko Gudas
Goaltender
Steve Mason
---
Game Notes
[miptheme_dropcap style="normal" color="#222222″ background=""]1)[/miptheme_dropcap] The noon (CST) start time is unusual for the Stars and requires some changes to game-day patterns. "Your routine might be a little different; the food you eat is sometimes a little different, but it's an adjustment everyone's got to make," said Tyler Seguin. As one of NBC/NBCSN's favored clubs, however, Philadelphia plays early games much more often. Saturday's matchup will be the fourth 1:00 p.m. (EST) start of the season for the Flyers, and the Stars' first.
[miptheme_dropcap style="normal" color="#222222″ background=""]2)[/miptheme_dropcap] Stars coach Lindy Ruff spoke about using a "good, crisp practice" Friday to maintain the team's "compete" level heading into Saturday's contest. With no morning skate in Philadelphia, yesterday's practice was critical, and the coach was pleased with his team's effort.
[miptheme_dropcap style="normal" color="#222222″ background=""]3)[/miptheme_dropcap] Dallas made some roster changes before hitting the road: Jiri Hudler was activated from injured reserve, Julius Honka was placed on IR (retroactive to Dec. 6) and Jason Dickinson was sent back to the minors. The lineup will remain a mystery until pregame warmups Saturday, but Ruff indicated Hudler will play at least one game this weekend and Oduya will play no more than one of the back-to-back games against the Flyers and Blackhawks.
[miptheme_dropcap style="normal" color="#222222″ background=""]4)[/miptheme_dropcap] With Dickinson headed back to Cedar Park, expect Cody Eakin to return to the lineup after being a healthy scratch Thursday night. The center has yet to find his game since returning from a training camp knee injury, registering no goals and one assist in 10 contests. According to Ruff, it's how a player responds to being scratched that matters. He'll be watching Eakin closely.
[miptheme_dropcap style="normal" color="#222222″ background=""]5)[/miptheme_dropcap] Though the Flyers are streaking right now, they are beatable. All seven wins have been by just one or two goals, with three games going to overtime or a shootout. They have been good…but also lucky, and luck is capricious.
[miptheme_dropcap style="normal" color="#222222″ background=""]6)[/miptheme_dropcap] Special teams could be key Saturday: At 20.4 percent, the Stars' road power play is ranked 10th in the NHL, while the Flyers' home penalty kill is tied for 21st. Conversely, Dallas's road PK is a dreadful 29th and Philly's home PP is 10th. Both teams would be wise to stay out of the box.