Now that we're a little over a week into the free agent signing period, a lot of teams around the NHL more or less know what their teams are going to look like heading into the 2017-18 season and the Montreal Canadiens are no exception.
After announcing the signing of forward Alex Galchenyuk last Wednesday, the Habs have 22 roster players signed and it appears as though GM Marc Bergevin is done tinkering via the free agent market.
While it may be just as difficult for opposing teams to score goals against the Canadiens next season, up front the team hasn't done much to increase their scoring output. Besides adding Jonathan Drouin and the departure of Alex Radulov, the forward group is largely unchanged and should once again struggle to put the puck in the net.
The Canadiens defense is vastly different compared to the 2016-17 version. Alexei Emelin, Nathan Beaulieu, Nikita Nesterov are all out and Andrei Markov is without a contract. Karl Alzner, David Schlemko, Joe Morrow and Jakub Jerabek are all in.
In goal, Carey Price will once again be a busy man.
Forwards
| | | |
| --- | --- | --- |
| LW | C | RW |
| Max Pacioretty | Phillip Danault | Brendan Gallagher |
| Jonathan Drouin | Alex Galchenyuk | Paul Byron |
| Arturri Lehkonen | Tomas Plekanec | Andrew Shaw |
| Andreas Martinsen | Torrey Mitchell | Ales Hemsky |
| Peter Holland | | |
Despite an earlier claim that Galchenyuk will start next season on the wing, Bergevin's offseason actions paint a different picture. Galchenyuk, if not playing center, plays on the left wing. The top two left wing positions, however, should be occupied by Max Pacioretty and Drouin.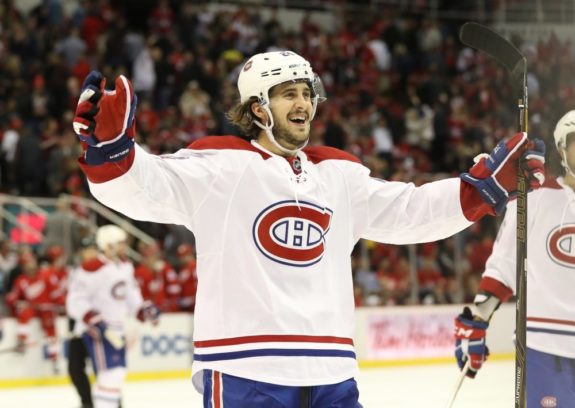 Last season, Phillip Danault developed chemistry with Pacioretty and having a healthy Brendan Gallagher on their wing could make a strong top trio to replace the hole left by Radulov. Gallagher will park himself in the blue paint, as always, and create space for Danault to feed passes to Pacioretty.
Some people believe that Drouin is a natural center and is capable of occupying the top spot between Pacioretty and Gallagher, but he hasn't been able to master the faceoff dot yet so it's more likely he starts the year in the second left wing slot.
Upon being re-signed, Galchenyuk said that he was excited by the acquisition of Drouin. The two of them should start the season together, regardless of who Claude Julien chooses to stick at center. It's likely he starts with Galchenyuk in the middle and Drouin and Paul Byron on either flank.
Galchenyuk, of course, could start the season on the top line, but Danault has shown he can succeed in the faceoff circle, going 52.2% in the dot since coming to Montreal in a trade with Chicago.
The trio of Drouin, Galchenyuk and Byron has the potential to be dynamic and dangerous as all three players have blazing speed and offensive talent. Byron broke out for 22 goals and 43 points last season and has the wheels to keep up with Drouin and Galchenyuk, as well as a quick shot and nice vision.
The third line should be very solid defensively as Arturri Lehkonen, Tomas Plekanec and Andrew Shaw all play very well in their own zone. They are also capable of adding some offense; Lehkonen scored 18 goals last season as a rookie, Shaw is good for 15-20 goals and Plekanec is just one season removed from a 54-point campaign.
The additions of Peter Holland and Ales Hemsky likely means that Michael McCarron will start the season in the AHL with the Laval Rocket, as the former are both on one-way deals and require waivers to be sent down. McCarron should be the first call-up in the event of an injury or illness.
Defense
| | |
| --- | --- |
| LD | RD |
| Karl Alzner | Shea Weber |
| David Schlemko | Jeff Petry |
| Jakub Jerabek | Jordie Benn |
| Brandon Davidson | Joe Morrow |
Though unlikely, if Markov was to return he would probably slot into the top pairing next to Weber. Alzner may not be the puck moving, offensive defenseman that Markov is but he is a strong, durable, stay-at-home defenseman who should be able to log big minutes.
The second pairing provides some decent offensive ability as Schlemko and Petry can both skate and move the puck pretty well, as well as being sound in their own end.
Marc Bergevin loves defensive depth and tends to carry eight defensemen on his roster as opposed to 14 forwards. This likely means that Jerabek, Davidson and Morrow will rotate in and out regularly. Ultimately, I feel that Jerabek will get a good look in the 5/6 slot because of his offensive production in the KHL.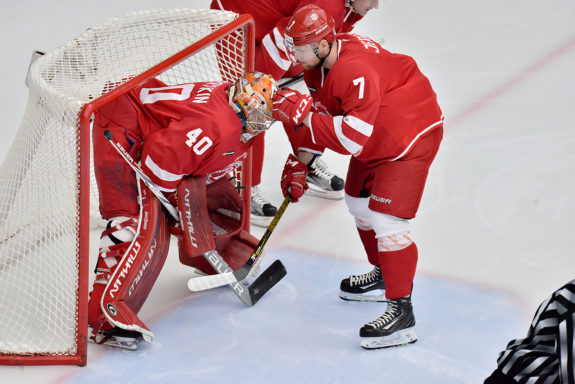 Jordie Benn performed admirably after arriving in Montreal at the deadline last season so his spot should be secure, and he could move up to the second pairing, swapping with Schlemko at times.
Goaltenders
This one is about as obvious as obvious gets and really doesn't require an explanation. Price is the man in Montreal for the next 9 years and as long as he is physically capable of playing, it is unlikely that will change.
Although Al Montoya has proven to be one of the better backups in the NHL, expect #31 to play at least 60-65 games again this season.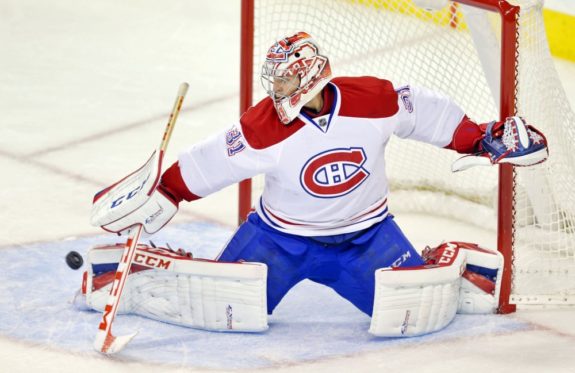 Projecting lines is tricky for any team; with all the changes on the back end and the uncertainty in the center position, the Canadiens lines could look 100% different than what is outlined above.
This exercise does, however, give us a good look at what we can expect the Canadiens to look like on October 5 when they hit the ice in Buffalo.