The 2020 NHL Entry Draft finally begins Tuesday night. One of the top players of this year's draft class knows he's got to put the work in to succeed in the NHL. Also, a hot start in Russia could be making a late rise up the rankings with a hot start. Finally, we stay in Russia as a recent NHL draftee is excelling in a bigger role at the top level.
Stützle Has the Right Mindset
The real drama of tomorrow night's NHL Entry Draft will come after the New York Rangers select Alexis Lafrenière with the first overall pick. The Los Angeles Kings hold the second selections and they have a tough decision to make. Will they take Quinton Byfield out of the Ontario Hockey League (OHL) or Germany's Tim Stützle?
If it's Stützle he will be the highest drafted player from Germany ever, beating 2020 Hart Trophy and Ted Lindsay Award winner Leon Draistail by one spot. He has spent the three seasons playing for the Mannheim program in Germany, the same one that produced Draisail and defenseman Moritz Seider, who was drafted sixth overall by the Detroit Red Wings in 2019.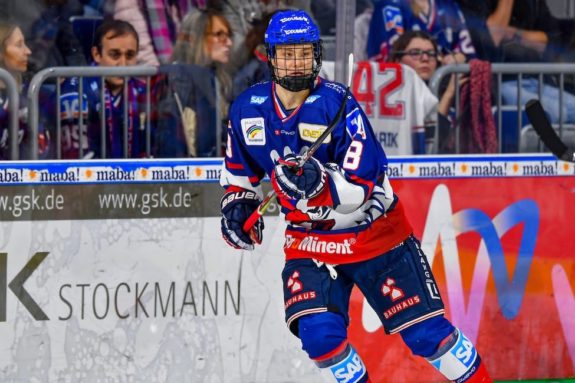 "The pro game is a lot faster, a lot more skillful — they are so much smarter players on the teams, stronger guys. So I think I changed a lot," he recently told Sportsnet about the adjustments he had to make when he got to Germany's highest level. "When I was young, I dangled a lot on the blue line and maybe had some turnovers … maybe I made too many circles in the defensive zone, not like start and stops. So, I think I developed that very good. … I think overall, I got better in every kind of [area]."
Stützle knows that if he wants to succeed at the game's highest level in the NHL, he is going to have to put in the work both on and off of the ice.
Related: 2020 NHL Draft Guide
"I'm always a guy who wants to be the best with everything. So yeah, I think also in the weight room, I always want to make the highest weight, but with the pro team, it was tough to make the highest weight," he said. "But I worked so hard, until I maybe get onto the highest weight, or I'm a little bit away from that, but not too far away. That was pretty good for me, to get to know every veteran, how he's preparing for games, how he's training hard, what he's doing on the ice to be that good guy and a leader. Playing against men, and training against men, I think that's very important. I think that makes the next step to the NHL a little bit easier."
The Kings have a very tough choice ahead of them, but no matter if they choose Stützle or Byfield, they should have a special player on their hands.
Chinakhov Off to Hot Start
While Stützle is going to be one of the first players taken tomorrow night, Yegor Chinakov was not expected to go until much later in the draft. However, he could be climbing up the draft boards at the last minute with his start in the Kontinental Hockey League (KHL).
The 19-year-old winger has five goals in his last five games for Avangard Omsk, including this one on Sunday versus CSKA Avangard.
Our own Andrew Forbes wrote this about Chinakhov's NHL potential back in June:
As of now, he has the offensive skill to be a top-six forward, but his all-around game still needs some work. Chinakhov will likely slot in better in a third-line role at this point until he can show that he's developing towards his ceiling. He has the shot and skill to play atop an NHL lineup, it's just a matter of him reaching that point when he gets to that level.
Chinakov was originally projected to be a sixth or seventh-round draft pick so it will be interesting to see how this hot start changes that, if it all.
Morozov Shining in Expanded Role
We go from two players who will be drafted later this week, to one who has already been drafted. The Vegas Golden Knights selected center Ivan Morozov in the second round (61st overall) in the 2018 NHL Entry Draft.
Morozov spent the 2019-20 season playing in all three levels of Russia hockey within the SKA St. Petersburg system. He spent 16 games in the KHL and scored five goals and seven points.
This season, he in the KHL full-time and has even been centering the top line. He has already nearly equaled his offensive output from a season ago with three goals and five points in just 12 games. He had a goal in regulation and in the shootout in a 3-2 loss to Barys on Sunday.
The 20-year-old has yet to sign an entry-level deal with the Golden Knights, but if he keeps up his solid play that could change by the season's end.
The first round of the 2020 NHL Entry Draft kicks off Tuesday night at 7 pm ET. Be sure to keep your web browsers on your computers and phones open to the Hockey Writers as we will be bringing you live coverage and analysis of all 31 picks made.  
---
---