With so many goalies to choose from at the 2013 NHL Entry Draft, hockey fans must be wondering which netminders could wind up being steals in the mid-to-late stages of the draft. Players such as Zach Fucale, Spencer Martin, and Eric Comrie seem to be the goalies that will garner the most interest in the early stages of the 2013 Draft, but there are certainly a handful of intriguing goaltenders among this year's prospect pool.
Among the more interesting netminders that could be selected at this year's proceedings is Eamon McAdam. Over the last few years, McAdam has put in his fair share of work with the Waterloo Black Hawks in order to be recognized for the upcoming NHL Draft. Not only has McAdam flourished with the Black Hawks over the last three years, he has also expressed a strong desire to strengthen his game in any way that he can.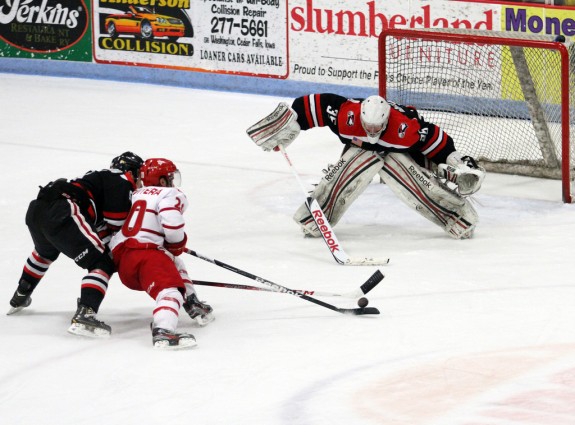 Despite the fact that McAdam is still only eighteen years old, the netminder has proven himself to be a team player and an invaluable asset to any hockey team that he plays for. Recently, The Hockey Writers had a chance to sit down and speak with Eamon McAdam before the NHL Entry Draft, and the prospect goalie sure didn't fail to impress:
The Hockey Writers: How does it feel to be one of the top ranked goalies going into the 2013 NHL Entry Draft?
Eamon McAdam: It's exciting. It has been a great experience thus far and it has been pretty good all year. I couldn't have asked for anything else, it has been great all year and I'm enjoying it.
THW: How would you say that your time with the Waterloo Black Hawks helped your progress as a goalie and as a prospect that could be selected in this year's draft?
EM: I think it helped me develop in a lot of ways. I think it helped me develop both mentally and physically. I matured a lot as a person in my three years there and picked up a lot of things, kind of off-ice things that are pretty key to goaltending such as being able to overcome mental lapses when things don't go your way and learning to put things behind you quickly. I learned a lot of little things that will help me later on and I've matured physically as well.
THW: Do you mind talking a little bit about your performance at the top prospects game in Buffalo?
EM: I don't think that I played as well as I really could have. We had played the night before in Green Bay, not to make excuses, but it was a really tiring week. It was a good experience overall, I played alright, but I definitely could've played better there.
THW: You are committed to Penn State next season, and with them moving to the Big-10 next season what are you expecting from their hockey program?
EM: I expect to compete right away. I don't know if we'll be up there with all of those teams right away, there's a lot of talent in the league, but I think (from what I've heard) the guys that were in Penn State this past season were hard-working guys. A lot of times hard work will beat skill and I'm looking forward to it and I think that we are going to be pretty good competition in the league this year.
THW: Throughout your time with the Waterloo Black Hawks, what would you say were some of the maturing points in your game/technique?
EM: Something that has become more of a strong play for teams has been the use of screens and tips. So I really had to figure out how to work through screens and be able to find pucks through screens, and I feel that that has been the biggest thing that I have had to improve upon over the last three years.
THW: Well, your puck tracking skills are actually one of your biggest strengths as well as puck handling. In terms of puck handling, has any particular goalie influenced that aspect of your game?
EM: I watched Marty Turco a couple of times growing up and heard stories from my goalie coach about how he used to fire the puck and handle the puck like a forward. I had a lot of open ice and a lot of free time and didn't have anything else to do, so I would just shoot the puck on net and I think I developed it early on.
THW: You are going to be one of the bigger goalies available at this year's draft, do you rely a lot on your size to help you out?
EM: I wouldn't say I rely on it. I definitely use it to my advantage. I think I could use it to my advantage even more than I already do. Sometimes I'll play pretty strong and spread out and kind of take away the size advantage, but I definitely use it to my advantage in a lot of circumstances. I mean, it would be nice to be even bigger. I was actually up at the World Junior tryouts this weekend and I was one of the smaller guys up there, most of the other guys were actually 6'4", so it was kind of weird being the small guy.
THW: Overall, what would you say are some of your feelings, expectations, or sentiments for draft day? Are you nervous?
EM: No, I'm definitely not nervous. I'm just going in with the attitude of "whatever happens, happens". I've heard a lot of stories of pretty much anything happening on draft day (guys getting drafted by teams they were talking to, guys talking to a bunch of teams and not getting drafted), so honestly, anything can happen. If it happens, it's a great thing and we'll celebrate, but even if it doesn't happen, guys are getting signed as free agents all the time, so it's big, but it's not something to dwell on.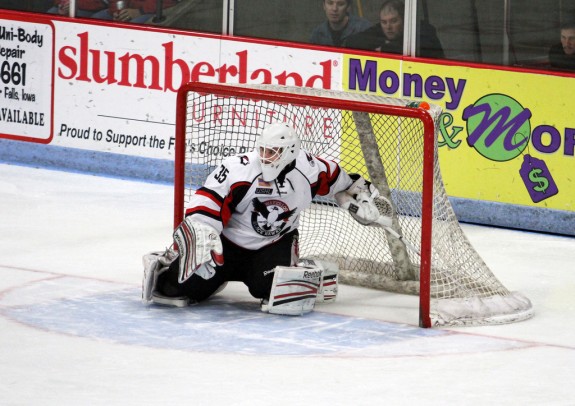 Well, there you have it, not only has Eamon McAdam shown a readiness to take on the obstacles that lie ahead of him, he has displayed an intellect and demeanor that is well past his eighteen years of age. Of course, McAdam still has a couple of years of development at the collegiate level before he makes the jump to the professional level, but the goalie's prospects are undoubtedly very bright. Regardless of when McAdam is selected, or who chooses to use a draft pick on the goalie, the Perkasie, Pennsylvania native sure has a tremendous upside that would make him a worthwhile investment for any hockey team.
In his third year with The Hockey Writers, Toli covers all things related to the New York Islanders. Focusing on the Islanders, the NHL Draft & draft-eligible prospect goalies, and hockey history, Toli can be contacted on Facebook by searching/messaging Toli Metter and on twitter by searching @ToliMetterTHW.