Alexa Gruschow didn't take the easiest path to the NWHL, but now that she's entering her second season in the league it's hard to imagine where the New York Riveters would be without her. Between her prowess on face-offs, or her winning a job at a Free Agent Camp after being undrafted and her ability to play against the opponents' top line weekend after weekend — the Riveters really found themselves a gem in Gruschow.
In nineteen games (regular season and playoffs) Gruschow didn't register a shot on goal only three times (all before Thanksgiving) and throughout the entire campaign she was the Riveters version of a Swiss Army Knife, meaning whatever situation she was put in by the coaching staff the graduate of RPI was able to excel in that role consistently. Power play? Check. Penalty kill? Check. Top line center? Check.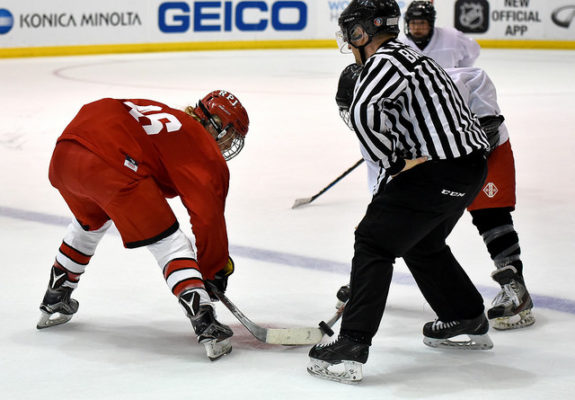 With even more confidence than she had to start this past season, it will be interesting to see Gruschow take her game to the next level in season three of the NWHL. She will have more familiarity with the league and her teammates and seems to be destined to be a cornerstone of the franchise as the league moves out of its infancy stages.
There are still three more months before the season starts but we thought it was a good time to check in with the Rivs' ace pivot to find out some of her favorite memories of this past season, goals for the upcoming season and what it's like to be a professional player among other topics. Gruschow was kind enough to take some time out one day and answer our questions via email.
The Hockey Writers: First off congrats on signing on for a second year with the Riveters; how excited are you to get back on the ice with your teammates – most of which (at this time it appears) will be returning?
Alexa Gruschow: Thank you, I'm very excited! I really enjoyed my first season with the Rivs and I'm looking forward to another season with them. I'm glad to see that we have a good number of returning players because we had awesome team camaraderie last year and it's great that we will be able to carry this into the next season.
All smiles about joining @NYRiveters for another season!! Very excited to be given the opportunity to experience year 3 of the @NWHL ! 💪🏼🔴🔵 pic.twitter.com/8Nd7awkjRp

— Alexa Gruschow (@AlexaGruschow) June 2, 2017
THW: During the season when we spoke about your success on face-offs you said something like you were kind of surprising yourself; now that the year is finished can you tell fans about that part of your game? How often do you practice taking draws? Was there any particular player you went head-to-head with on draws that were more challenging than others?
AG: Yes, it was a bit of a surprise at first, but then I began to embrace it as being an important part of my play. As the season went on I approached each face-off with more confidence — that I was going to win it, and this confidence seemed to help me get more wins than losses. There were times when (coach) Chad (Wiseman) would quickly throw me out on the ice solely to win a face-off, so this added a little pressure but also gave me an important role for the team. I would try to practice taking draws with our other centers after practice on Thursdays in order to get some face-offs in before the weekend game. Practicing face-offs with (Janine) Weber was always a challenge because she's super strong so we would battle it out, which was good practice; my hands would be sore afterward haha!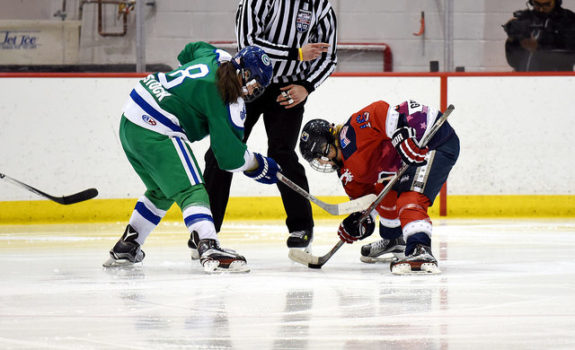 THW: Among the rookies on your team Miye (D'Oench) had a handful of goals, (Rebecca) Russo had lots of points, but you were pretty solid on the ice all around. Seventh in the entire league in blocked shots, the face-offs obviously (third most F/O wins in the league). How satisfied were you with your first season as pro individually?
AG: I was happy with my rookie season, the level of play was a step up from college and the games were so fun and exciting to play in. Yeah, I had an average amount of points but I was able to have some highs in other areas, such as the most blocks out of all forwards in the league and also top three in face-off wins. These stats were something different for me that I took pride in. I'm interested to see what my strong suits will be next season.
THW: What was your favorite on-ice memory during the season? (win, goal, pass, block, etc)
AG: My first pro goal was definitely memorable, and my roommate Fratty (Kaleigh Fratkin) had the assist on the goal so we were pretty pumped about that…and it was in our rink, so the home crowd made it even better.
My favorite memory, for a couple reasons, had to be when we beat the undefeated Boston Pride. The win, in general, was amazing because we had come close a couple times to beating them and we were able to do it at the end of the season when our team was playing at its best. Also, the last play included some things that we talked about above…I took the last face-off in our defensive zone and I think I won it, I don't quite remember, but we can say I won it to enhance the story haha!
We battled hard in our D zone and I was able to lay out and block their last shot attempt in the final seconds of the game…so these face-off and blocking skills paid off haha. After the buzzer, I turned right to Fitzy (Katie Fitzgerald) and jumped on her and accidentally head-butted her in the face…hopefully, she didn't feel it.
THW: What was your favorite off-ice memory during the season? (meeting a kid, signing autographs/taking pictures, running or participating in a kids clinic, etc)
AG: I don't have one particular memory that stands out but some of my favorites were the good times our team had together off the ice, interacting with fans after games, and spending time with kids at hockey clinics. I'll talk about my most recent off-ice experience with the league, the NYC Pride parade. This was my first Pride parade so that was a cool experience in itself.
The amount of support was incredible as the @NWHL joined @YouCanPlayTeam to walk for equality and respect among athletes! #NYCPride pic.twitter.com/MGeiPZU3LA

— Alexa Gruschow (@AlexaGruschow) June 26, 2017
We were promoting what the NWHL and the You Can Play Project stand for, and we displayed this in a different environment rather than in a hockey rink or at a hockey event. This was special because we were reaching outside of the hockey community and the athletic community to express our stance on equality and respect to/for the entire LGBTQ+ community. This was a fun experience and I'd be happy to participate in more community events with the NWHL in the future.
THW: After falling short last season, what would it mean to win the 2018 Isobel Cup?
AG: 2018 is our year! Even though we did fall short, our team ended on such a strong note for how far we had come since our slow start to the beginning of the season. Since we have a lot of returning players it would be special to win it with the girls who experienced last season with the Rivs and the progress we made.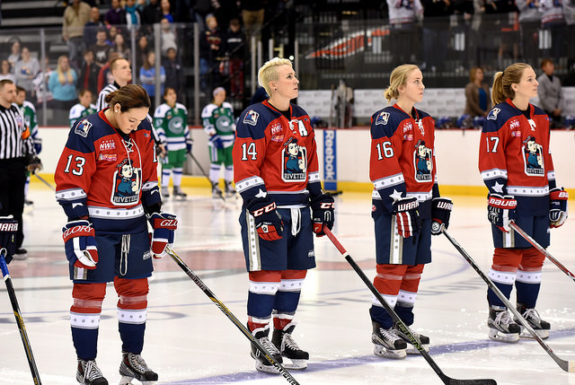 THW: How shocked were you that Buffalo won last year's Isobel Cup?
AG: It wasn't what people expected since Boston was the favorite going in. But we were able to beat Boston at the end of the year and then Buffalo beat us in the first round of playoffs, so Buffalo had the potential to win just like Boston did. It was nice to see a different team win it this year.
THW: How cool is it to see fans wearing a jersey or shirsey with your name on them?
AG: It's such a happy feeling! I think, whoa, that's my name and they chose to wear it. Just really cool, I get excited about it haha. If I ever see someone post something on social media showing off my jersey or shirsey I make sure to comment to show them my excitement and appreciation that they're wearing my name.
Dan Rice is in his 9th year of reporting for THW & has covered NJ Devils home games for 15+ years at various websites. He began his journey working for legendary broadcaster/writer Stan Fischler from 2002-04 & completed an internship at the ECHL; he also has been writing features for the NWHL (nwhl.zone) website since 2016.