Every player has his own unique journey as he tries to make a living playing professional hockey. Mike Sislo is no different, as he went undrafted after four years at the University of New Hampshire (where he scored 51 goals) and signed with the New Jersey Devils organization shortly after his collegiate career ended. After two seasons in the AHL with the Albany Devils, Sislo finally got his shot in the NHL when he earned a call-up to New Jersey in January and then again in April; both seven game stints.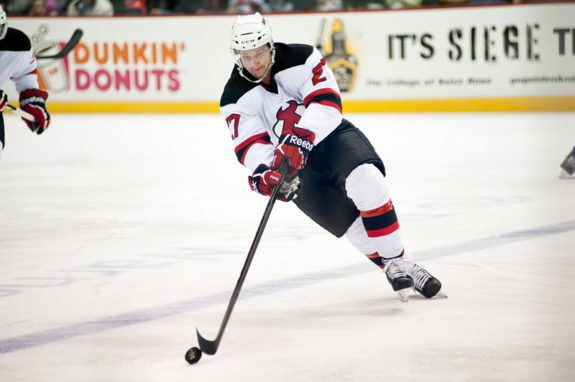 He's playing in the playoffs now with Albany, but Sislo will be a restricted free agent this summer and our best guess is that the Devils decide to bring him back on another low-cost two-or-three year deal. "I like him as a player; he skates well, handles the puck well, creates a lot with his speed," Ryan Carter told The Hockey Writers about his teammate. "As a person, he's a good person; he comes from the Midwest, Wisconsin, he's my neighbor. There's a few good people from there and he's one of them."
During his second stint in New Jersey in April THW caught up with 26-year-old Mike Sislo to discuss his college days, what his season has been like for him and what it's like being in a locker room among legends among other things.
The Hockey Writers: You were having a nice season in Albany — 26 points (13g-13a) in 61 games before being called back to New Jersey for these last seven games, can you tell us what this season has been like as a whole?
Mike Sislo: It's been a big growing year for me; at the start of the year with Albany I got hurt for a little bit, but the first month I played I felt I really started to help the team. And playing well. I got a call up to New Jersey in the middle of the year, and I thought I did pretty well (seven games in January) and then went back to Albany just trying to help those guys win games. That's been my mindset since I've been back (seven games in April), just try to do what I can to help my team have success.
THW: After those first seven games when you get sent back to Albany does that make you even hungrier to get back to the NHL?
MS: Yeah, you learn a lot in a lot of different ways. You get that confidence, you know you can play here in the NHL and you know what you have to do to improve to be successful when you get that next chance.
Mike Sislo got some confidence scoring a nifty goal against the Philadelphia Flyers this past preseason:
THW: What do you remember about your four years playing at the University of New Hampshire?
MS: That was a big part of my life; I grew a lot as a person. The coaches there do a great job of making players accountable and really turning kids into young men. I had a great experience there.
THW: You went undrafted and signed with the New Jersey Devils, were there a lot of other teams that showed interest in you?
MS: There was a couple…
Ryan Carter (walking by): Twenty-nine.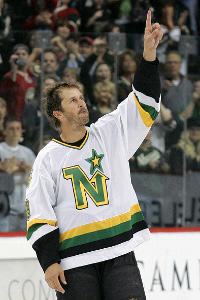 MS: (grins) after my senior year season was over they showed the most interest so that was great and I'm very happy to be part of this organization.
THW: You're a Wisconsin kid, who was your favorite player growing up?
MS: (smiles) Mike Modano was my favorite player when I was younger.
THW: Any particular player with the New Jersey Devils that has helped you make the adjustment from the AHL to the NHL?
MS: All of the guys have been great to me honestly and treated me well; they'll help me out with little tips here and there. How to play a situation a little differently, how to get better. So I've just tried to absorb as much as I can from everybody.
THW: You aren't the tallest guy, has that ever been a detriment to you or have you heard you'll never make it because you aren't tall enough?
MS: Not really; I think not being the biggest guy I've tried to rely more on my speed and instincts when you don't have that size over people.
Mike Sislo is a leader in Albany, as one of the alternate captains:
Mike Sislo stretches during pregame before Game 2 last Saturday. pic.twitter.com/FMjXr8Du7n

— Dan Rice (@DRdiabloTHW) May 1, 2014
THW: What do you think you need to work on this offseason heading into the 2014 training camp?
MS: Not a whole lot; I think just being a complete player, playing at both ends of the ice, playing hard all the time. Make sure I'm finishing my checks, moving my feet; that's kind of two of the biggest things I have to make sure I do all game, every game. In the offseason I'm always trying to get faster, trying to get stronger and be as prepared as possible to have success.
THW: As a rookie what's it like to be on a team with living legends of the NHL like Martin Brodeur, Patrik Elias & Jaromir Jagr?
MS: It's unbelievable; they are players who have been that successful for that long…they must be doing something right. Again, it's one of those things that being here I try to absorb as much from them and everybody else, to learn how maybe I can have success here at this level too.
Mike Sislo scored his first career AHL goal on a penalty shot against Bridgeport:
THW: As a kid growing up I'm sure you played video games using Jagr or Brodeur right? And now you're sitting in the same locker room as them…
MS: Yeah (tilts head down and smiles) exactly — it's surreal. They've been around for so long and at the top of the game for so long that to be in the same room as them is pretty cool and pretty unique. But at the same time when I'm here I'm focused on what I can do to help the team.
Dan Rice can be reached via Twitter: @DRdiabloTHW or via Email: drdiablo321@yahoo.com
Dan Rice is in his 9th year of reporting for THW & has covered NJ Devils home games for 15+ years at various websites. He began his journey working for legendary broadcaster/writer Stan Fischler from 2002-04 & completed an internship at the ECHL; he also has been writing features for the NWHL (nwhl.zone) website since 2016.