Playing in his second season with the Boston Bruins, Reilly Smith has made a massive impact on the Bruins. Claude Julien has experimented with the lines and broken up the famous second line of Smith, Brad Marchand, and Patrice Bergeron, which gave opponents so many headaches.
In the video below, we see Smith dish out a nice pass, and immediately ventures down into prime real estate and beat Corey Schneider with a tricky wrister coming off a slick pass from Bergeron.
Smith's sense of the game is on another level from his competitors. In addition to his top-notch offensive instincts, Smith has a knack for finishing and also possesses good vision. Between his mature offensive game and improving defensive instincts, Smith is a very tough player to compete against.
The Hockey Writers: What was it like playing a warm weather climate like Dallas, where the Stars play third fiddle to the Cowboys and Rangers, versus coming to Boston, where the city bleeds Bruins hockey?
Reilly Smith: It's great, and it was definitely one of the biggest adjustments I had to make. Being such a focal point of the city, in Boston, they love their sports so much. It's different from Dallas, when the Stars are a few steps behind the Mavericks and all their other sports teams. It's something that you have to get used to, but it's something that you wouldn't want to have it any other way.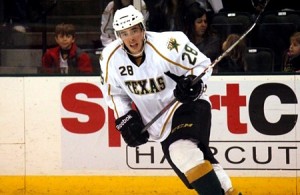 THW: When the season was starting, obviously the main goal is to win the Stanley Cup, but what are some of the other goals for the team?
RS: Well, every day is a process. The Stanley Cup is the light at the end of the tunnel. You have to build every day, and if you do the right things, you'll get the opportunity to be in the playoffs and hopefully make it to the last game of the season.
THW: Who is the hardest player to play one-on-one against?
RS: Ooh, I don't know. There are a lot of tough ones. Maybe (Zdeno) Chara, but I don't really know.