In the holiday film "Rudolph the Red Nosed Reindeer", the characters in the movie visit The Island of Misfit Toys. The island is reserved for the toys that none of the children want for Christmas, even if they were absolutely free. In the mythical world of The Island of Misfit Contracts, the Flyers have a number of residents. If the Flyers want to trade any of them, they would have to package another asset to offset their negative value, and be willing to accept future consideration or a late pick in return. It sounds like a waste of assets, but it could be something the Flyers would be willing to do to rid themselves of this dead weight.
The three residents are currently taking up over 20% of the Flyers' cap space. So far this season, the trio have scored 12 points in 51 combined games played, going -19 in the process. Their combined Corsi-On per 60 at even strength is -53.32. To say that they have been dead weight is a understatement. Here are the three residents…
Vinny Lecavalier ($4.5M/year for 3 more years)
Signed in the summer of 2013 to provide some veteran presence and secondary scoring, Lecavalier has brought neither of those to Philadelphia in his tenure. He has just 2 goals and 6 points in 16 games this season. In the Flyers' latest loss to the Rangers on Saturday, Lecavalier was demoted to the 4th line and had just nine shifts the entire game. When asked about his ice time, this was his response:
"When you have six or seven shifts, it's definitely not a confidence booster, but that's what it was today. Hopefully I'll get more of an opportunity to play next game."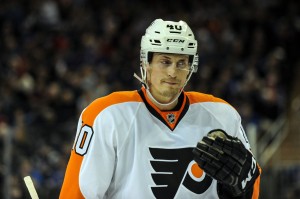 When Berube was asked about his ice time, he said Lecavalier needed to work harder, dig in, and play his game with more structure. Does the above sound like somebody committed to doing that? No.
The kicker with Vinny Lecavalier is that he has a no-movement clause for the duration of his contract. So, even if the Flyers could find somebody willing to take on his contract (unlikely), Lecavalier would have to approve of the team he would be going to.
At the same time, if you're Vinny Lecavalier and you have the chance to go to any other team, wouldn't you take it? It seems he and Berube do not see eye to eye, and Lecavalier will not get the minutes he wants in Philadelphia. If Ron Hextall gives Lecavalier the ultimatum of press box, AHL, or another NHL team, he has to pick another NHL team.
RJ Umberger ($4.6M/year for 2 more years)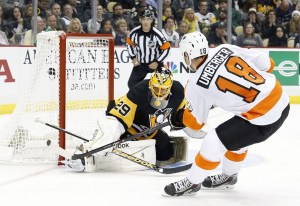 When Scott Hartnell was shipped to Columbus straight up for Umberger this summer, many scratched their heads in confusion. Hartnell had clearly been the superior player in the past (and still is). The only redeeming quality of the trade was that Hartnell's contract had two more years remaining compared to Umberger's. But when you consider Hartnell has been an extremely healthy player in his career, and was coming off the third best season offensively in his career, that benefit doesn't seem so great.
This year, Hartnell hasn't slowed down, and Umberger looks as slow as ever. Hartnell has more multi-point games than Umberger has points this season, and is scoring at a higher point per game pace than his career average. Hartnell is the fourth best forward in terms of possession for the Blue Jackets, and Umberger is the worst on the Flyers.
Defenders of the trade said Umberger would be better defensively, and useful on the penalty kill. He's been average at best in the defensive zone this year, and the Flyers' penalty kill is the worst in the league. While that's not entirely his fault, he certainly has not impressed on the PK.
Umberger's most common linemates this year have been Sean Couturier and Matt Read. Couturier's PPG has regressed to the same level he was at as a rookie, and Read is having the worst offensive season of his career. Coincidence? Absolutely not.
Andrew MacDonald ($5M/year for 5 more years)
When the Flyers signed MacDonald to this contract last year, it was universally regarded as a poor move. Just how bad it would end up being would be a matter of time, and if this season is any indication, we're in for a bumpy ride. MacDonald has been the second worst defenseman in terms of possession for the Flyers, behind only Grossmann.
He has been regularly outplayed by Nick Schultz and Michael Del Zotto, who both make less than a third of McDonald's annual cap hit. His poor play culminated in him being a healthy scratch on Saturday. Berube's criticism of MacDonald sounds very similar to his criticism of Lecavalier:
"I talked to Mac about his play lately and we both agreed that he's got to play better," Berube said. "He hasn't moved the puck as well as he has. His intensity has dropped off.
MacDonald is paid like a top pairing defenseman in the NHL, but he's ideally a #5 defenseman on a team that's a contender. Alas, he's being asked to play top pairing minutes in Philadelphia, and the Flyers are far from contenders.
Light at the End of the Tunnel?
With how poorly the Flyers are playing, Ron Hextall has to be looking at some type of move to shake up the team. They look complacent out on the ice, and aren't winning any battles out on the ice.
Grossmann goal. MacDonald scratched. Lecavalier logged 1:51 in first period. WHAT IS HAPPENING

— Broad Street Hockey (@BroadStHockey) November 29, 2014
If Berube's decisions on Saturday are any indication, it could be one of those three moving if Hextall can somehow find a team to take one of these misfits.
Bill Schoeninger is a Philadelphia Flyers writer and current Boston University student studying business. Coming to THW from Hometown Hockey, Bill follows and writes about the Flyers, Boston University Terriers, and NHL Draft prospects. Follow him on twitter @BSchoeninger17