Once undrafted coming out of college, 30-year-old Rod Pelley is now in his second tour of duty with the New Jersey Devils organization and in the last two seasons with the Albany Devils of the AHL he has been the captain — the veteran leader entrusted with helping aid in the development of the young prospects in the organization as well as showing them how to be professional players. A four-year player for Ohio State University, Pelley played in parts of five seasons with the Devils before he was traded to Anaheim in December of 2011.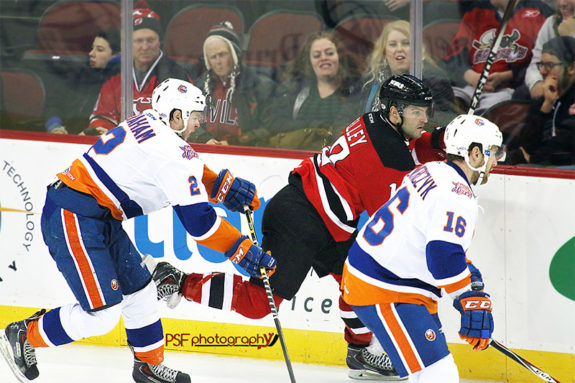 Recently the Albany Devils played a game at their parent club's arena in New Jersey and after the 5-3 win over the Bridgeport Sound Tigers The Hockey Writers talked with Pelley about being a captain of a team, the AHL schedule and his Buckeyes among other things.
The Hockey Writers: You played parts of five seasons (2006-11) with the Devils so coming to play this game at the Prudential Center isn't that much of a big deal to you is it?
Rod Pelley: It was good to be back (here). You see fans that you saw a couple of years ago, they're just a little bit older (smiles); some familiar faces, and it's kind of cool. It's good to be back in Newark, at this rink; it's a familiar spot for me. Anytime you walk in here and see some of the staff, some of the coaches that are around, the trainers and the medical guys. It's always nice to say hello, ask how their families are. All in all it was a good experience tonight.
In perfect position, Rod Pelley scores a goal last season in the AHL:
THW: This game was a rollercoaster; you had them down, they crawled back into it and then you put them away in the third period. Can you talk about the emotions of a game like this?
RP: It's always a learning process (in this league); I think in the beginning of the season we might have lost a little more composure in a game like that. I think as a group we are learning lessons as we go and at this point in the year I like the way we responded in the third. We didn't get too down on the bench; we didn't lose our composure on the bench. It's not our first rodeo, we kind of get 'it' a little bit now and that's the way we have to stay together.
THW: In the AHL you play these teams so often, tonight was your tenth game against Bridgeport of the season. When a situation like tonight comes up are you maybe better prepared because there are no surprises against such a familiar foe?
RP: For sure (laughs). I can go through their lineup without even looking at the board here (behind me) and tell you everything about every guy on their team. The guys that I look out for are good guys on draws, bad guys on draws; it's just the way it is in the American league. I guess it's good in some ways and tougher in others; they're a good team, they have some good players. I like the way we played (tonight).
Let's take a look #ADevils captain Rod Pelley's 2013-14 season back in Devils Red — FEATURE: http://t.co/1FKY1Dej2D pic.twitter.com/W6dAhSO10Q

— Albany Devils (@AlbanyDevils) May 13, 2014
THW: After being away from the franchise, what kind of honor is it for you to be the captain of this team?
RP: Anytime you're the captain of a team it's definitely an honor. For me, I feel privileged to be a captain in the Devils organization; it doesn't matter where it is. It's definitely something I take pride in and I get a lot of satisfaction from trying to set a good example and seeing the younger guys succeed.
In his first game with Anaheim Rod Pelley scored a goal vs. the Coyotes:
THW: We know you're an Ohio State guy; you must have pretty pleased with how the football team did this season, winning two games as underdogs in the Final Four to win the NCAA championship?
RP: Yeah definitely (grins widely); I always take a little bit of a ribbing around here and we have a lot of Michigan guys. It was good to see the Buckeyes do well; I do follow it pretty closely — but I stay out of all the crazy posts on social media and stuff like that. I just enjoy watching and chuckle at all of the hard cores out there.
Dan Rice can be reached via Twitter: @DRdiabloTHW or via Email: drdiablo321@yahoo.com
Dan Rice is in his 9th year of reporting for THW & has covered NJ Devils home games for 15+ years at various websites. He began his journey working for legendary broadcaster/writer Stan Fischler from 2002-04 & completed an internship at the ECHL; he also has been writing features for the NWHL (nwhl.zone) website since 2016.