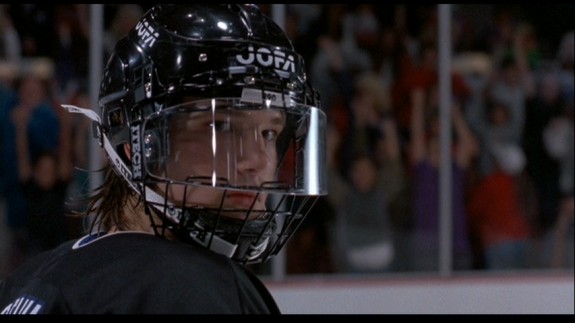 If you were a hockey fan in the 1970s, you grew up with Slapshot.
If you were a hockey fan in the 1980s, you grew up with Youngblood.
If you were a hockey fan in the 1990s, you grew up with the Mighty Ducks.
If you were like me and fall into the latter category, there was no better move than D2: The Mighty Ducks.  Not familiar with the premise?  Let me explain.
Gordon Bombay [Emilio Estevez] is a minor league player about to go pro before succumbing to a devastating knee injury.  He goes back to his small town in Minneapolis and is awarded the chance to coach Team USA in the Junior Goodwill Games.  In the first movie of the trilogy, he coaches a group of kids to a championship title.  Many of the kids make another appearance in D2, but a few newcomers with varying talents are also brought onto Team USA.
In the movie, we are introduced to a player who has become such a part of hockey lore for my generation.  Gunnar Stahl is the captain of Team Iceland – yes, there is a team Iceland.  Now the fictional character, who is arguably the best player in the Goodwill Games, has become famous for what is called the triple deke – WARNING: SO MUCH EPICNESS!
The man who made Gunnar Stahl famous is named Scott Whyte.  He's lived in California his whole life and started his career in hockey since as far back as he can remember.
"I got involved in hockey right before Wayne Gretzky moved down to LA to play for the Kings, and was immediately hooked.  I was the first kid on my block to have rollerblades and lots of people stopped and asked me what they were," Scott recounts.  "I played down in Torrance, California, for what was then called 'Bay Harbor' ice hockey league.  I only really played for two years before D2 happened."
It's coming up on the 20-year anniversary of D2 and so many things have changed in Scott's career.  But no matter where he goes, he always seems to get recognized.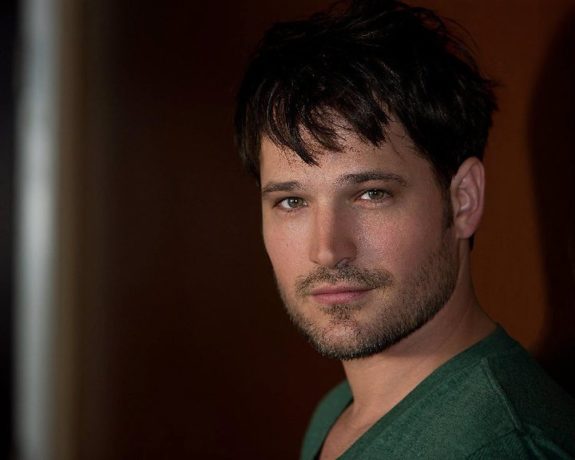 "Honestly, I don't know how people recognize it's still me.  It's been 20 years!  Here I am, older, much shorter hair, and every week Gunnar pops up at some point.  To be recognized for something I did so long ago, I just embrace it.  I always get a kick out of saying 'you lost it for yourself' to people that recognize me and see their reaction….priceless," Scott said.
Believe it or not, if things had worked out in Scott's favor he wouldn't have played Gunnar Stahl.
"I was auditioning for D2 for the role of Portman actually," Scott began.  "I had a screen test for that role against Aaron Lohr [Dean Portman].  He got the gig and they offered me the role of Gunnar.  I was bummed at first, but looking back, it was a real blessing.  I'm so lucky and honored to be part of something that people of all ages know and new generations and kids are growing up with.  Those were just great films and great lessons to be learned – timeless in a way."
He even keeps in touch with a few of his former stars from the movie.
"Speaking of Portman, I just reached out to him last week," mentioned Scott.  "Hopefully we chat or meet up soon to catch up.  Aaron was just such a great guy to work with.  I'm  friends with Shaun Weiss [Goldberg], too.  Every once in a while we reach out, say hi, see if we can come up with something funny to film and put out there, I think it'll happen sometime."
The words "Gunnar Stahl" and "triple deke" are synonymous with one another.  Gordon Bombay new what was coming.  Julie "The Cat" Gaffney knew what was coming.  Even Gunnar Stahl knew his patented move.  But what if Gunnar shot stick side instead?
"My family and I were just talking about this at lunch today.  I mentioned I would be doing this interview and wondered if this question would come up.  It's come up lots over the years.  I think Gunnar would have pulled it off and scored for sure. But I think my dad said it best today, 'they paid you good money to go glove side'".
As a kid starring in a movie, there are countless memories that stand out especially in a movie like The Mighty Ducks.  But Scott has one that's really stuck with him.
Scott said, "I'll never forget being some of the first people inside the Anaheim Pond (where the Ducks played) and filming that final game in D2.  They let us scrimmage in front of 16,500 or so people.  It was closest I'll ever come to being a pro and I actually scored a goal during that game.  The crowd went nuts, as did I."
A few years ago, Scott decided to give a little context to the 'you lost it for yourself' line that he is most noted for saying:
And one more Gunnar Stahl story:
"One of the unknown stories about Gunnar during the 'you lost it for yourself' scene was an issue that came up of how mean should Gunnar be to his coach?  We actually shot a few versions of me standing up to my coach before saying that line.  One I remember was him getting right up into my face, very threatening, saying 'Gunnar, you lost it for me!' and then I proceed to, very aggressively, check him back into a pile of hockey sticks and water bottles, knocking them all down, and the whole team gasping…then of course, I say, 'you lost it for yourself'.  At the end of the day, I think Mickey Mouse thought that was too violent or mean, so we shot the tame version which ended up in the film."
After working in shows like That 70s Show, Full House, The Nanny, Just Shoot Me, and NBC's City Guys, Whyte has had his ups and downs, but his new endeavors are probably not something many fans would expect.
"I've had a great career, but like every actor, I've also gone through slow times.  A few years ago, I got into voice acting, which I'm beginning to think is my true calling.  I've had a great time working on video games I love playing – Call of Duty, Transformers, Counter Strike, Star Wars, and recently voiced Leonardo on a  Teenage Mutant Ninja Turtles game (another childhood dream come true).  I do have some very exciting video games I did voice over work on)coming out in 2014 that I was fortunate to be part of, but everything in video game world is top secret, so I cant say what just yet.  Stay tuned!  I'm always updating stuff on Facebook, so you can stay in the loop there."
However, acting is not completely in the rear view window.  In fact, he has some projects coming out in the very near future.
"In the on-camera world, I recently had a film "The First Ride Of Wyatt Earp" released to DVD, starring Val Kilmer, Matt Dallas [Kyle Xy], myself, and a few others," Whyte added.  "I have some smaller parts in a few films coming out – not sure if they will be in theaters or direct to dvd.  Either way I'm happy to be working.  Acting is my calling, and I've been lucky to make a career out of it, but it has taken lots of work to maintain, no doubt about it."
Wherever he's gone, Scott Whyte gets noticed and remembered for being Gunnar Stahl, the antagonistic Icelander.  Looking back over the past 20 years, Whyte has realized what his character and those movies meant to a whole generation.
"I was just a young kid having the time of my life, playing ice hockey and acting.  Going to the premier and seeing it on the big screen was awesome in my world, but I didn't really think how other people would be effected or react – and I didn't care.  But looking back, I get it.  Again, they are just classic films that I was so lucky to be part of.  I owe lots of my career and life to those films.  It forever altered my life in many ways."
Follow Shawn Reznik on Twitter: @ShawnTHW
Follow Scott Whyte on Twitter: @ScottWhyte