Meet Cameron Close, the radio voice of the Adirondack Flames, American Hockey League affiliate of the Calgary Flames. At 23, Close, the native of Westford, Massachusetts is currently the youngest broadcaster in the AHL, but prior to joining the Flames for their inaugural season this year, he was the hockey play-by-play voice for the University of New Hampshire Wildcats.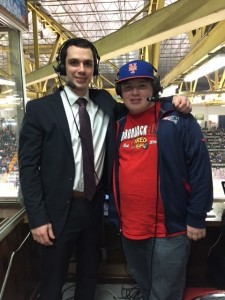 Now a UNH alum with a degree in Communications, Close and the Flames call the small Adirondack frontier town of Glens Falls, New York home. Nearing the conclusion of his first full season of broadcasting professional hockey, Cam was gracious enough to sit down and chat with The Hockey Writers at his Glens Falls Civic Center office last week.
The Hockey Writers: Cam, thanks so much for taking the time to sit down and chat today. We'll start back in time a little bit and ask you about your earliest hockey memory, either as a player or as a spectator?
Cameron Close: When I was very young, my cousins played college hockey. My cousin Jason played at West Point, and my cousin Michael played at Stonehill College. I remember going to see them when I was very young and all I remember was how much I wanted the Zamboni to come out. I liked watching the Zamboni. I didn't really understand the game, I just waited for the Zamboni to come. I guess that would be my first memory of hockey.
THW: Was there a particular moment that you knew broadcasting hockey was something that you wanted to do?
CC: Honestly, probably not until college. You know, I always thought about it as something I liked. I liked watching Bruins games, I liked listening to the Bruins games, and I liked the idea of being able to watch the game and dissect the game. In college I knew it was something I wanted to try.
I went you UNH because it was a Hockey East school. I've always loved college hockey and Hockey East, so I went there because of that, and I knew I wanted to get involved somehow with hockey. Then the radio kind of found me on its own and I was able to kind of work myself in there. By the end of freshman year I was able to call a few games and I really liked it, and by the end of my sophomore year or early junior year I said I think I could probably do this for a living. Then I really put all my eggs in one basket, and started putting all of my time into that, so probably the middle of school was when I really got serious about broadcasting.
THW: As a broadcaster looking to make a career in professional hockey, you've probably spent a good deal of time over the years listening to and analyzing different broadcasters with all sorts of different styles on the air. Who has been the most influential for you stylistically speaking, and was there a certain broadcaster that you looked up to growing up?
CC: Well far and away Jack Edwards of the Boston Bruins, just because he went to UNH, he did what I did through a similar path at UNH, and he's helped me out quite a bit over the last two years.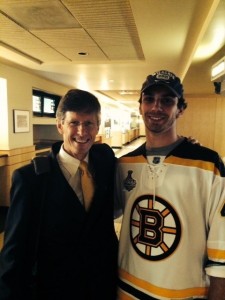 I reached out to him probably my junior year of college, and he's just been the best teacher I could have ever asked for. He gives it to me straight. If I have a game that's terrible, he tells me it's terrible, and if there's something that's good, he tells me it's good. He knows what he's doing, and I listen to what he says. I think we have different styles, though. You know, I like the way Jack calls a game, I like the way he puts his intensity into the fans. That's something I like hearing in a broadcaster.
I guess some other guys I listen to, I really like Jim Hughson. He does a lot of Canucks games, and he worked Hockey Night in Canada for a while. He has just the best voice you could listen to. And the way he calls a goal, and the way he calls a save, it's unlike anyone else, and he has his own personal style that he sticks with.
And then one other guy I love listening to is John Kelly, who actually did a few games here in Glens Falls and works for the St. Louis Blues now. I would say those three guys are three of my favorites.
THW: Is the broadcasting community a tight knit group of people? And do you feel that there is something that makes broadcasters, particularly radio broadcasters, kind of a unique breed?
CC: I'd say so. I think there's a lot that goes into this that people don't realize. You know, the preparation, and going out on the road is… [Slight pause] I've learned a lot being in this league that it is definitely a tight knit community. Every broadcaster knows what every other guy is going through.
You're working this job, you're not living in the Ritz by any means or making the money to do that right now. We're doing it because we love the game, and putting the time in with travel, you're putting the time in with preparation, and you really have to appreciate the game, and appreciate… [Another pause]
I've got the best job in the world. I get to watch hockey, and I get to call hockey for a living, and I'm very lucky to be doing that, and I think every guy is very close because we all have that same thing that we realize how lucky we are to be doing what we're doing. And I think I could reach out to any broadcaster, even when I was at the college level when nobody knew who I was – not that many people know me now – but even when I was still in college, I could reach out to any NHL broadcaster and most of them would be happy to listen to a tape, because everyone's been there at some point before.
It's a very hard area. There's only 30 NHL jobs, and everybody wants them. Everyone's going through the same path to get to those, so I think people appreciate that. Guys from college, a couple of them are in this league, and you keep in touch with those guys, and I think there's just a great respect across the league for one another because we're all doing the same thing. We're all in the same boat. We've all got our own teams to root for, and it's fun to joke around with that. But at the end of the day, we're all doing to same thing and we're doing it because we love what we do.
THW: You were of course the play-by-play voice of UNH hockey prior to starting work here in Glens Falls. You've now made the jump up to the AHL alongside some of the guys you had been covering over the past few years, guys like Paul Thompson, Nick Sorkin, Eric Knodle. Surely your allegiances lie here with the Flames, but do you ever find yourself rooting for those guys when they come into town with their respective teams?
CC: Well, yeah, I think so [said with the slightest bit of hesitation and a big smirk]. You know, the first game I ever called in the AHL regular season, Paul Thompson put up four goals for the Albany Devils. I never really thought I was ever going to call another Paul Thompson goal again after he graduated and left UNH after my freshman year, and then he comes back and puts four up on us to win the game. I would've like to call a win for my first game, but calling four Paul Thompson goals, I have to say was pretty of cool, kind of a good transition into the AHL. It was funny.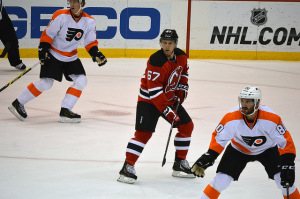 But it is cool, when you see the old guys come in, and especially the guys that I graduated with, that I maybe know a little better, like Eric Knodel. I saw him play some games with the Marlies, and I wouldn't have minded calling his first AHL goal, I don't need to lie about that [laughing], but I'm happy he didn't score it against us at the same time, you know it's double a double edged sword. But it's definitely pretty cool to see those guys up here and to see the guys you called in college and the way that they've progressed in the game. You know them better, I mean the second they touch the puck you know it's them without their number because you've been calling them for four years.
Don't get me wrong, I want the Flames to win every game we play, and the night's that we play the guys I know, I don't want them to necessarily play well, but if they do happen to put the puck in the net, it's kind of fun.
THW: You are the youngest broadcaster in the AHL. Is that something you embrace?
CC: No, I don't really think about it like that too much. I was very lucky to get this opportunity. I was applying for jobs over the summer to lower leagues, and I threw my name in the hat for this one once I had been rejected from jobs, from sales jobs in lower leagues and this and that. But no, I don't really look at it that way. Professional hockey is professional hockey.
The ECHL is a great league and it is a very competitive league, and it's just as high a level of hockey, maybe a little bit lower, but it's a high level of hockey, and even the juniors. I mean these are athletes that we're calling, and the skill on the ice no matter what league you're in it's going to be there. I'm in the AHL now, and that's great for me from a career standpoint, but at the end of the day I don't think of it [being the youngest broadcaster] like that, I'm just really happy to be where I am right now.
THW: There have been some big hockey names to come through this town of Glens Falls, broadcasters included, and possibly none bigger than Dave Strader. Does it give you a sense of pride to be starting your career where so many others have in decades past?
CC: Absolutely. This is a great place to not only call a hockey game and be a part of a hockey history that goes back to four Calder Cups with the Adirondack Red Wings, but you're in a place that knows hockey and loves hockey. This place was just named the fourth best hockey town in North America, and that tells you something.
(*Above is a taste of Close's broadcasting style.)
When you look at the Civic Center, which has been here since the 1970's and holds 5,000 people, and when you get 5,000 people in here it's like 15,000 people at a game because everybody is off their rocker for hockey here. And like you said, Dave Strader, it's great to have people like him in the area. I met with him probably the second or third week I was here because everybody wants to help everyone else out, and everybody in this town knows everybody. And the names that have come through here, and the history here is awesome, and it's really cool to be a part of that, and to know that whether it's AHL hockey or ECHL hockey, or whatever is going to be here in the future, that this place is going to have a hockey history for years to come. I'm just lucky to be a part of that hockey history now.
THW: This may be a question with no definitive answer, but do you have a single favorite hockey call of all time?
CC: I don't know if you can beat, even though it wasn't during a game, but when Joe Sakic gave the Cup to Ray Bourque and Gary Thorne, you know, "And after 22 years, RAYMOND BOURQUE!" I mean that one sends shivers down your spine every time. I think I could watch that one a hundred times and every time I'll be shivering a little bit because of the way that that one happened.
But I think the calls that happen in the moment – you can't plan a call. As much as you plan out how and when you're going to say certain things, you just can't plan a moment or a call, and that's the best part about sports is that it's unscripted and anything can happen, and the broadcaster is lucky enough to be the one that gets to be saying the words over what happens on the ice to make it even more dramatic, so yeah, probably that call.
THW: If you could give one single piece of advice to aspiring broadcasters out there, what would it be?
CC: Well I'm still an aspiring broadcaster [laughing]. But no, I'd say I think anyone can do this job. And I think if you put the hard work in – you don't have to be born with a radio voice or a TV voice or anything like that. I think if you put in the work, anyone can do this job. And if you watch practice, and you watch games and if you know the game and can read the play, you can call a hockey game. So if you put in the hard work, and you do the proper preparation, then anyone can do this. It's really just about who's going to do the most work and who's going to give up some serious time to figure out the best way to prepare is.
I think preparation is the most important thing, and if you put in all your time into learning players, and to learning the way a team plays a game, and you know a team well enough so that you know what they're going to do on a breakout before they do it, anyone can do this game. It's simply being a student of the game, and studying the game and the team and the team's that they play. There's no doubt that its hard work, but the things the guys do out on the ice, not everyone can do that. I think everyone can do this [broadcasting] with hard work, it's just all about honing your craft.
*The Hockey Writers thank Cameron for his time.