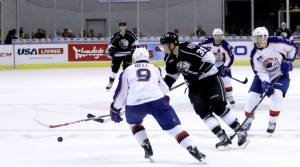 No hockey team is complete without a solid defensive unit. The Norfolk Admirals, the primary affiliate of the Anaheim Ducks, bolster a blue line that has its share of veterans that play alongside younger defensemen. The mix is beneficial to younger D-Men that can learn from their veteran counterparts.
THW's Ted Warren caught up with Brendan Bell, who is one of those vets who bring some stability to Norfolk's defensive unit. Warren conducted a Q&A style interview with Bell following a recent morning skate. Here is the interview.
THW:  At what age did you start playing and who introduced you to the game?
B.B: I think I was on skates at either three or four-years-old. I was the first grandchild and first son in our family and my Dad introduced me to it, but it was kind of a community-family effort getting me out there.
THW: You won an OHL Championship with the Ottawa 67's. Since you're from Ottawa, how did feel to bring the OHL title back to Ottawa?
B.B.: It was special. The year before I played there they won a Memorial Cup so a Canadian title was a huge deal. All the years I was there, we had good teams and we went for long runs in the playoffs and the team we won our OHL Championship with was probably one of the weakest team out of all four years. It was really special because the group that we had really came together and it was a really cool experience.
THW: You were a Captain during the 2002-2003 season with the 67's, how did you handle the role?
B.B: Taking on leadership is something that I've always enjoyed. It's the same thing here in Norfolk. I'm an older guy now and it's something that I enjoy and I've played in a lot of situations in a lot of places for a lot of different teams and from those experiences I can pass what I've learned along to younger guys.
THW: Are you more of a vocal guy or a guy who leads by example?
B.B.: I'm a little bit of both I think. I'm not a super high-energy guy who is always talking or anything like that, but I like to lead by example in a sense of work habits and just doing things the right way. I know when I was a young player I would watch a lot of the older guys and I hope that's the way it goes now.
THW: You played in the WJC's during the 2002-2003 season, how was it representing your country?
B.B.: As it gets further and further away, most of it is still pretty vivid in my memory. That was one of the coolest experiences I've had in hockey–playing for Team Canada in Canada. The World Juniors is as big as it gets in Canada back home during Christmas time. It was a really, really cool experience. Unfortunately we didn't win gold, but we got as close as we could losing 3-2 to the Russians in the finals. It was an awesome experience and it's something I'll never forget for a long, long time.
THW: You made your NHL debut during the 2005-2006 season, what do you remember about that game?
B.B.: We (Toronto Maple Leafs) played against the Carolina Hurricanes.  It was a Tuesday night in Toronto and I had been up and down a little bit before that and didn't get in the lineup. It was a pretty cool experience and it's something you dream of and you work your whole career to get to. I can remember it, looking up half way during the second period and going wow! This is it, I'm here. It didn't feel that much different from any other game, but it was pretty inspiring and pretty special.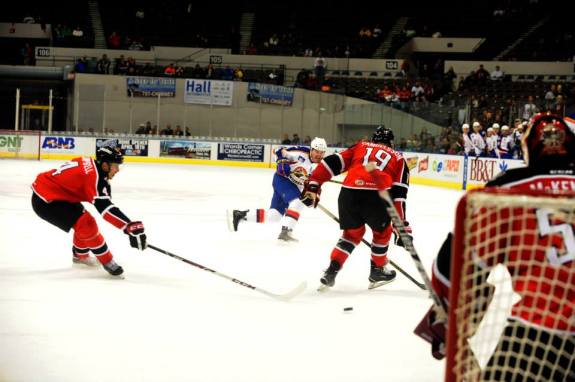 THW: You've played with numerous NHL teams. What has been your most memorable year?
B.B.: My year in Ottawa, playing for the Senators. Playing in my hometown and having friends and family at every game and just seeing people you bump into that you haven't seen for years that have been following and tracking your progress and then they get to see you. I was my most successful year personally. That was a really special season. I didn't have my kids at that point, but I wish its something that they can go back and see.
THW: How did your SPC with Norfolk come about?
B.B.: It came last minute. I had been debating going back to Europe or coming back to play NHL/AHL. Being an older guy there was limited opportunity for spots in the minors. I thought if I could get into a spot to mentor some younger players and improve my own games as well and maybe have a shot to get back to the NHL as well. It was something that I would look at. Anaheim called a day or two before training camp and asked me to come and I went and I was on a tryout and I had a pretty good camp and they ended up signing me. It's been a great experience; I've really enjoyed Norfolk and the Ducks organization.
THW: Is it tough comeback and adjust to the North American style of game?
B.B.: Definitely! It's a little bit harder than what I expected. It's just little things as a defenseman like reading plays, your gaps and things like that where there's more room out there on the European ice. So here you have to be a little bit quicker to jump in your holes. Just the style of play is a lot different, but I played seven or eight years pro before I went over to Europe so I know the game. It's just a matter of getting back into the same habits and it's coming around now.
THW: Earlier you talked about a mentor role, have you been mentoring anyone on the team?
B.B.: Fortunately for me there is a bunch of other guys on this team as well. We got Steckel, Winchester, MacIntyre, Mciver and Yip. We have some guys that have been around and played for a long time so it's kind of nice having an older group here as well. We've got all sorts of leadership. We've got guys that talk a lot and we've got guys that lead by example. Like I said I kind of fit into both categories. It's great to have other guys to work with in that department and not having to put it all on yourself. It's something I take pride in and I think it's going to be an important part of our team.
Ted grew up in Virginia. Warren has a passion for the AHL and dishes out articles about the Norfolk Admirals and the AHL. Follow him on Twitter @bauerhockeydude