Filip Chytil began this season playing well for the New York Rangers, but he suffered an injury in a game against the Pittsburgh Penguins three weeks ago that the team announced would keep him out of the lineup for four to six weeks. Since his injury, the Rangers have floundered, struggling to find offense as their lack of depth at center has hurt them.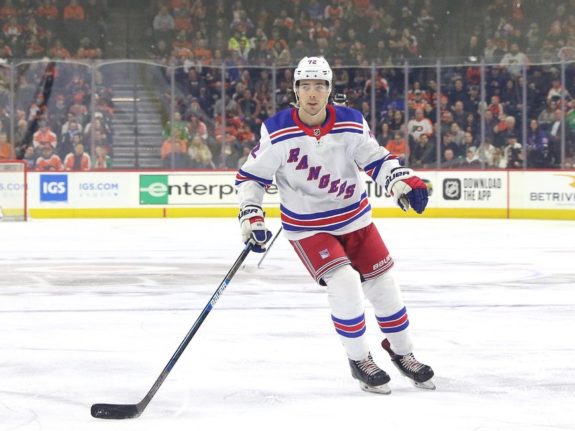 Chytil will be a key player for New York when he returns this season, and even more importantly, his development will be crucial for the future of the team.
Chytil's Steady Improvement
The Rangers selected Chytil with the 21st pick in the 2017 NHL Draft, and even though he was one of the youngest players selected in the draft, he impressed New York's coaching staff and made his NHL debut at just 18 years old during the 2017-18 season. He scored his first NHL goal and had two assists in nine games with New York, as he spent the majority of the season in the AHL with the Hartford Wolf Pack.
During the offseason, Chytil got stronger and earned a spot in the Blueshirts' lineup during the 2018-19 season. He showed flashes of his potential, scoring two highlight-reel coast-to-coast goals and finished with 11 goals and 12 assists in 75 games. He struggled defensively and on faceoffs, but it was still a very encouraging season for the young center.
Last season, Chytil had a disappointing training camp and began the season with Hartford, but he played well there and quickly earned another opportunity with the Rangers. He continued his strong play with New York, scoring six goals and adding an assist in his first eight games of the season. Though he went through a few slumps offensively last season, he played better defensively and regained his spot on the roster. He finished with 14 goals and nine assists in 60 games.
This season, Chytil was more physical and used his size nicely in New York's first few games. He had two goals and an assist in five games before getting injured. Faceoffs remain his most glaring weakness, as he has won just 37.2 percent of them this season and 38.3 percent in his career. Otherwise, he was off to a very good start.
Rangers' Struggles at Center
Entering the season, the Rangers were expected to rely heavily on Mika Zibanejad at center after his dominant 2019-20 season, but so far, he has yet to find his game. He finished with 41 goals and 34 assists in 57 games last season but has just one goal and two assists in the first 13 games of this season.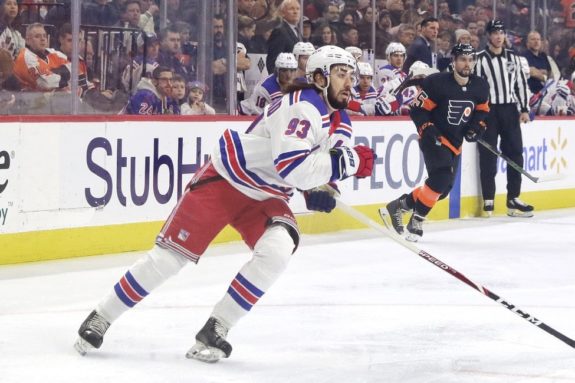 Zibanejad's struggles and Chytil's injury have created an opportunity for the other centers on the Blueshirts, but so far, most have failed to step up. Kevin Rooney has provided a spark with three goals and an assist in 11 games but has won just 33.9 percent of his faceoffs. Ryan Strome has been New York's best center this season, with four goals and two assists in 13 games, but he has won just 43.7 percent of his faceoffs. Brett Howden has been the Rangers' best center on faceoffs, winning 50 percent of them, but he has no goals and just one assist in 13 games.
It's very clear that center is a weak spot for the Rangers, and right now, no one on the team can be trusted to win important faceoffs. In fact, New York has repeatedly lost faceoffs cleanly at both ends of the ice, which has created numerous scoring opportunities for opponents while costing the Rangers scoring opportunities of their own. It's an area of the game that needs to improve for the Blueshirts to turn their season around and an area that Chytil will have to improve to reach his potential.
Moving Forward
The development of Chytil will be crucial for the Rangers moving forward. New York has had eight first-round picks in their last four drafts, but they have only drafted two centers: Chytil and Lias Andersson, who they traded to the Los Angeles Kings this offseason in exchange for a second-round pick.
Chytil has quick hands, good speed, good size and has improved defensively. If he can improve on faceoffs, he can be a very effective center. While there is no guarantee that will happen, former Rangers' centers J.T. Miller and Kevin Hayes have both dramatically improved on faceoffs in their careers, so it's certainly possible that Chytil can do the same.
It feels like Chytil has been around for a while, but he is still just 21 years old. It is encouraging that he has improved in each season since the Rangers drafted him, and they'll need that trend to continue in the next few seasons as they look to transition from rebuilding to becoming a playoff team.
---
---
I grew up in Brooklyn, New York, rooting for the Rangers, Yankees, Giants, and Knicks. When my dream of playing shortstop for the Yankees fell short, I started writing about sports instead. I'm a proud graduate of the Philip Merrill College of Journalism at the University of Maryland.