After signing an entry-level contract with the New York Rangers this summer, Russian goalie Alexandar Georgiev has finally played his first few games in a Rangers uniform. In this translated interview, originally appearing on the Russian website sport24.ru, Alexandar Georgiev talked about his NHL debut, his move to North America, and everyday life in New York.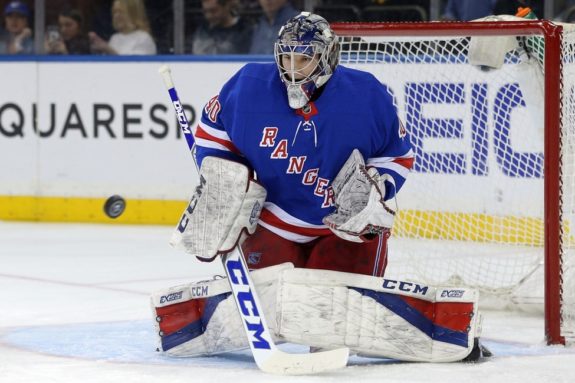 * You can enjoy the original interview by Milana Mamayeva in the Russian language here. *
Georgiev and His First NHL Games
Milana Mamayeva: So, you're finally pushing Henrik Lundqvist into a pension?
Alexandar Georgiev: [laughs] It's early to talk like that. For now, I'm happy to have the trust of the coaches and to play for the Rangers. Lundqvist still has a long contract with the team.
MM: He's 36 already and won't get any younger.
AG: He's a very experienced player. I still have a lot to demonstrate.
MM: Recently, you stopped a penalty shot by Evgeni Malkin when the score was 3-3 [with] just 10 seconds to the end of the third period. Did you understand what you did?
AG: I didn't check the clock, but I knew that it was a key moment in the game. I tried to be focused as much as it was a normal one-on-zero.
MM: Did Malkin tell you anything after the game?
AG: Not really, we never talked.
MM: I've read that when you played for TPS in Finland you were always practicing the shootout with Mikko Koivu. Do you think that the shootouts are your strong point?
AG: I always tried to give as much attention as possible to the shootouts. I like going one-on-one. It's either you read what the player is going to do or the player himself needs to show something else. Shootouts are my favorite drills during practices.
MM: What did your teammates tell you after the win against the Penguins?
AG: The guys always support me. They told me that I was good and needed to keep on playing this way. After the save, half of the team celebrated me.
MM: After that save you said that you simply didn't buy Malkin's moves. How can you take yourself in hand when you are faced with such superstars?
AG: When those players are playing, I try to understand where they are, what they are going to do. Well, I also try to concentrate on my game.
Playing at the Madison Square Garden
MM: When you play in front of a packed 18,000-seat Madison Square Garden, is it easier thanks to the fans' support or harder due to the pressure?
AG: Of course there is a huge difference when you play in front of a packed arena or in an empty place. It's always pleasant to hear the public clapping their hands when you have a save.
MM: When you got to know that you were going to play your first NHL game against the Canadiens, what did you feel?
AG: I was told that I was going to play one day before the game. I told everyone right away (laughs). My father and my girlfriend were in the US. When they knew, they rented a car and got to Montreal. It's a six-hour drive from Hartford.
MM: Where you shaking before your first game?
AG: Absolutely not! I long waited [for] that moment, and I was thinking during the practices that I was ready to play [in the NHL]. I tried not to think too much and to have a good debut.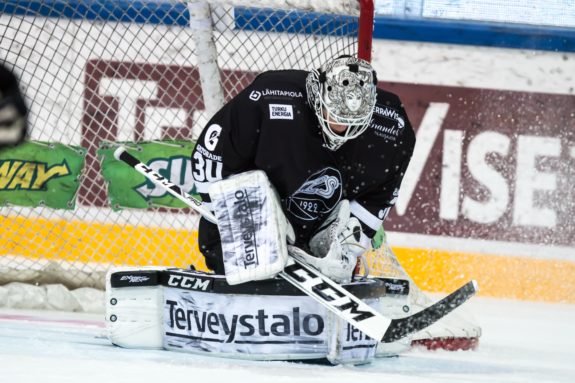 MM: Were you upset after the loss?
AG: I was upset, but I tried to control my game. I allowed two goals, but I don't think that I had many mistakes. I think I played well, but unfortunately, I can't really control the way forwards play and that they need to score more goals than the opposition.
MM: Was your first NHL win in the game against the Oilers the biggest event in your career so far?
AG: It was a great game. I am glad that our players helped me a lot since the first minute, and we were always up in the score. They played well against McDavid and Draisaitl. I feel directly on myself that Connor can get a great pass out of nowhere and create a scoring chance.
Georgiev's Life in New York
MM: Are you often asked for an autograph in New York?
AG: In the US the Rangers have a lot of fans, not only in New York. When we played in Florida, half of the crowd was in a Rangers sweater. Before the games at home, there are always a lot of people who try to get close to the players and get a photo with them.
MM: Do you have your personal fans?
AG: Maybe, but I am not sure they exist or not. My relatives recently showed me that a person on Twitter has my picture as an avatar. But I haven't seen a fan with my jersey yet.
MM: Are the practices truly different in the US if compared with Finland or Russia?
AG: I can't say that it's radically different. It's up to the coach. Mostly it's pretty much the same. But to speak the truth, with the Rangers there are a lot of games and trips, therefore practicing is rare. In the AHL, games are mostly concentrated on Friday, Saturday, and Sunday, therefore you can practice in the other days. The practices are usually one-hour-and-a-half long, while in the NHL the guys stay on the ice for 35 to 40 minutes.
Goaltender Alexandar Georgiev makes his NHL debut tonight in Montreal! #Rangers #LGR pic.twitter.com/mGECFVTM5Y

— MSG Networks (@MSGNetworks) February 22, 2018
MM: Where was it harder to adapt to the US?
AG: In day-to-day life there are a lot of differences. For example, here [in the US], to have lunch with a cap is normal, but in Russia you'd get told: "Are you crazy? You need to respect other people."
MM: Now you're used to it?
AG: I can say that I have adapted now.
MM: How's your English?
AG: I don't have any problem with the English language. When I was young my parents sent me to a foreign languages school, I [have] freely (spoken) in English since I (was) 10.
Georgiev in the AHL
MM: You spent most of the season in the AHL. What surprised you the most?
AG: There are a lot of talented players, even (on) the fourth lines. The level of players and shots is very good. But, (on the other) hand, the hockey structure reminds of junior hockey; there are more runs for the puck, and less attention to the defensive game. In the Finnish league, the game is more structured, there is more attention to the tactical side of the game. To me, as a goalie, this is not something that has a lot of impact, the only difference is that here [in North America] there are more shots.
MM: Many say that it's better to play a lot of games in the AHL than being a backup in the NHL. Do you agree?
AG: I do, being in game shape is very important and I wanted to play as much as possible.
MM: Andrei Mironov, who recently got back to Russia, said that he was tired of living with his suitcases ready and always going up and down. How did you accept that?
AG: I was called up just twice, and the first time just for one day. But I am not scared of going up and down. I'm ready to play in the NHL even without any suitcase, if needed.
MM: How were you greeted when you got to the Rangers?
AG: It was great. All the guys are very friendly and helpful, no one ignored me just because I'm a rookie.
MM: Do you talk the most with Pavel Buchnevich and Vladislav Namestnikov?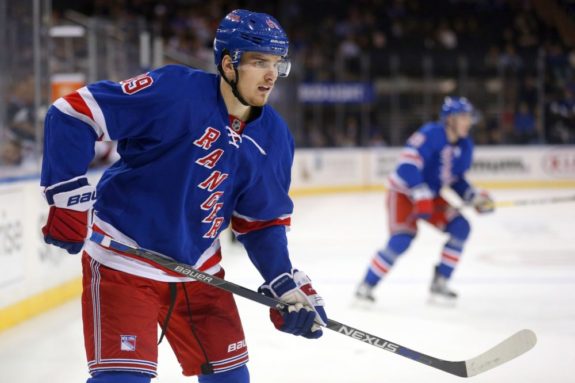 AG: Yes, with them and with other young players with whom I played in the AHL. We try (to stay) together.
MM: How do you like New York?
AG: With any free day I try to discover something new. But I also think that you can spend your whole life studying New York without knowing it all anyway. I like that each borough has its history. At three minutes by feet from the Madison you have the Korean district, there is a lot of stores and restaurants there.
MM: Did other NHL teams invite you this summer, other than the Rangers?
AG: No one really invited me, and I couldn't just go to any team in America for camps. The Rangers were very interested in me, they even wanted to draft me, and they got to know that no other team wanted me, so they invited me and then even offered me a contract.
MM: Did you have any offer from Russia?
AG: I was under contract with TPS in Finland, so I could move to Russia just later. My number-one goal was to get to the NHL.
MM: Right now both Hartford and the Rangers are outside of the playoffs, [so] this means that you may be available for the IIHF WC in Denmark. Do you think you have a chance there?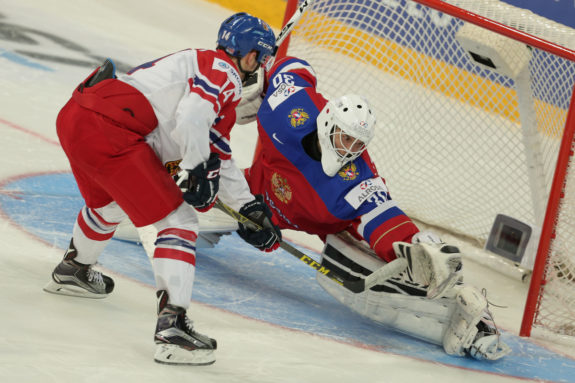 AG: I'd be very glad to be called for Team Russia. But right now I try not to think about it. We'll see if we can get to the playoffs.
MM: How would you judge the chances for the Rangers to get to the playoffs?
AG: I think that considering the standings, the Rangers have like (a) one-percent (chance) to play in the playoffs. But as the saying goes, nothing is impossible, right?