In February of 2018, after penning a letter to the fanbase stating that a rebuild was going to commence, New York Rangers general manager Jeff Gorton sent then captain Ryan McDonagh and winger J.T. Miller to the Tampa Bay Lightning in exchange for Libor Hajek, Brett Howden, Vladislav Namestnikov, and a conditional 2019 first-round pick.
It's safe to say this trade has not panned out how the Rangers envisioned, primarily due to the lack of development of both Howden and Hajek. Hajek has spent time in the AHL with the Hartford Wolf Pack and has been in and out of the lineup for the past two seasons. His fellow trade-mate has been with the big club since his arrival and has had the pleasure of being an every-day player, to the bewilderment of many, including myself.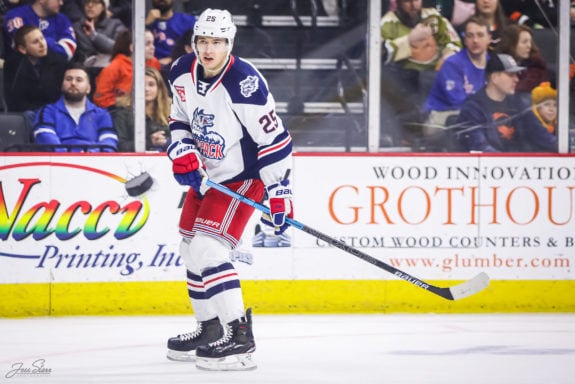 For some reason unknown to most, Howden has avoided demotion, heck, and even avoided being a scratch, despite being consistently unproductive. While highly touted prospects such as Kaapo Kakko, Julien Gauthier, and Alexis Lafreniere have gotten shuffled around and seen limited minutes, Howden has continued to play consistently.
Thus far in 2020-21, Howden has amassed just two assists and has yet to find the net in his 25 games played. He has registered just 18 shots on goal this season and amazingly has just one shot on goal in his last five games. According to Money Puck, he has 2.1 expected goals this season and a minus-16.2 percent shooting talent above average. Offense has been a massive struggle for him this season, and per Evolving Hockey, his underlying numbers tell the story.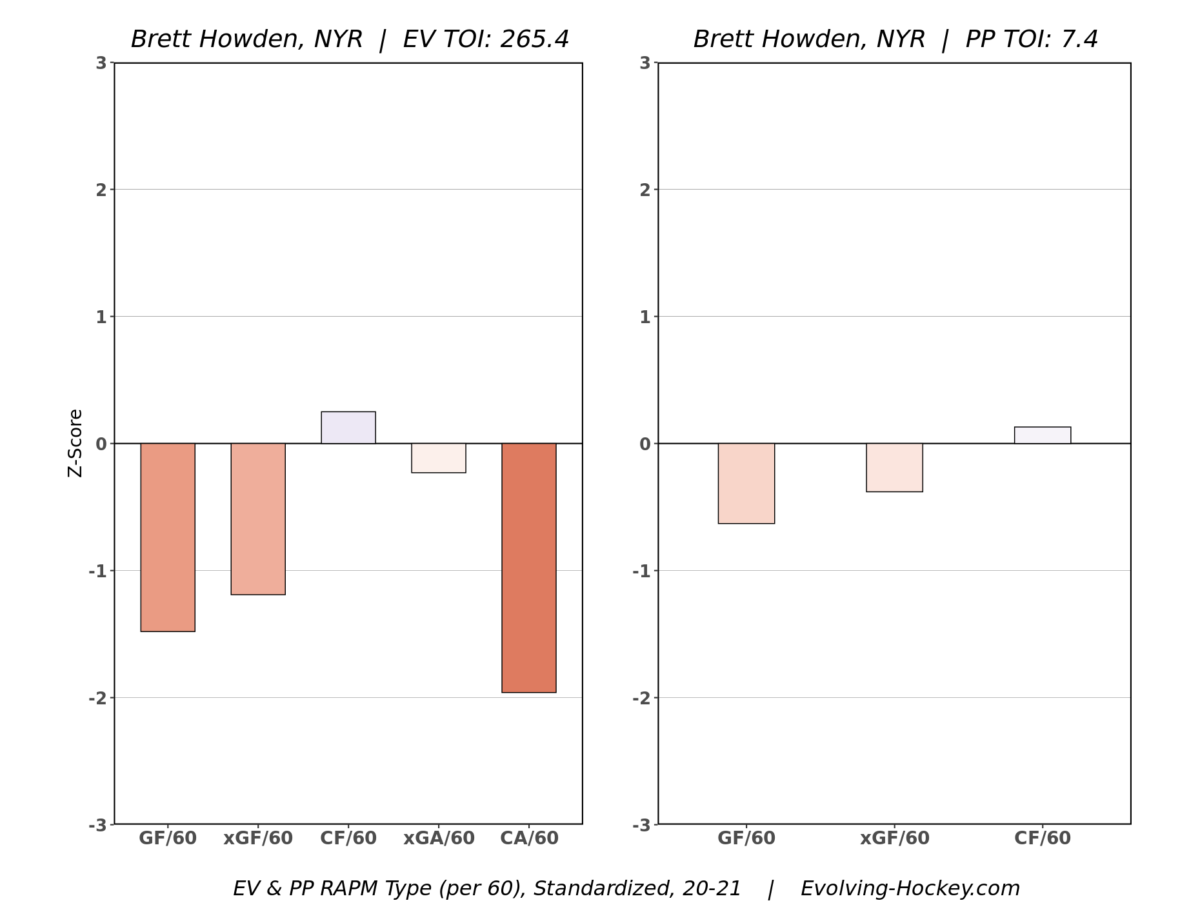 Those numbers depict a player who has struggled and should be a scratch option on a nightly basis. And yes, he has done a quality job killing penalties, rattling off 51:28 shorthanded time on ice, good for the fifth-most on the Rangers. As good of a penalty killer as Howden's been, he still wins a meager 39.3% of faceoffs while shorthanded, per Natural Stat Trick, making him an easily replaceable penalty killer.
With the addition of Vitaly Kravtsov nearing closer, it was nearing the time for Howden's free reign on the ice to be revoked, something Quinn finally enacted on Saturday. The seemingly obvious yet difficult decision of scratching Howden was finally made, and the new-look Rangers took advantage, steam-rolling the Bruins.
Quinn's Lineup Maneuvering Is Inconsistent
If you happen to take a gander at the social media firestorm that is Rangers Twitter, you will find two trains of thought; the first is that Quinn must go, and the second is that Quinn deserves more of a chance for how close he has kept the team to the rest of the pack. For the crowd that calls ever so loudly for the firing of the man behind the bench, a large reason they favor his dismissal is the inconsistent changes he makes to the lineup.
If you look at a player like Kakko, who was the second-overall pick in 2019, his minutes and linemates steadily fluctuate due to his play. A young player like Gauthier finds himself in Quinn's doghouse more often than not, despite the raw speed and ability he possesses. Brendan Lemieux gets scratched constantly for bad penalties and inconsistent play. Even Colin Blackwell, who might be the story of this season for the Rangers, found himself a scratch the other night.
So, why does that same treatment not apply to Howden? Quinn has said in press conferences consistently that he likes how hard Howden plays and that he brings a good defensive presence to the forward group. The problem is, that same logic could have been applied to other players to give them extended chances, and it was not. Now we are in a situation where he is filling a roster spot he doesn't deserve, with more deserving players finding themselves healthy scratches.
In his three seasons with the Rangers, Howden has been a minus-16, minus-11, and now a minus-4. Sure, plus/minus is an outdated stat, but it tells an accurate story when the play indicates those numbers. If the Rangers are worried about faceoffs and losing one of their more consistent centers, well, look no further than Blackwell, who has won 71 percent of his faceoffs this season and is 55 percent in his career.
It is a mind-boggling concept that has started to leave even the stingiest of Quinn supporters puzzled. What does Howden do to deserve a lineup spot? Well, that nagging question was finally answered when he was scratched on Saturday, finally sending the message to the 22-year-old that it is time for him to contribute or else he will be watching from the press box.
Rangers' Best Performance Thus Far
After suffering a brutal 4-0 defeat at the Bruins' hands on Thursday, the Rangers welcomed Artemi Panarin back into the lineup with a massive 4-0 win Saturday. They completely outplayed the Bruins, dominating them in all facets, led by Mika Zibanejad's two assists, Panarin's one assist, and Chris Kreider's goal.
K'Andre Miller opened the scoring with his second of the season before Kreider added one in the second. Then in the third, Panarin showed us why he was dearly missed during his nine-game absence with a brilliant pass to Strome for a tally. Buchnevich added one more late in the third, as the Rangers held down the fort, allowing Keith Kinkaid to register his first shutout since 2018.
Kevin Rooney slotted into the fourth-line center role, replacing Howden, and he looked good in doing so, creating chances and registering two shots on goal. Howden's main contribution to the Rangers was his penalty-killing contributions, but the team went 5-for-5 on the penalty kill with him scratched.
What the Rangers' lineup will look like next game remains a mystery. Still, it's likely Lemieux comes out and is replaced by either Gauthier or Howden after taking a bad penalty and seeing just 7:26 of ice time the entire game. In fact, per Money Puck, Lemieux had the lowest expected goals percentage on the team, a terrible sign in a game this lopsided.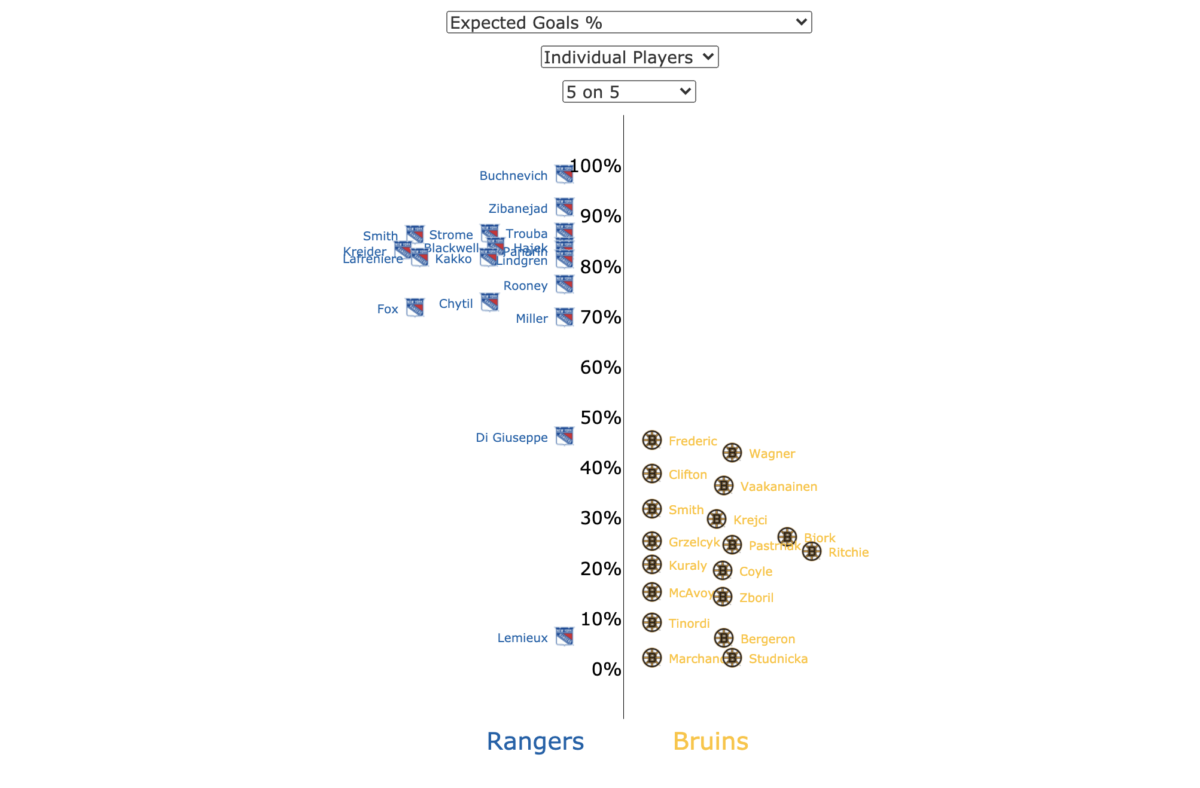 What Quinn will do for Monday's meeting with the Philadelphia Flyers is still up in the air, but the Rangers played extraordinarily well without Howden Saturday.
An Ideal Rangers Lineup (Coming Soon)
It's unfair of me to criticize and not state what I would change, so here is what my ideal lineup would look like on a nightly basis.
| | | |
| --- | --- | --- |
| Chris Kreider | Mika Zibanejad | Pavel Buchnevich |
| Artemi Panarin | Ryan Strome | Kaapo Kakko |
| Alexis Lafreniere | Filip Chytil | Vitaly Kravtsov |
| Colin Blackwell | Kevin Rooney | Julien Gauthier |
Obviously, we are still awaiting Kravtsov's arrival in New York, so in the meantime, Gauthier should be the right wing on the third line, with either Phil Di Giuseppe, Lemieux, or Howden in the final forward spot, depending on performance. The Rangers have the unique opportunity to roll four lines with offensive talent upon Kravtsov's arrival, and it would be a mistake not to try and make the most of that good fortune.
For now, no matter the lines, Howden should be on the outside looking in, as his play has dictated an inability to contribute in a meaningful capacity. There will likely be another chance for him this season, and hopefully, he can run with it, but every day his Rangers' future looks more gloomy, and his first scratch of 2020-21 epitomizes that.
---
---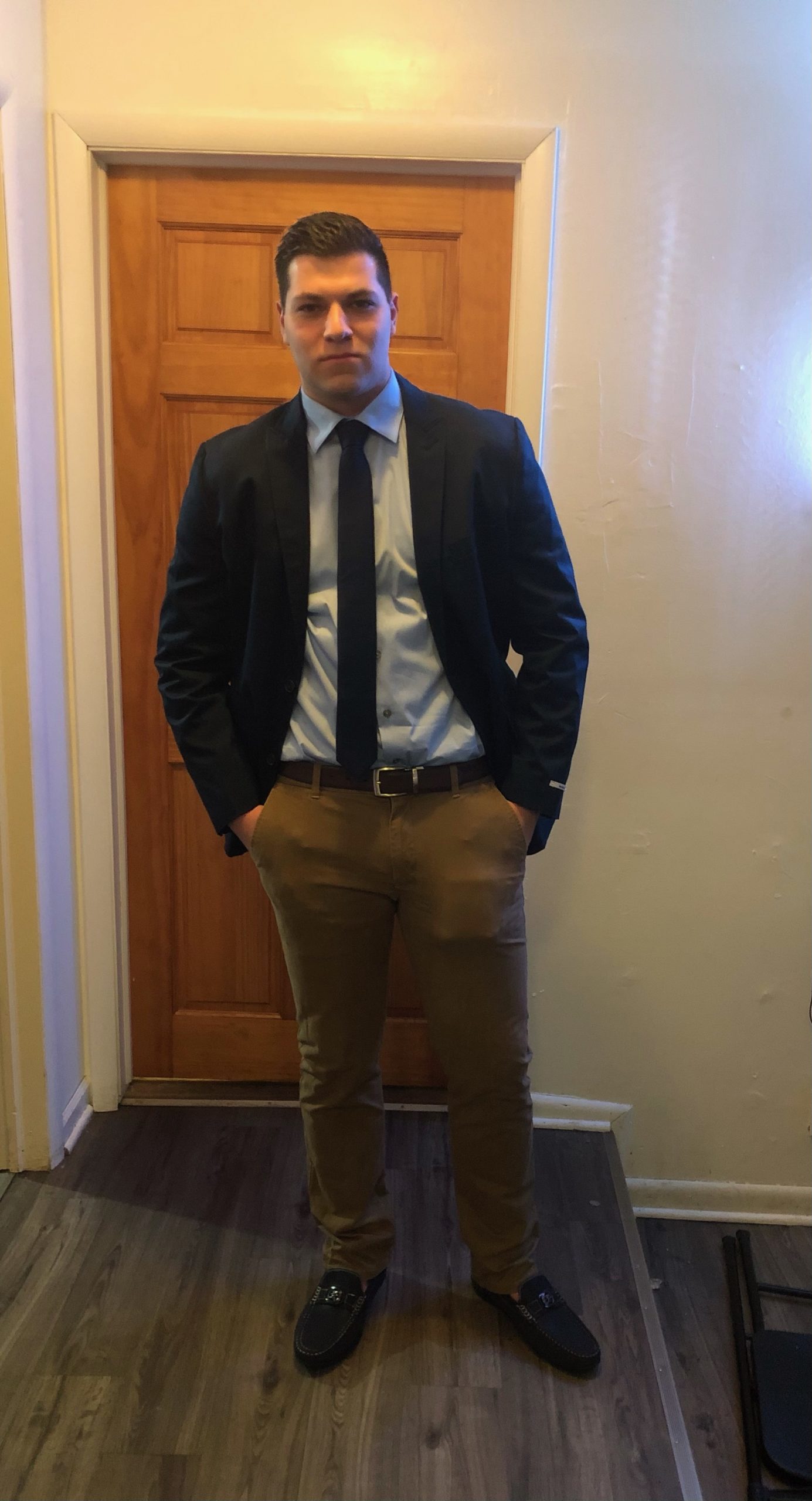 Brendan Azoff is a THW contributor and podcast host dedicated to covering the New York Rangers. His passion for hockey started when he first laced up the skates at three, growing into his love for writing and talking about the greatest sport in the world. His podcast, The Backcheck, breaks down the Rangers, Islanders, and NHL news and can be found on The Hockey Writers Podcast Network and Belly Up Sports. Brendan has been writing about the Rangers and the NHL for over two years, with his content also found on Puck Prose, Blue Line Station, and E2G Sports. If you want to connect with Brendan and stay up-to-date on his posts, follow him on Twitter. He is always available for content ideas and interviews, don't be afraid to ask!