Igor Shesterkin played well for the New York Rangers but was injured near the end of Thursday's game. Alexis Lafreniere and Chris Kreider are starting to hit their stride. Plus, some good and sad news.
Shesterkin Day-To-Day
Igor Shestrkin started out Thursday's game against the New Jersey Devils on the wrong foot. He gave up a goal to Devils center and 2019 No. 1 overall pick, Jack Hughes, at 7:12 of the opening period. However, Shesterkin settled in and stopped the next 32 shots he faced. He was well on his way to closeout his sixth win of the 2020-21 NHL season but went down awkwardly trying to extend his right pad for a save with less than six minutes left in the third period.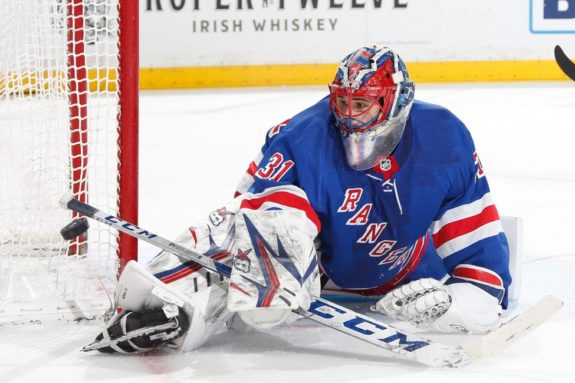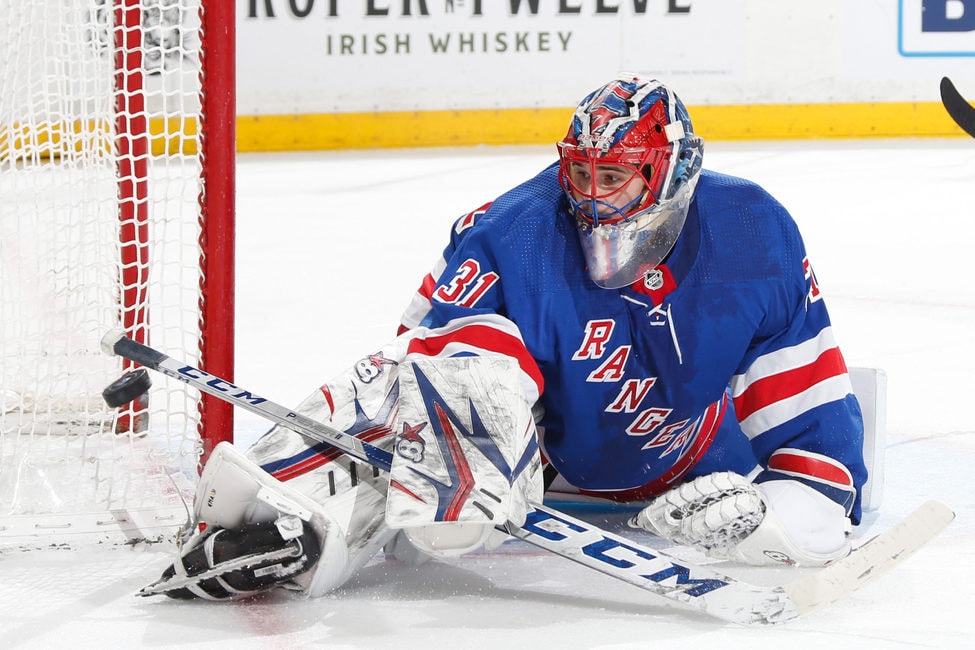 He was credited with the victory anyway since the Blueshirts were winning when he left the game and went on to win 6-1. The Rangers announced today that the rookie goaltender is day to day with a mild groin strain. It's probably safe to say he'll sit out the weekend as a precautionary method, however, they do play back-to-back games on Saturday and Sunday and they're both on the road. Shesterkin had a rough start to the season but he's played better of late. He's 6-7-1 at the moment with a 2.31 goals-against average (GAA) along with a .921 save percentage (SV%).
Lafreniere Point Streak
Alexis Lafreniere extended his point streak to four games in Thursday's game against the Devils. It was also the first multi-point game of his NHL career. The 2020 No. 1 overall pick said, "Now I'm getting really comfortable. Offensively, defensively, I know what to do, so it's getting easier for me." He has two goals and three assists during the streak and does seem to be getting more comfortable with his linemates and playing at the NHL level.
Chris Kreider also said this when asked about Lafreniere's play thus far, "I was so impressed early on by the things he was doing in the D-zone and you just knew the offense was going to come along." Kreider went on to say, He's [Lafreniere] feeling it right now and you can see just how much skill he has.
Kreider Taking the Lead
Kreider recorded his second natural hat trick of the season against the Devils. He scored the first three Rangers' goals of the night and had this to say after the game, "It takes a lot of hard work from the guys you're playing with, a willingness to get pucks there [to the net front]," He also said, "Those guys are doing the work, doing an incredible job. I've just been trying to stick around the front of the net and obviously it's working for us right now."
Those three straight goals meant Kreider scored the Rangers' last four goals and last six on the road until Pavel Buchnevich took a feed from Lafreniere a few minutes later and put the Rangers up 4-1. Kreider has pretty much taken the Blueshirts on his back of late with some help from Buchnevich who's also surging.
It comes at the perfect time since Mika Zabanejad is still struggling, although, he's playing a little better the last couple of games and Artemi Panarin is still on a leave of absence from the team. Kreider was asked if he thought trying to take on too much of a leadership role at the beginning of the season might have impacted his play? [in a negative way], Kreider said, "I don't necessarily think that was true. I think at times I might have been a little too structure conscious and really trying to limit the chances that some of those top lines were getting."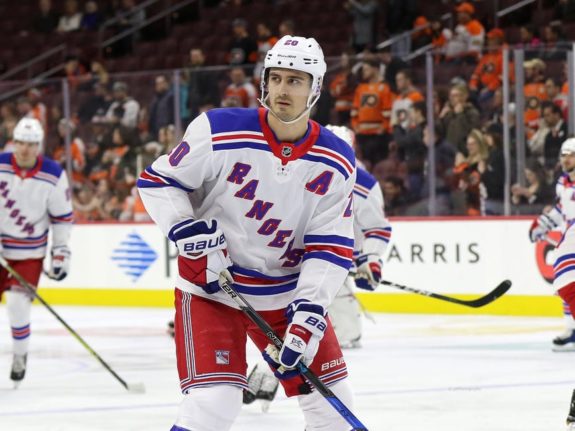 Kreider finished by saying, "If you don't defend hard, and you don't defend well, you're not going to have a lot of success in this league. And you're definitely not gonna have a lot of success come playoff time." The Rangers' current leading goal-scorer is certainly acting like a leader and making a push to become the team's first captain since Feb. 26, 2018, when Ryan McDonagh was traded to the Tampa Bay Lightning.
A Little More
The Rangers signed their first-round, 19th overall, 2020 NHL Entry Draft pick Braden Schneider to a three-year entry-level contract this week.
On a sad note, former Rangers' playmaker and key component of the 1980 US Olympic Gold Medal hockey team, Mark Pavelich, passed away Friday. He was 63 years old. And former Rangers' star and NHL legend Wayne Gretzky's father, Walter, passed away Thursday. Walter Gretzky, "Canada's Hockey Dad," was 82 years old.
---
---
Scott Blair is an author and journalist from Los Angeles, CA, by way of Detroit, MI. Uniquely diverse experiences have shaped Scott's life in both of those places he calls home. He is now traveling the world, learning and growing as a human and a writer.  He was a professional hockey player and then turned to the arts, becoming an actor for about 15 years. His passions turned to poetry, prose, politics, and journalism when he got tired of the Hollywood machine and what it represents. Scott is available for interviews and welcomes questions and topic ideas.