Calgary Flames prospect Adam Ruzicka recorded his fourth straight three-point performance and now co-leads the American Hockey League (AHL) in scoring. Top prospect in the 2021 Draft Matty Beniers recorded a four-point performance in another big win for the University of Michigan. Barrie Colts defenseman and 2021 top prospect Brandt Clarke was named to the Tipos Extraliga Team of the Month for February.
Ruzicka Leads AHL in Scoring
Flames prospect Adam Ruzicka is off to a scorching start to his sophomore season in the AHL. He registered his fourth straight three-point performance in the Stockton Heat's 5-1 victory against the Toronto Marlies. He co-leads the AHL in scoring with seven goals and five assists for 12 points in six games played. He's averaging four shots per game and a staggering 2.00 points per game to start the year. Drafted 109th overall in the 2017 NHL Entry Draft, he spent the 2019-20 season in the AHL with the Heat. He amassed 10 goals and 17 assists for 27 points in 54 games played.
Ruzicka is an interesting prospect in the Flames' system and seems like your prototypical late bloomer. The Slovakian forward came into this season at 6-foot-4, 220 pounds, and significantly improved on his skating, which has been a sore spot of his game since his draft year. His accurate shot and impressive playmaking ability has been on display while gelling on a line with Matthew Phillips and Connor Zary.
It's the first time in the franchise's history that a player has racked up three points in four straight games and Ruzicka will have a chance to make it five with another game against the Marlies on Saturday. The Flames aren't desperate to call him up to the NHL level, but if he keeps producing at this rate, then they might have no choice to give him a look sooner rather than later.
Beniers Records 4-Point Night
Another day, another excellent performance from University of Michigan forward and 2021 NHL Entry Draft prospect Matty Beniers. Following up a hat trick performance against Arizona State University on Feb. 26, Beniers recorded one goal and three assists for four points in Michigan's 5-2 victory over Minnesota on Friday. He now leads the team in goal scoring with 10 goals and sits third in total points with 23 in 21 games played. He trails only fellow 2021 top prospect Kent Johnson and San Jose Sharks prospect Thomas Bordeleau.
THW's Matthew Zator had this to say about Beniers' ability earlier this season when profiling Michigan's trio of top prospects eligible for the 2021 NHL Entry Draft.
Beniers is a highly skilled centerman who thrives at both ends of the ice. His work ethic and determination are second-to-none and he rarely backs down from the dirty work of blocking shots and killing penalties. In addition to his two-way aptitude, Beniers also is a premier playmaker, capable of finding teammates at a moments' notice. He's especially good at the one-touch pass, which he used a lot last season in the USHL.
He represented Team USA at the 2021 World Junior Championship, winning a gold medal and amassing one goal and two assists for three points in seven games played. Beniers is making the case to have his name in the running for first overall in the 2021 NHL Entry Draft. It's a wide open race this year, with as many as five players making a case for the spot.
Clarke Named in Team of the Month
Speaking of those players making a case for first overall, defenseman Brandt Clarke is one of the favorites to claim the spot. The Barrie Colts player is on loan in Slovakia's Tipos Extraliga with HC Nove Zamky. He was recently named to the league's Team of the Month for February after he had two goals and three assists for five points in eight matches. He recorded a plus-five plus/minus rating and 10 penalty minutes, while averaging 19:48 time on ice. It's an impressive month for the 18-year-old considering he had only three points in 14 games played prior to February.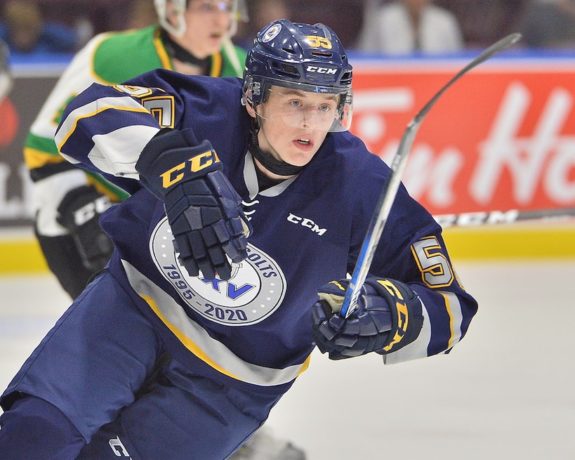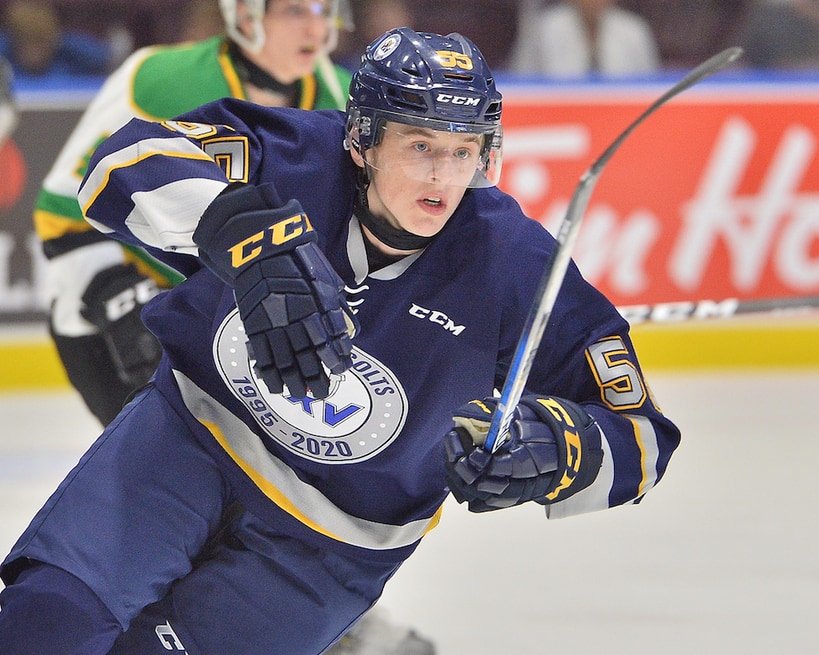 Clarke now has three goals and five assists for eight points in 22 games played this season. He is likely on his way back to the Colts soon as the Ontario Hockey League (OHL) is hoping to begin their 2020-21 season in April. During the 2019-20 season, Clarke was named to the OHL First All-Rookie Team and led all rookies in assists with 32.
---
---
Fan of the Anaheim Ducks for my whole life. I'm a die hard fan living in London, Ontario. Excited to be writing about the team I love. Talking all things Ducks on the Forever Mighty Podcast!