The New York Rangers' first-round playoff meeting with the New Jersey Devils has been billed (ad nauseum) as a battle between the Rangers' veteran experience and the Devils' dynamic young talent. The Blueshirts' in-their-prime top forward lines versus Devils wunderkinds Jack Hughes, Nico Hischier, Jesper Bratt and co., an implied clash of old vs. new, to a degree.
Once the actual series started, however, that one-dimensional narrative went out the window, with the Rangers serving notice that their opponents from across the Hudson River aren't the only ones with high-end, difference-making youth.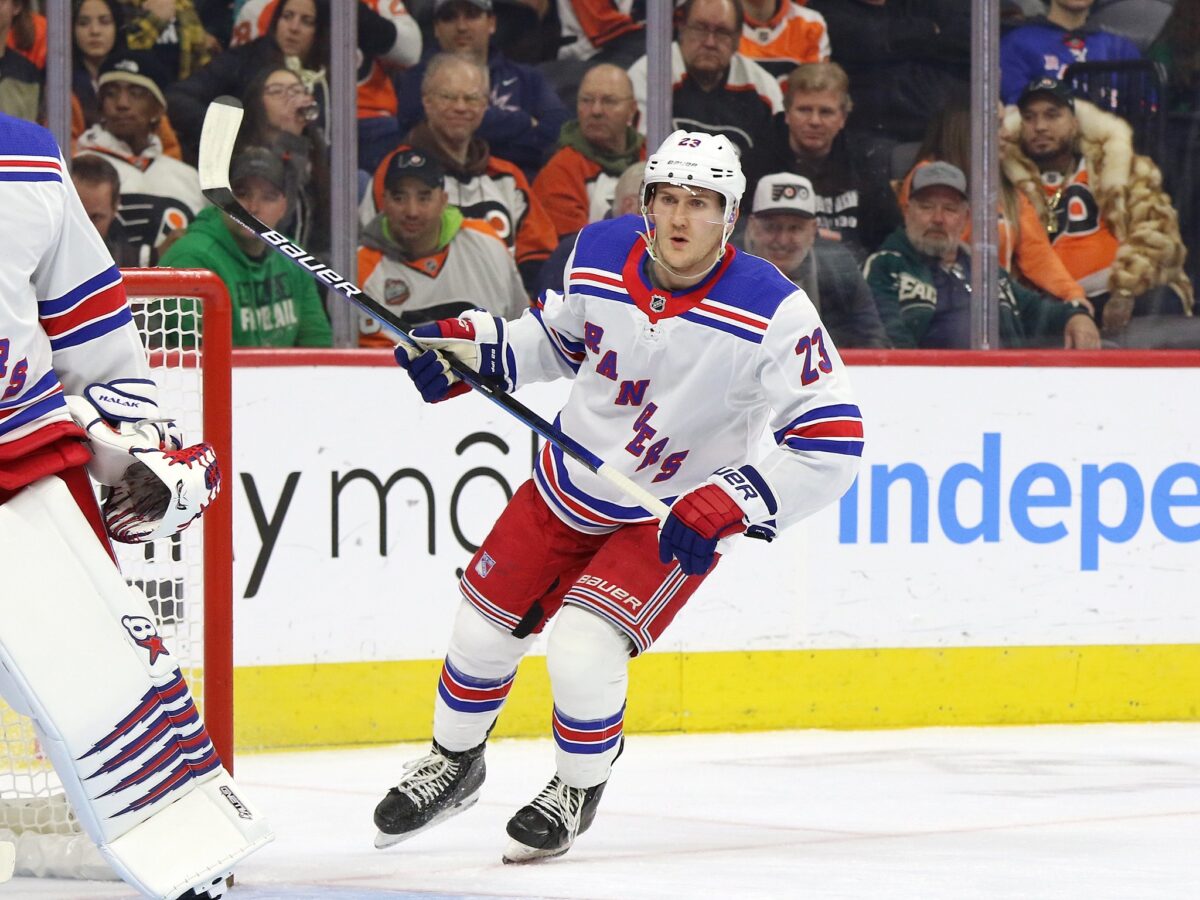 It was 25-year-old defenseman Adam Fox and 23-year-old center Filip Chytil who provided New Jersey with a painful reminder of that fact in the Rangers' 5-1 rout in Game 1 on April 18. Fox, the 2021 Norris Trophy winner, might have been the best player on the ice, recording four assists – two of them primary ones on Chris Kreider's pair of power-play goals -four blocked shots and a plus-2 rating in 20:17. Matching up often against Hughes, Fox and defense partner Ryan Lindgren helped to frustrate the Devils' 21-year-old star, who scored on a largely meaningless third-period penalty shot and otherwise was a minus-1, committing five giveaways and totaling only three shots.
On a night when Kreider was celebrated for becoming the Rangers' all-time leader in playoff goals with 35 (his second of the game was his 36th), Fox's four assists gave him 20 in 24 career postseason games. That's the fewest contests needed to reach that feat in franchise history.
Rangers' Fox Was Most Dominant Young Player in Game 1
The Devils simply had no answer for Fox's poise with the puck and intuitive play that has earned him status as one of the finest all-around defensemen in the NHL. Not in possession of a dazzling style of play such as that of Colorado Avalanche star Cale Makar or Roman Josi of the Nashville Predators, Fox nonetheless recorded more than 70 points for the second straight season in 2022-23. He continues to do whatever needs to be done for his team to succeed.
"I'm just trying to move the puck to the right guys, and obviously it's nice to contribute like that," said Fox, whose four assists tied his career high set in a 5-3 win over the Pittsburgh Penguins in Game 6 of the first round last season.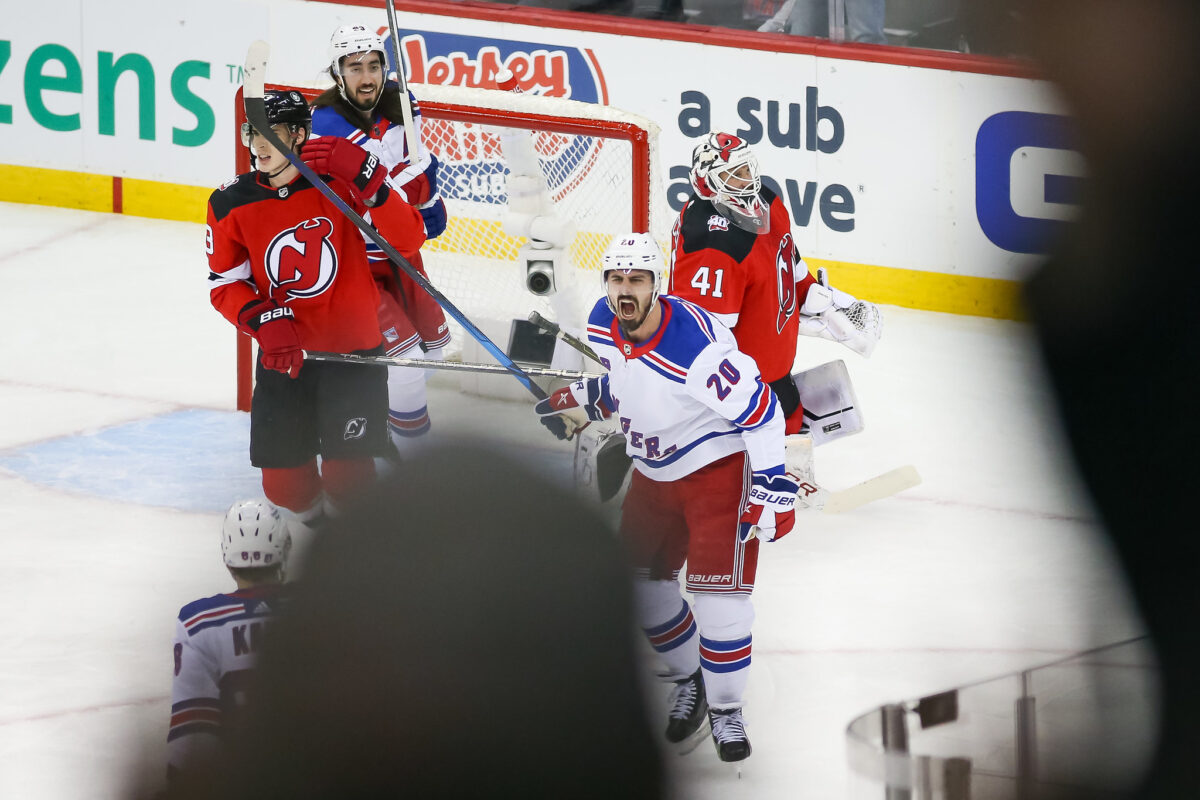 Fox's heady play might prove most valuable to the Rangers in his matchup with Hughes, who's sure to bounce back at some point in the series. One of the league's most dangerous skaters, the best way to defend Hughes over the course of potentially seven games is to be in the right place at the right time, being able to anticipate the shifty center's next move, rather than trying to chase him around. Fox's foresight is one of his strongest attributes, and the Rangers will need him to stay in front of Hughes as best he can.
---
Latest News & Highlight
---
"I thought everyone really brought energy, was committed, willing to block shots, and do the little things and it paid off for us," Fox said.
Chytil Provided Rangers With Some of What Devils Get From Hughes
While the Rangers have to continue to be concerned with limiting Hughes' impact, the Devils might have a similar headache on their hands in the form of Chytil. The 6-foot-2, 204-pound native of the Czech Republic appears ready to pick up where he left off after last year's breakout postseason effort. Big, fast, skilled and strong on the puck, Chytil was a problem for New Jersey in Game 1, attacking through the neutral zone with speed, dominating the puck at times and surprisingly, turning in a lopsided performance at the faceoff dot in his favor.
Chytil, who won only 39.8 percent of his faceoffs during the regular season, won 10 of 13 in the series opener, more than a few of them cleanly. He posted a plus-2 rating, scored an empty-net goal late in the third and added an assist, the rising power center reminding the league why the Rangers signed him to a four-year contract extension March 29.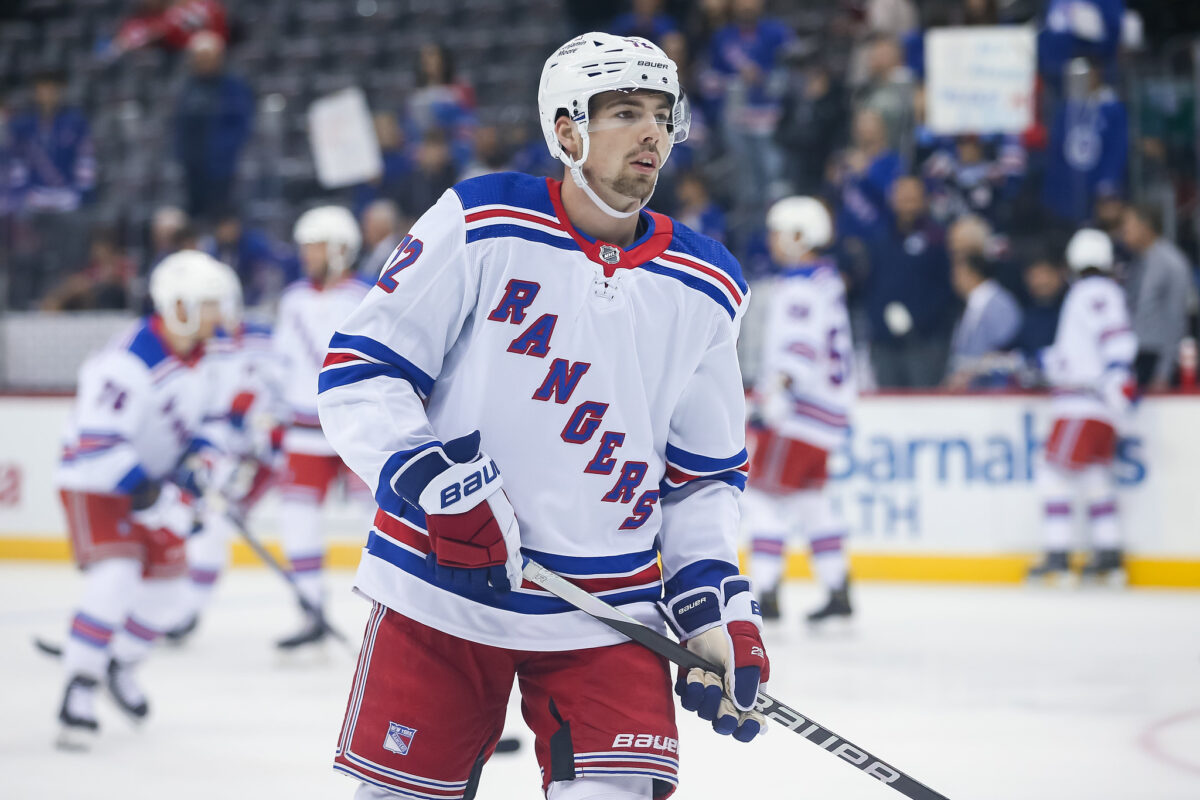 Chytil's 22-goal, 23-assist, career-best performance this season followed a 2022 playoff effort in which he opened eyes with seven goals and two assists in 20 games. It's probably safe to say that New Jersey is going to have to account for him for the rest of the series.
Related: Rangers' Adam Fox in Tight Race for Norris Trophy
Fox and Chytil are hardly the only youthful pieces the Rangers rely on. Glue guy Lindgren, 25, blocked three shots, scored a goal and like Fox was a plus-2 in the opener. Igor Shesterkin, who stopped 27 shots and is back to the elite form that won him the Vezina Trophy last season, is only 27. Chytil's Kid Line partners Alexis Lafreniere and Kaapo Kakko – a unit so pivotal in last year's run to the Eastern Conference Final – were both plus-2 in the opener, with Kakko recording an assist. The Rangers dominated the opener without big splashes from those two early-20s wingers, but both are playoff-tested after last year's run. Expect them to make impacts in the series.
The point is, there's quite a bit more nuance to this matchup than the Devils' kids against the Rangers' relative "greybeards." New Jersey's core is mostly young, talented but inexperienced. The Blueshirts do in fact possess stars who have been there and done that, but if Game 1 is any indication, it's their own exciting youngsters who won't be content with playing second fiddle to their Garden State counterparts – and who could end up being the decisive factor in this much-anticipated opening-round regional collision.