The Montreal Canadiens remain one of the few NHL teams currently missing a captain, but that will soon change.
At the team's annual golf tournament, general manager Marc Bergevin stated that this season there will be an official leader on the team, essentially giving the Habs up until the end of training camp to name one. There are however at the very least five good choices, excluding the team's de facto on-ice leader, Carey Price, who can't wear the 'C' due to league rules (Rule No. 6.1).
And whoever said a team's best player should be captain?
Here are the other, actually possible choices:
5. Brendan Gallagher
If Guy Lafleur told you to jump off a bridge, would you? Essentially, that's the logic behind Brendan Gallagher's unofficial nomination.
Now, technically, when asked who he thought should be Habs captain back in May, Lafleur only said "[Gallagher] really impressed me every night I saw him play." And he does at least have a point there. Gallagher rarely takes a shift, let alone an entire night off.
However, there are several hurdles that would ideally prevent Gallagher from being captain. For one, he's still inexperienced at only 23. For another, captains have to, every single game, deal with referees, according to the same aforementioned rule No. 6.1:
"[The captain] alone shall have the privilege of discussing with the Referee any questions relating to interpretation of rules, which may arise during the progress of a game."
The thing is, those referees? They don't exactly like Gallagher. The two go together like water and oil or water and soap on the following play:
Something sure stinks.
Admittedly, sure, that's only one play and Gallagher does tend to draw his fair share of opposition penalties, but he nevertheless lacks the benefit of the doubt in the eyes of many referees. Habs fans shouldn't really want him arguing calls on the team's behalf on a regular basis as a result.
That would just result in more penalties… against him.
Finally? If he were to be named captain, he'd be leapfrogging the four players currently wearing 'A's. Gallagher is great and an incredibly valuable player and all, but what would that say about them? It makes no sense to disrespect any to that degree, when each possesses as much of a, if not a greater claim to the captaincy.
4. Andrei Markov
Andrei Markov is the longest-serving Montreal Canadien. He's also one the most respected. He's also one of the team's best and highest-paid players. He, and this is key, also doesn't want to be captain based on most reports.
Can Markov become captain? Yes, it's possible. But so is fourth-line grinder Brian Flynn technically being awarded the 'C' as a player on the roster. It doesn't mean it's going to happen. In fact, you can probably bet it won't… all due respect to Flynn.
3. Tomas Plekanec
Tomas Plekanec is obviously another deserving player of the 'C.'
He's been with the team essentially since the 2004-05 lockout so he has a degree of seniority. He oozes defensive responsibility and his impact in the offensive zone is nothing to scoff at (eight 20-goal seasons, including a 14-goal campaign in the lockout-shortened 2013 season). For all intents and purposes, you won't find a harder worker on the team (playoff stats notwithstanding).
That being said, his contract expires at the end of this season. And as, a recent the Score story argued, it's not exactly clear whether the Habs will want him back or not. And that was before the team announced Alex Galchenyuk would be moved to center this season, infringing on Plekanec's territory for all intents and purposes.
Plekanec isn't a bad choice. He's just an unlikely one. It just doesn't make any sense to name him captain when he may only have one year left with the team. The only reason would be that no one can decide between the two likeliest choices and they need another season to make up their mind.
2. P.K. Subban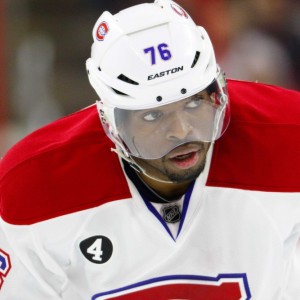 There is no denying P.K. Subban fills pretty much all the criteria required to be Habs captain:
He's an elite difference-maker on the ice who brings his all every night. Following the signing of his current eight-year, $72-million deal, he's going to be with the team through 2022 at least. He's respected in the lockerroom by his teammates and the media alike. He's respected across the league… well, kind of.
He likely is respected across the league, just not universally. The fact is even after two Norris Memorial Trophy nominations (one win), Subban remains a polarizing figure, and that includes among referees. Some would argue it's even justified with his repeat-offender status under the league's new mandate to minimize diving.
It's not necessarily whether or not he deserves to be labeled a repeat offender. It's that the referees believe he does. Add in a recent streak of over-exuberance arguing calls, and, as with Gallagher, it all may very well prevent him from justifiably being named captain of this hockey team.
1. Max Pacioretty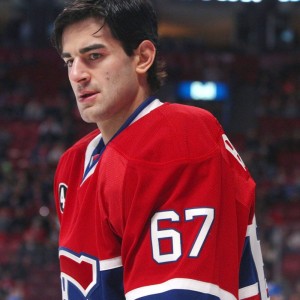 Are the Canadiens ready for an American captain?
They were the last time around when Brian Gionta wore the 'C' (with Chris Chelios proceeding him). They sure should be now with Max Pacioretty set to wear the 'C.'
After a year wearing an 'A,' Pacioretty has done all he needs to in order to prove himself worthy of being the next official leader of this team, in that he leads by example on the ice and off it with the media, always willing to answer questions.
He's even taken great strides to improve the defensive side of his game (leading the league in plus/minus) and tone down his once oft-criticized post-goal celebrations at the same time.
Pacioretty may not be the sexy choice to become captain in the eyes of the fans. That's probably Subban. But he is the right one. Time will tell if he's the actual one.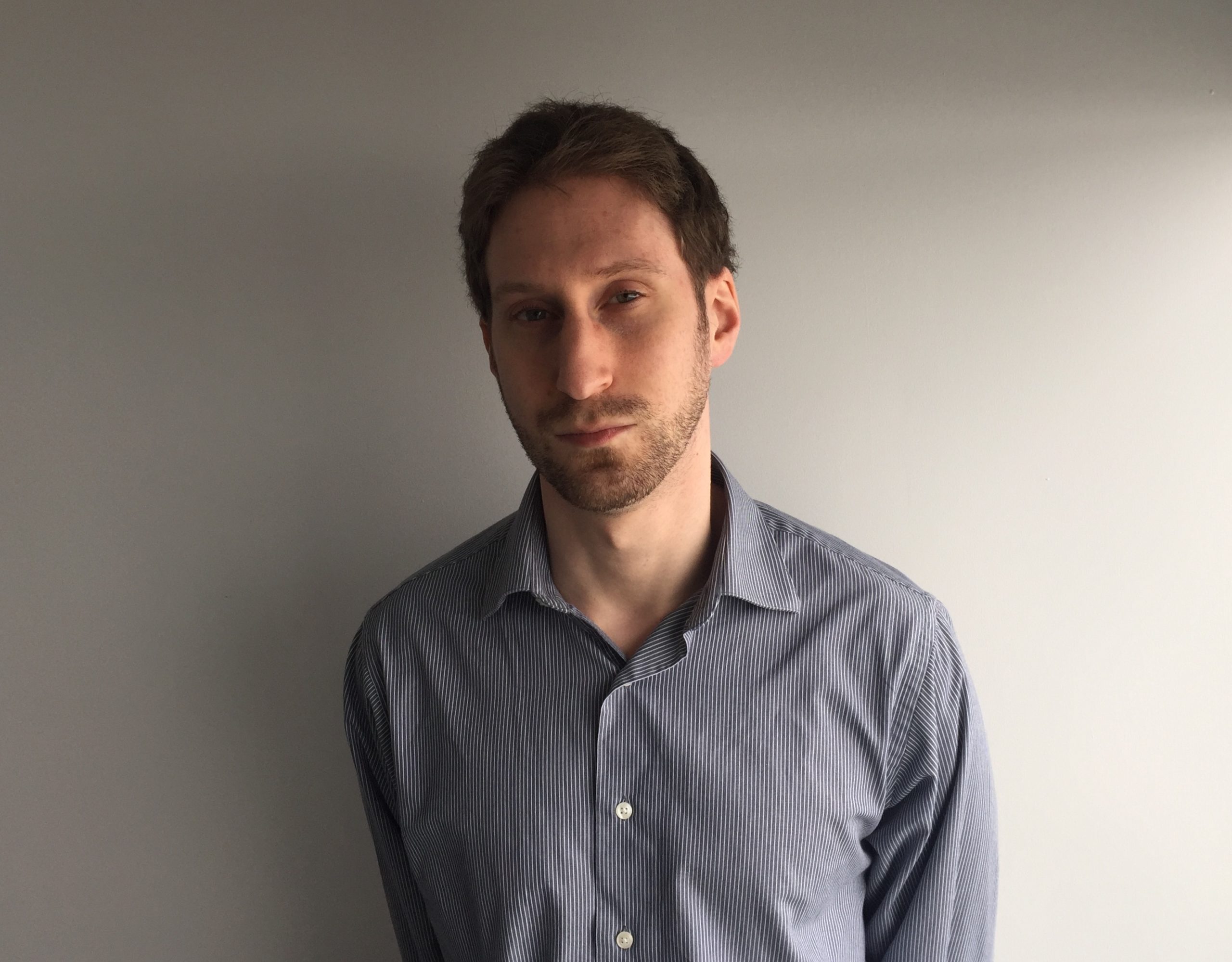 After 10 years of writing hockey, Ryan decided it was as good a time as any to actually join The Hockey Writers for the 2014-15 season. Having appeared as a guest on such programs as CBC Radio One's Daybreak, Ryan has also written for the Montreal Gazette and Bleacher Report and worked for the NHL itself and his hometown Montreal Canadiens. He currently writes about all things Habs for THW, with it being a career highlight for him to have covered the 2021 Stanley Cup Final as a credentialed member of the press.