The Chicago Blackhawks turned a 2-1 second-period lead into a 3-2 deficit midway through the third before rallying to a 5-3 win over the struggling Dallas Stars Saturday night.
"Our guys were attacking hard and making plays," said Blackhawks goalie Corey Crawford. "We're scoring a lot of goals right now. We're never out of a game. They played well, too. I gave them one there in the second, but that was just two high-scoring teams."
Blackhawks coach Joel Quenneville was pleased with his team's effort as well.
"We did a lot of good things tonight; found a way to come back when losing the game," said the coach. "We will take it. We came back in a situation – lately our third periods haven't been that great, but I wouldn't put this one as one that was that bad."
As expected, Stars bench boss Lindy Ruff had a different perspective on the game.
"It's a terrible loss," said Ruff. "Especially after we took the lead and then gave their best player a free look. And then we had a defenseman trapped on the go-ahead goal for them. It's not good hockey. It's stupid hockey. It's not good hockey at all."
The loss dropped the Stars' record on their six-game homestand to 2-2-2.
"It's not good enough," said the coach. "There are no easy games. Again, you could say we let points slip away. Every game we lost points in we had a big part in letting that slip away."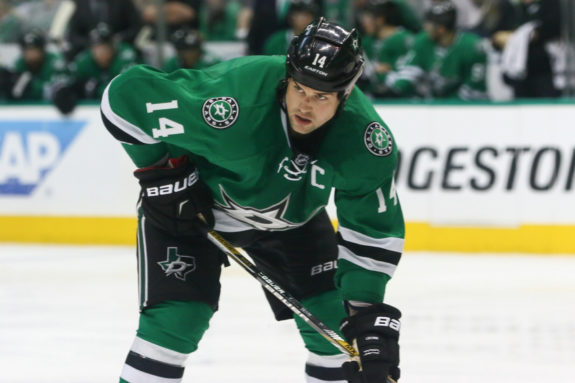 The Stars head to Toronto after practice on Monday, beginning what is effectively a six-game road trip: they play at Toronto and Ottawa before returning home for one game against Carolina next Saturday. Immediately after that game, they'll board a plane for Nashville, where they play the following night before concluding the trip with stops in Winnipeg and Minnesota.
It's no exaggeration to say that the Stars' season comes down to the next six games. In order to keep their playoff hopes alive, they'll need to win a majority of those contests. That's a big ask for a team that is 7-13-4 on the road this season. Can they do it?
"We have to find a way to play a good solid road game," said Stars captain Jamie Benn. "It hasn't been our best hockey, but we don't have a choice now. We've got to dig deep and find a way to win these hockey games."
First Period
The Stars and Blackhawks played a fairly balanced first period, as indicated by the score (0-0) and shots on goal (11-10 Chicago) at the end of 20 minutes. The visitors held a slight advantage in scoring chances, but the defensive tandem of Dan Hamhuis and Jordie Benn proved particularly effective in keeping the Hawks off the scoreboard.
#CHIvsDAL Stats After 20:

Goals: 0-0
SOG: 10-10
SAT: 19-16 DAL
*QSC: 3-2 CHI
FOW: 11-8 DAL
BLK: 6-4 DAL
PIM: 4-2 CHI

*Unofficial

— Owen Newkirk (@OwenNewkirk) February 5, 2017
Pressure on both teams mounted throughout the first period. As the clock ticked off the final seconds of the period, the dam seemed ready to burst.
Second Period
After 20 minutes with no scoring, the Stars needed just eight seconds in the middle frame to get on the board. Radek Faksa won the opening draw to Dan Hamhuis, who chipped it down the boards and into the offensive zone. Faksa picked up the puck and flicked it past Crawford for the game's first goal.
The Blackhawks' Ryan Hartman answered six minutes later to tie the game, scoring from the lip of the Stars' crease after the defensive coverage broke down.
Two minutes after Hartman tied the game, Hawks defenseman Gustav Forsling gave his team the lead on a redirected shot from the blue line which broke Stars forward Patrick Sharp's stick.
The clubs traded scoring chances again in the second period, but the Blackhawks out-shot the Stars 17-12, extending their lead over the home team to 28-22 after 40 minutes.
[irp]
Third Period
The Stars struck again in the opening minute, as Jamie Benn beat Crawford with a wicked backhand to tie the game.
Despite chances and close calls at both ends, the contest would remain tied for nearly nine agonizing minutes. Nearing the midpoint of the final period, Stars center Tyler Seguin stole the puck from Forsling behind the Hawks' net and buried his wraparound chance to vault his team into the lead.
The Stars and their fans barely had time to savor Seguin's snipe — 35 seconds, to be exact — before Patrick Kane out-hustled and outmuscled John Klingberg to the net and re-tied the game.
After Crawford came up with a couple of big stops to kill a Stars power play, Artem Anisimov emerged from the penalty box and drove to the net with the puck. Lehtonen made the save and thought he had the puck covered, but it laid on the ice next to his left pad. Hawks defenseman Trevor van Riemsdyk swooped in, turned his stick blade over and flicked the biscuit into the net to put his team up 4-3 with four minutes remaining.
The Stars pulled Lehtonen for the extra attacker with about two minutes left, and only a well-timed diving poke-check by Hartman kept them from tying the game yet again. Jamie Benn was whistled for tripping at 18:57, all but ending his club's comeback hopes.
When the desperate Stars penalty killers cleared the puck out of their zone, Lehtonen again headed to the bench. They couldn't mount an effective attack 5-on-5, however, and Blackhawks captain Jonathan Toews found the empty net in the game's final second to pad his team's lead.
---
Scoring Summary
FIRST PERIOD
No Scoring
SECOND PERIOD
DAL – Radek Faksa (8) assisted by Devin Shore (15) and Dan Hamhuis (12)
CHI – Ryan Hartman (12) assisted by Tanner Kero (4) and Marian Hossa (13)
CHI – Gustav Forsling (2) assisted by Brent Seabrook (24) and Marcus Kruger (9)
THIRD PERIOD
DAL – Jamie Benn (16) assisted by Cody Eakin (4) and John Klingberg (23)
DAL – Tyler Seguin (19) unassisted
CHI – Patrick Kane (17) assisted by Artem Anisimov (18)
CHI – Trevor van Riemsdyk (2) assisted by Artem Anisimov (19) and Artemi Panarin (29)
CHI – Jonathan Toews (10) (PPG) (ENG) assisted by Marian Hossa (14) and Duncan Keith (32)
THW Three Stars
First: Artem Anisimov (2 assists)
Second: Patrick Kane (1 goal)
Third: Trevor van Riemsdyk (1 goal)
---
NEXT UP
Dallas Stars at Toronto Maple Leafs
Air Canada Center – 6:30 p.m. CST on Tuesday, Feb. 7
Broadcast channels: TSN4, FS-SW+
2016-17 Season Series: Jan. 31 – Stars 6, Maple Leafs 3
Chicago Blackhawks at Minnesota Wild
Xcel Energy Center – 7:00 p.m. CST on Wednesday, Feb. 8
Broadcast channels: NBCSN, SN, TVAS
2016-17 Season Series: Jan. 15 – Wild 3, Blackhawks 2
Matt blogged about all things hockey at On Goal Analysis/The OGA Blogs from 2008-2014 and has written several travel articles for The Dallas Morning News. He began covering the Dallas Stars and Florida Panthers for The Hockey Writers in August 2015. Matt is also writing a biography of "Tex" Rickard, the Texas cowboy who founded the New York Rangers and the Madison Square Garden Corporation.