With just under two weeks remaining before the 2023 NHL Draft, it's crunch time for analyzing potential picks for the Detroit Red Wings. One player that I believe would be in the selection range for the Red Wings at ninth overall is Ryan Leonard. This 18-year-old forward has what it takes to be a success at the NHL level and sell a lot of jerseys while doing so.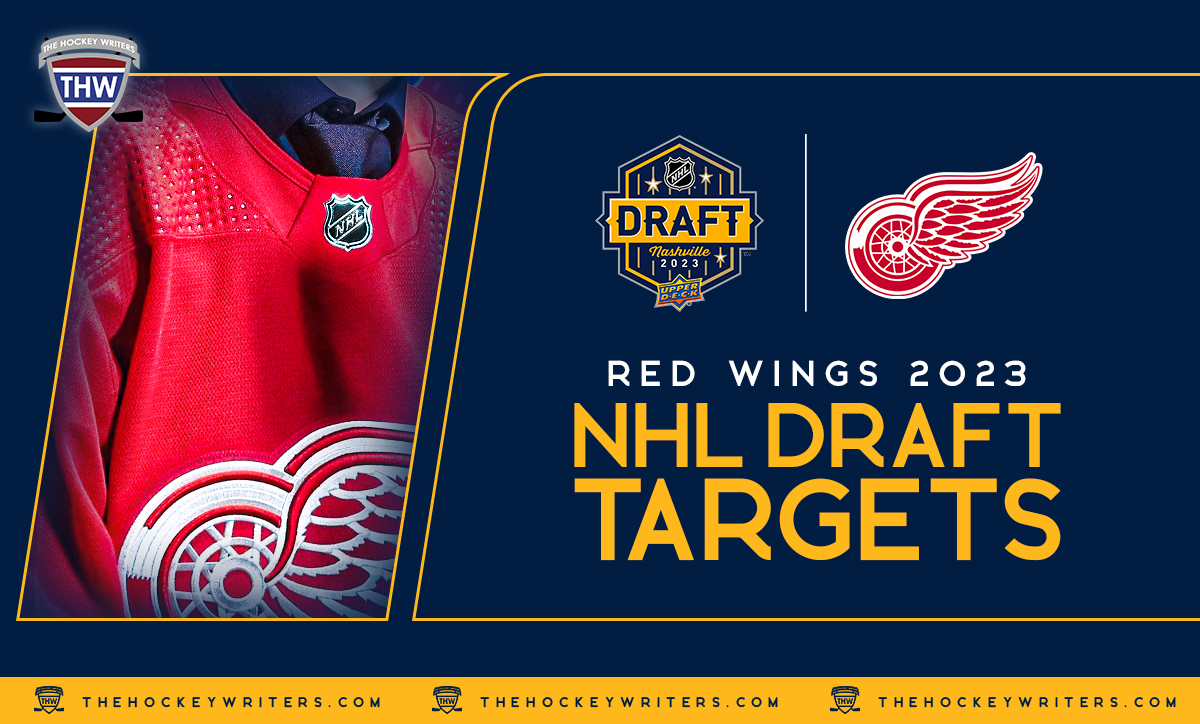 Related: 2023 NHL Draft Guide
Leonard is a player that is floating between fourth and 25th in rankings from TSN, NHL Central Scouting, The Hockey Writers, and other sources. In fact, NHL Central Scouting has him ranked fifth overall out of all North American skaters which is higher than he was initially anticipated to fall. With that wide of a range, maybe the Red Wings would be able to use their second first-round pick on him at 17th overall. All that aside, let's get into why Leonard would possibly be a perfect pick for the Red Wings.
Taking a Look at Leonard
Leonard has been with the U.S. National Team Development Program (USNTDP) for the past two seasons and is committed to Boston College this fall. In the 2022-23 season, he had 51 goals and 43 assists through 57 games with the NTDP. He then played 17 games in the United States Hockey League (USHL) with the USNTDP Juniors team where he had an additional 11 goals and nine assists. On top of all that, he represented the United States at the U18 Men's World Championship in April and scored the golden goal for Team USA; and it was a beauty.
Physically, Leonard is a unit and some are saying that he is potentially the strongest player in his draft class. Standing at 5-foot-11 and 181 pounds, he's pretty average but he is remarkably solid. He's a strong, crafty player with above-average skating, a knack for laying hard hits, and a killer shot. When he's on the ice, he's a threat. Whether it be slipping around defensemen or setting up game-winning plays for his teammates, Leonard is capable of it all. His strong two-way game and aggressive mentality make him a very special player as he's moved up in the draft rankings.
His physical maturity enhances that bulldog game that he plays. He's a powerful player, he's a powerful skater, he's powerful physically. His game drives and leads with power. He's got a great shot, whether it's from distance or from in tight he positions himself well there, but all parts of his game really drive off of that (build).

– Dan Muse (from "How Ryan Leonard's 'bulldog' mentality pushed him to the top of the 2023 NHL Draft," The Athletic, January 17, 2023)
Fitting in With the Wings
As you may or may not know by now, the Red Wings have a massive prospect pool that is overflowing with talent. Adding Leonard into that mix would only make the future of the organization even brighter. Some of the current prospects that play center and on the wing are Theodor Niederbach (C/RW), Liam Dower Nilsson (C/W), Ethan Phillips (C/RW), and Pontus Andreasson (C/W). While all of these players are immensely talented, Leonard would still stand out in this group. The added grit in his game in addition to his pure skill and skating abilities make him a very unique player at his position. He has a certain knack for finding the back of the net and a level of physicality that set him apart from the prospects already in the Red Wings' system.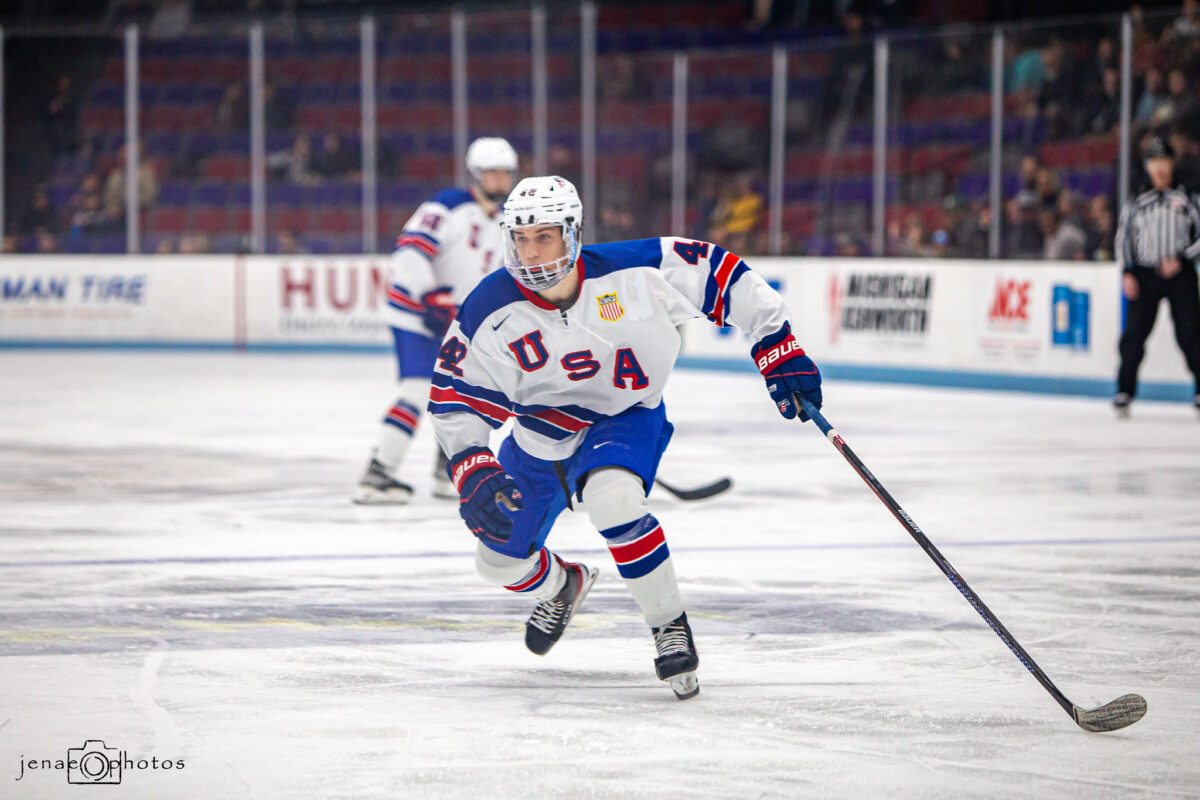 He boasts a quick release and impressive accuracy. He can wire a puck into a mail slot. More importantly, he boasts a strong all around game. He's not a giant player, but has a solid build and can be forceful during puck battles. He will throw his weight around.

– Kevin Allen, Detroit Hockey Now
Since he is a center who can also play on either wing, there is a lot of room for him in the Red Wings' prospect pool. Centers are always a good position to fill and the added versatility with Leonard makes him even more desirable. The Red Wings are also in need of players that have that gritty aggression, in addition to players who can consistently find the back of the net. That being said, he checks off at least three wish list items for the Red Wings.
So, Why Draft Leonard?
In short, you know what kind of player you are getting with Leonard. On top of that, he has a remarkably high ceiling so drafting him isn't too much of a risk. Truthfully, I do not think that the Red Wings could go wrong by selecting him. He can lay hits, rocket pucks into the net, make deceptive plays, and seemingly everything in between. Drafting him would almost immediately improve the Red Wings' offense going forward since I could see him making it to the league within a year or two.
Related: Red Wings Draft Coverage
---
Latest News & Highlights
---
The main downside is that Leonard might end up getting snagged before the Red Wings have a chance to take him at ninth overall. His draft stock shot up this summer after the U18 Men's World Championship in which he alongside fellow draft candidate Will Smith put on a show. When the main downside of drafting a player is that he might be too far out of reach, you know you're looking at a very talented and promising individual.
All this being said, Leonard is personally my favorite pick for the Red Wings at ninth overall, if he isn't already gone by then. His personality is that of a hard worker who won't stop until he wins and that paired with on-ice skill and tenacity that is uncommon for a player this young. I also feel confident saying that his floor is a bottom-six NHL forward which is a great "worst-case scenario" for a first-round draft pick. 
More Quotes
"He's [Leonard] one of the most talented skaters in this draft, an inside-driven scorer who can beat opponents with his hands, shot, and passing skill in equal measures, all while maintaining a clean defensive conscience. Put another way: The type of player you win with when the games matter the most." – Elite Prospects 2023 NHL Draft Guide
"He's a big, strong kid and he's got a little bit of a mean streak in him, which I like. He loves to rip pucks and he's powerful, and he'll go and finish hits, and he's going to the net. He's the sandpaper, the guy who can get in there and be the physical guy who can also rip it" – Brendan Buckley (from "How Ryan Leonard's 'bulldog' mentality pushed him to the top of the 2023 NHL Draft," The Athletic, January 17, 2023).
"Leonard will use a mixture of crossovers, edges that retain speed and quality power stride extensions to get separation from an attacker. The separation allows him to drives to the net and finds a gap to exploit. But, not only does Leonard find a gap, he will manipulate the goaltender by skating towards the short side and having the goaltender commit to the short side. At that point, he will leverage his handling to get the puck around the goaltender and into the back of the net." – Josh Tessler, Smaht Scouting
---

---