Ever since Steve Yzerman returned to the Detroit Red Wings as their general manager, the only thing Red Wings fans could really hang their hats on was the prospect pool. While many haven't quite panned out yet, which is the most likely outcome for most prospects, Detroit has added several important pieces through the draft in recent years already, with Lucas Raymond and Moritz Seider standing out as some of the team's most important pieces for the present and future.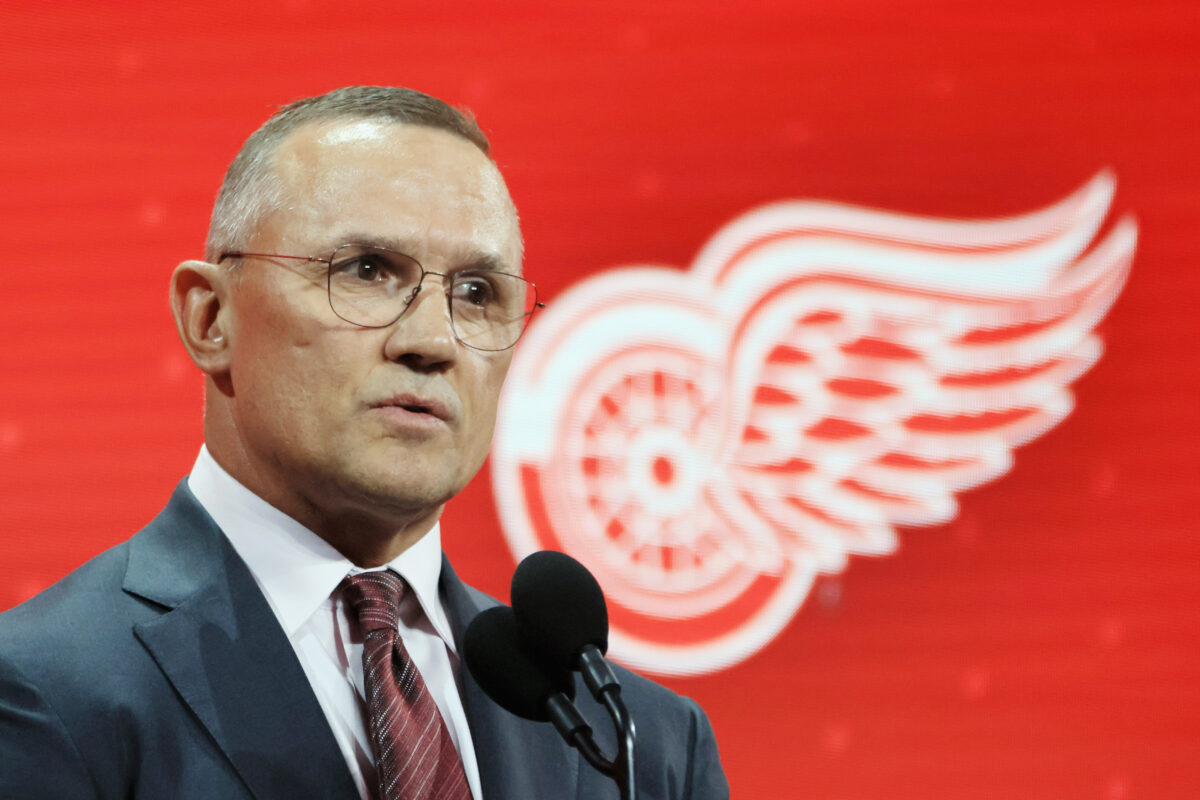 Seider especially is a wildly important piece of the puzzle called "How to Build a Stanley Cup Contender". Very few teams win it all without a high-end number-one defender, and Detroit appears to have found that in Seider. Red Wings captain Dylan Larkin can ably slot in as the team's top-line center for the next four or five years at least and Raymond has shown the potential to be a great top-six, scoring winger, but there are many more important roles to be filled in the depth chart before Detroit can return to serious contention.
Related: 4 Reasons to Believe Alex DeBrincat Will Bounce Back in Detroit

That's what we're going to take a look at here, with a list of Detroit's five most important prospects and the roles that they will need to fill for Detroit to have the best chance of contending in the near future. That means this won't be a straight-forward prospect ranking (I'll revisit that another time), but rather a ranking of players by their value to the team instead of by their ultimate potential. If the Red Wings want to win the Stanley Cup with this generation of players, these are the guys that they'll need to be right on.
5. Marco Kasper
Marco Kasper has done nothing but impress since Detroit selected him 8th overall in the 2022 Draft, scoring at a much higher rate in the SHL than most expected while retaining the hard-nosed, high-energy style that the Red Wings had clearly fallen in love with. Kasper already played his first NHL game toward the end of the season, though he was shut down for the season with a knee injury.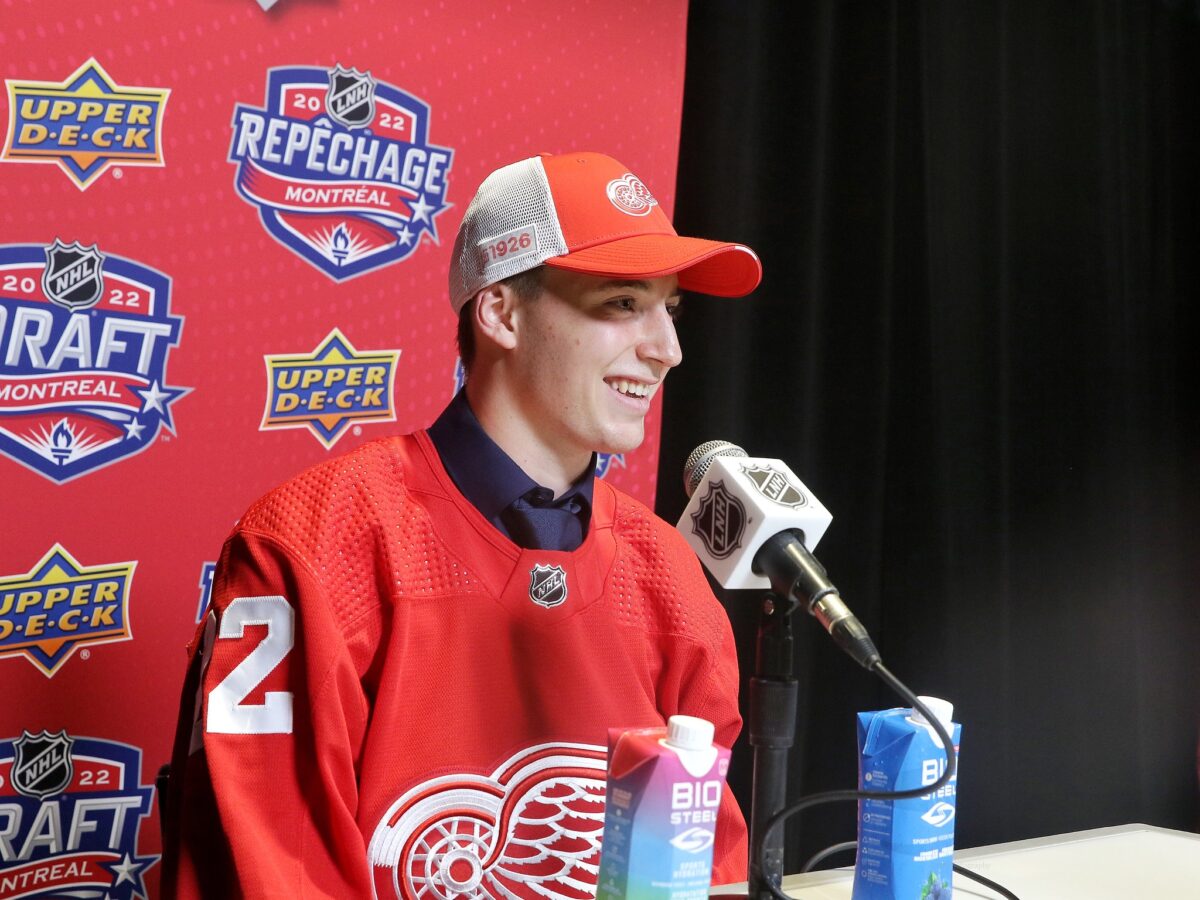 I think there's a real chance Kasper is an NHL regular next year, with the work ethic, proficiency in puck battles, and playmaking vision to be a top-six caliber player in the near future. After the addition of Nate Danielson in the 2023 Draft, I expect that the Red Wings want Kasper to end up as either a great middle-six center or a top-six spark plug on the wing, and I think he could provide a ton of value for them at either spot for the next decade.
Danielson and Larkin both have the size and skating of top-six NHL centers and while I think Kasper could end up being a high-end 2C in the NHL, I'm not yet convinced he has top-line potential. His hard-working style would make him a great candidate as an elite third-line center who gives the team three high-end players down the middle that they can trust in all situations.
---
Latest News & Highlights
---
Should Kasper end up on the wing, I expect his puck retrieval skills would be well matched with one of the team's better offensive triggermen like Alex DeBrincat or hopefully Raymond (if he finds his goal scoring touch again). Kasper is what I like to call a snowplow out on the ice. A snowplow is a player who does all the little things right and makes life easier for his teammates, clearing the way for them to shine. He will be a hugely important piece for Detroit going forward, and him hitting as either a good 2C or a great top-six winger would be massive for an offensively starved Detroit team.
4. Carter Mazur
Speaking of someone who could make a serious impact on the team's offensive woes, Carter Mazur is next up. Contending teams need to find value throughout the draft, not just in the top-10 picks or so, and Mazur could be one of those guys for Detroit. 
Ever since being drafted in the third round of the 2021 Draft, Mazur has been on a steep upward trajectory, going from a great USHL player to a borderline dominant force in the NCAA nearly overnight. Mazur's college career is most likely over now and his 75 points in 82 career games is wildly impressive for someone of his age and draft pedigree.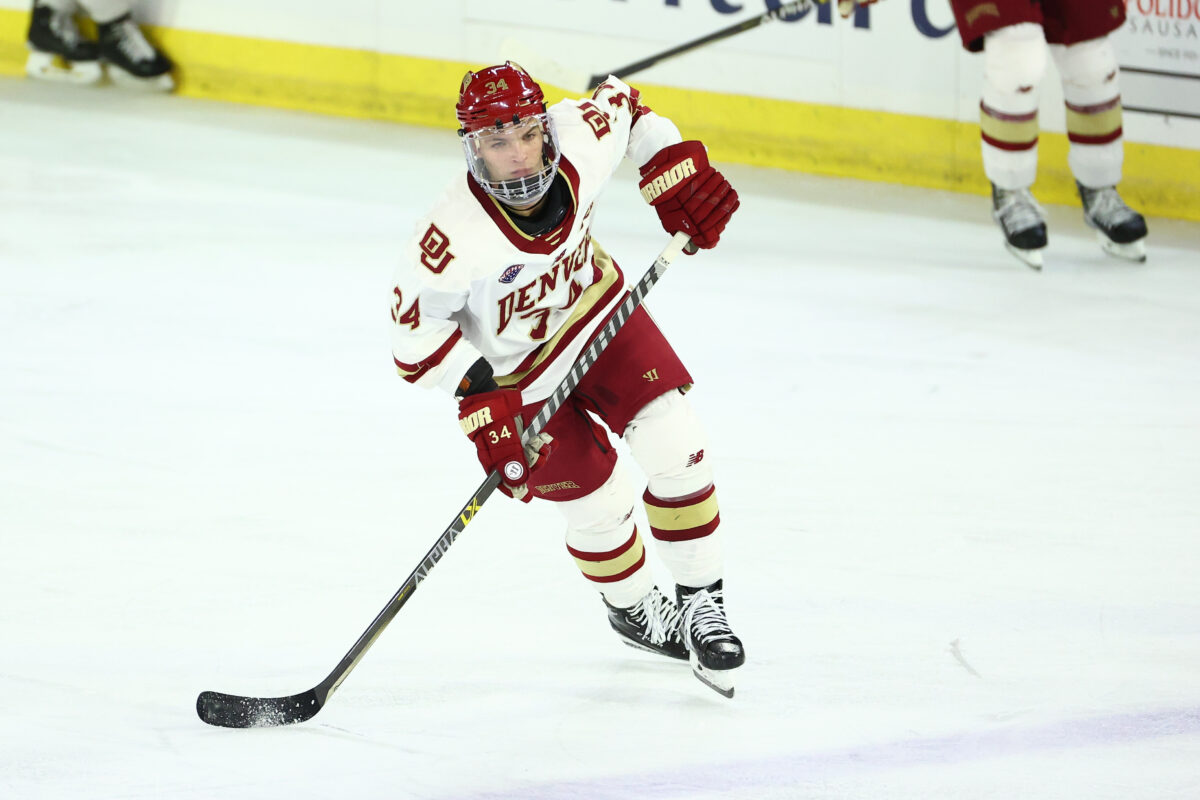 Mazur tested the waters of professional hockey last Spring when he joined the Grand Rapids Griffins for six games to end the year, where he scored three goals and six points. He followed that up by making the cut for Team USA at the Men's World Championships where he scored four points in 10 games.
It seems like a top-six role in the AHL is his for the taking after training camp this year, but the chances of him making the NHL squad from day one are far from zero. If Mazur can become a legit top-six winger and translate his net-front game to the NHL effectively, that would take a huge weight off the shoulders of Detroit's amateur scouting department. The Red Wings need scoring wingers above all else at this point in time and Mazur's potential to become just that makes him a pivotal piece in the team's future.
3. Axel Sandin Pellikka
Axel Sandin Pellikka (ASP) doesn't seem to fit the typical Yzerman defender mold (he's not 6-foot-3 or taller), but he was the most talented offensive defenseman in the 2023 Draft for my money. If ASP can hit as a great top-four defender, then he will ensure that Detroit always has two defensive pairings they can lean on for big minutes.
He doesn't need to surpass or even simply reach the same level as Seider, but just being a sturdy top-four defender who excels on the power play would free Seider up to play a lot less on the man advantage and to focus on his play at even strength and on the penalty kill.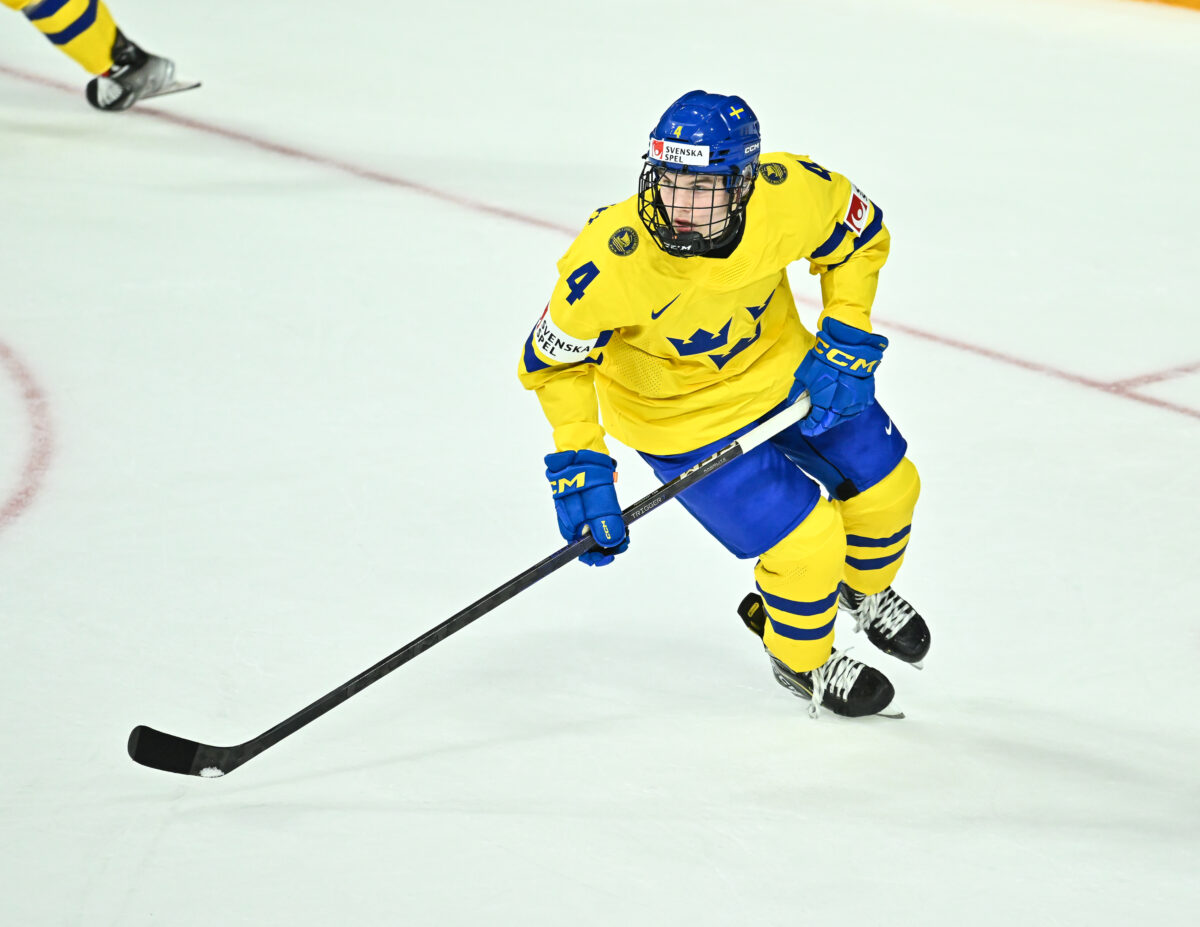 As soon as he was selected 17th overall in this year's draft, ASP immediately became the most gifted offensive defender in Detroit's young defense group (including Seider, Edvinsson, Wallinder, etc.) and I think he could thrive in the NHL as Detroit's power play quarterback. He plays a totally different style from the towering defenders that the team has typically drafted, and that's great news!
If Detroit can add another ace on the back-end who takes some pressure off of their number one guy in Seider, then they can feel confident that they've got a good chance of keeping the puck on the right side of the ice for 45+ minutes a night. It should also be said that ASP is a much better defender than he often gets credit for. Just because he's 5-foot-11 and great offensively doesn't mean he's a liability on defense, far from it. The gap between ASP becoming an Adam Boqvist or a Quinn Hughes is significant and they will need him to lean Hughes if they want to become an elite team.
2. Nate Danielson
I like to preface every bit of analysis I do on Nate Danielson by stating that I was higher than most on him in the public scouting world, and my view of him may be a bit rosier than most. I believe that Danielson has the potential to be a great top-six center in Detroit, with the potential to even replace Larkin as the team's first line center somewhere down the line.
Danielson's two-way game was remarkably polished in his draft year, with the defensive fortitude to frustrate even Connor Bedard and the offensive potential to score a whole lot more than the stat sheets show. Much has been made about the quality of the Brandon Wheat Kings team that surrounded Danielson last year, and I wholeheartedly agree that he could have scored anywhere from 10 to 20 extra points in his draft year if he were playing with meaningfully better linemates all year.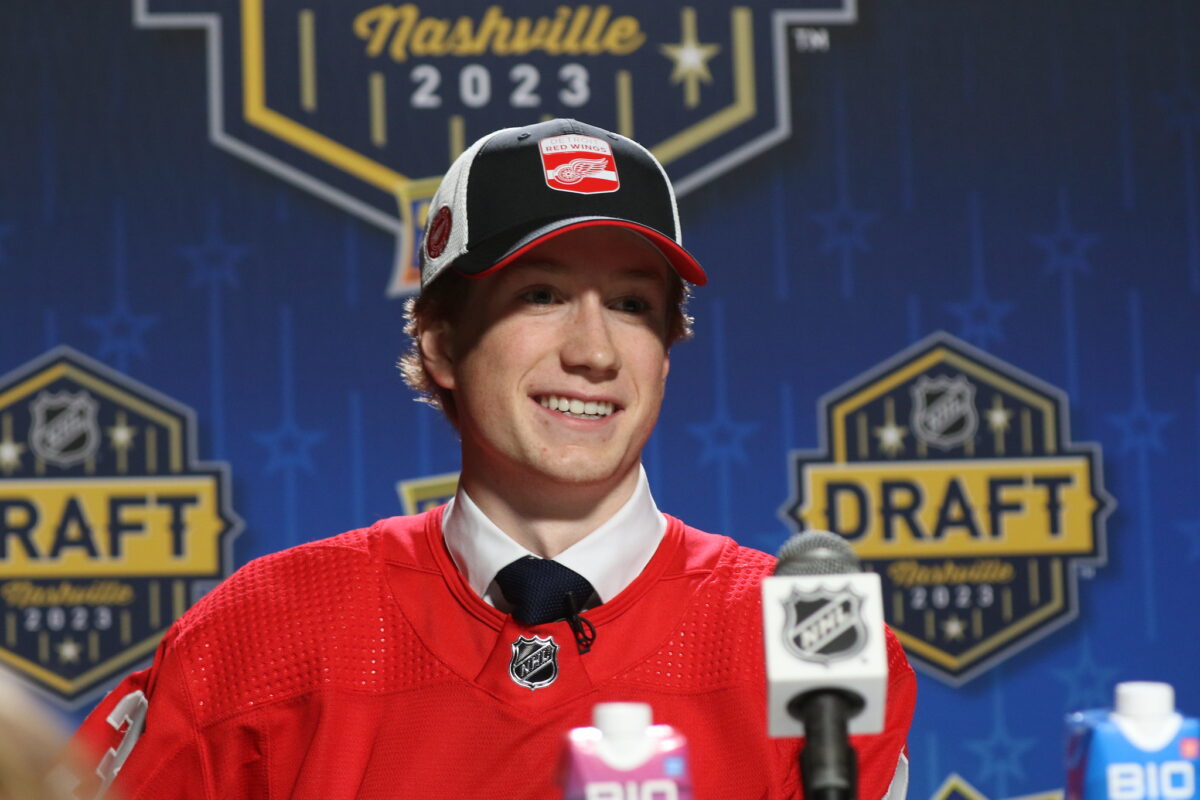 He plays an NHL style and has pro pace already, which was evident whenever he was clearly a step or two ahead of his teammates in junior last year. If he can continue to develop his goal scoring potential, then I could see Danielson becoming a great two-way center in the mold of an Elias Lindholm. He is also eligible to play in the AHL as soon as the 2024-25 season, though I wouldn't be shocked if he earned a bottom-six role in the NHL following one more WHL season in 2023-24.
Related: Nate Danielson Signs Entry-Level Deal with the Detroit Red Wings
If Danielson is the real deal and can be a great top-six center for Detroit, then their long lasting need for center depth will finally be diminished significantly. The difference in value between Danielson becoming a good 3C and a great 2C is wide enough that his development is of the utmost importance for Detroit going forward.
1. Sebastian Cossa 
My pick for Detroit's most important prospect is Sebastian Cossa. The vast majority of teams who contend seriously over a moderate period of time need a great goalie. Not necessarily an elite goalie (though I'm sure the Red Wings wouldn't complain if that's what Cossa becomes), but a great one. It's incredibly unlikely that Ville Husso can be that for Detroit by the time the rest of the team is ready to push for wins in April so Cossa is the next best option.
Goalies have such a wildly different development path than skaters and Cossa's season in the ECHL was a great example of that. The ECHL is known as a league that isn't kind on goalies, and very few high-end goalie prospects end up there. After a bit of a shaky start, Cossa came into his own and ultimately authored a pretty impressive first pro season which was nice to see. 
The next challenge for him will be the AHL where he will likely play as the backup next season unless he impresses and earns a tandem spot next to either James Reimer or Alex Lyon. Even a middling season in the AHL would be good progress for Cossa, but a solid one would go a long way in boosting the confidence of fans.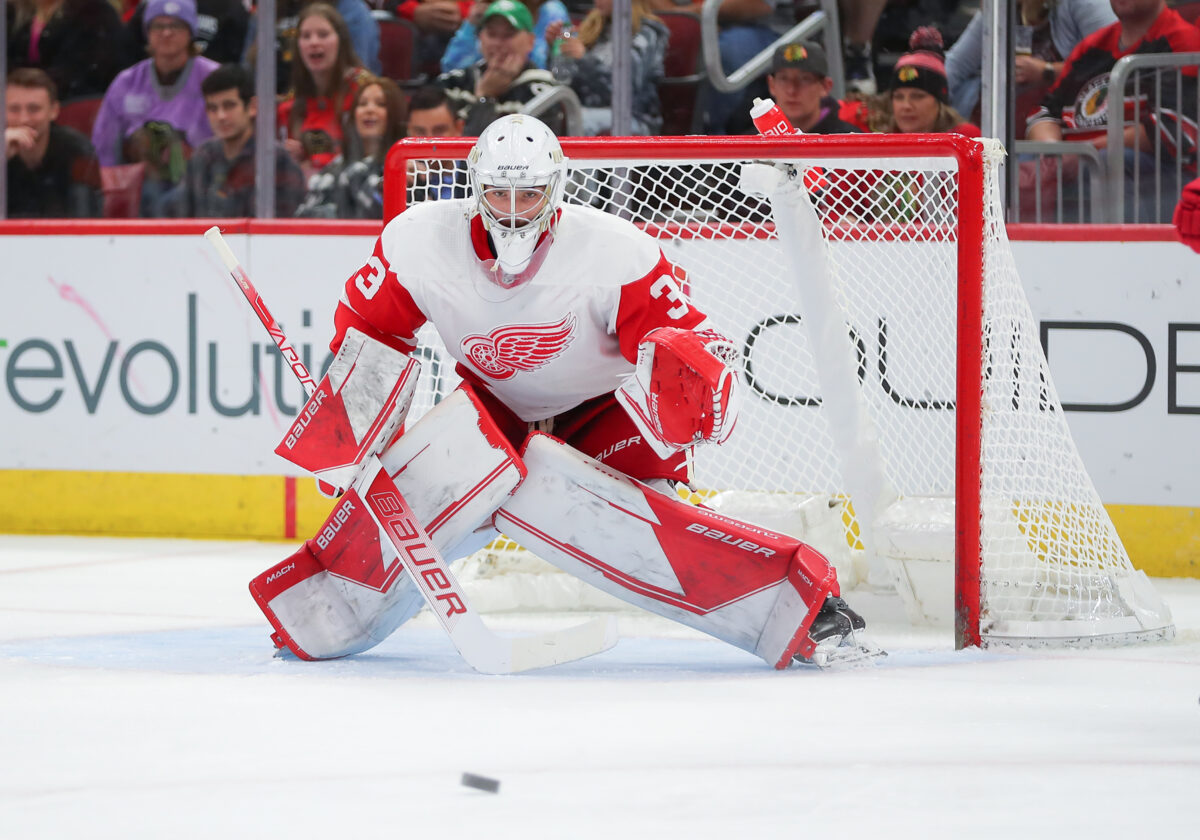 If Cossa can become what Detroit thought he could become when they took him 15th overall in the 2021 Draft, then the team will be in a much better place when he's ready to be a full-time NHL starter (which is likely at least three years away). Cobbling together a league-average goaltending tandem through trades and free agency has been hard enough for the Red Wings in recent years so answering that question for the better part of a decade would be a massive step in the right direction for a team that has been without a true high-end goaltender for over a decade.
Lots of Development to Go
This team has taken some serious steps forward in the past two seasons or so, but there's a lot more work to go. While splashy trades and free agent signings are helpful and even necessary when building a Stanley Cup contender, the Red Wings are now at the point where a few of the biggest missing pieces are already in the organization and just need some continued seasoning.
If at least three of these prospects can deliver on expectations and fill a major need for Detroit going forward, then I think they should have a chance to be a contender, but if any more of them hit, this could be a team to be feared in the Atlantic Division, and across the league, for a very long time.
Who do you think are the most important prospects for the Red Wings? Do you think Kasper will end up on the wing of at center in Detroit long-term? Do you agree that goaltending is the most important need for Detroit looking ahead? Sound off in the comment section below!