Before you get overly excited, this is not an alternate universe where the Detroit Red Wings constantly win and will bring home their 92nd consecutive Stanley Cup this spring. No, this is the universe where I—or some alternate version of me—am the general manager of the Red Wings. Otherwise, everything else is exactly the same as the world we live in. Just ask space enthusiast Ilya Bryzgalov. He can verify the legitimacy of this.
With the 2018 NHL Deadline approaching, it's time for a few changes in Hockeytown. There are some key pieces in place for the rebuild, but more work is needed.
There are a handful of sellers this year given the present standings. But many teams—including the Red Wings—are still technically in the playoff hunt. The mission here, though, is to achieve long-term success through prospects and draft picks, not lucking into a wild-card spot to face the Tampa Bay Lightning in the first round.
Let's flip the sign on the front door to "open", kick a few tires, and complete a few trades to better position the Red Wings for the future in whatever universe this is.
Mike Green & Luke Glendening
Detroit trades Mike Green and Luke Glendening to Toronto for Eric Fehr, Kasperi Kapanen, a 2018 1st round pick, and 2018 4th round pick.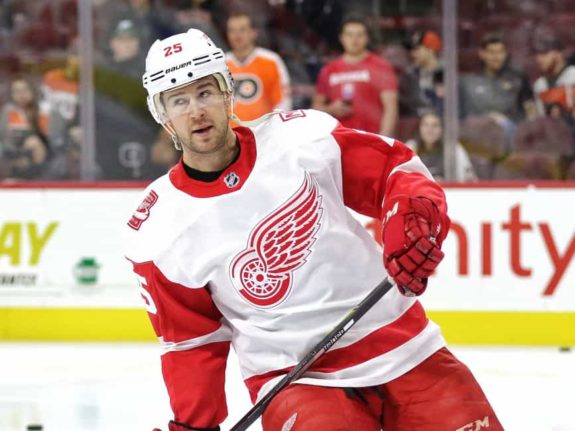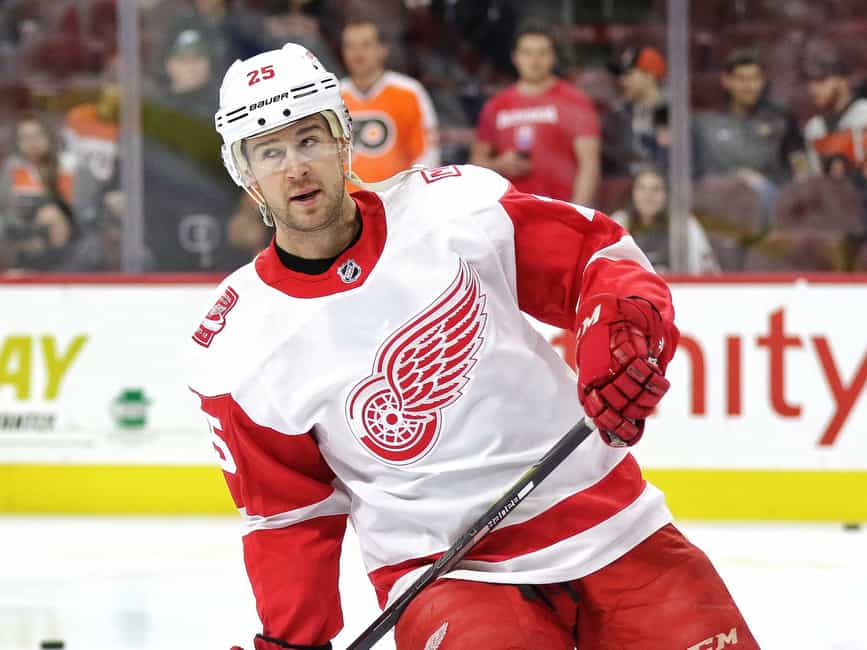 Mike Green will end up in Toronto after a series of other moves in the Eastern Conference. First, Steve Yzerman pulls off the unthinkable and manages to acquire Erik Karlsson from the Ottawa Senators. Then, the Boston Bruins will counter with an acquisition of their own: Ryan McDonagh. Hoping to keep up with the Joneses, the Toronto Maple Leafs will then turn their attention to Green and the Red Wings.
As for Luke Glendening, it was only a matter of time until he became a Maple Leaf after Mike Babcock took Toronto's coaching job. Possession statistics aside, this is a huge acquisition for the Leafs. Glendening has a track record of shutting down Tampa Bay's top forwards dating back to his time in the AHL and with Toronto and Tampa Bay expected to duke it out for supremacy in the Atlantic Division for the next few years, Babcock will want Glendening matching up with Steven Stamkos and Tyler Johnson.
For the Red Wings, they'll acquire three assets to aid the rebuild, plus nearly $2 million in cap space for the next few years. Throwing in Fehr keeps Toronto's contract count at 49 and affords the Maple Leafs the option of trading for a forward before the deadline hits.
Related: Don't Expect These Red Wings to be Moved
In Kapanen, the Red Wings get a right-handed shot capable of playing in their top- or middle-six down the road. Kapanen has been able to score at all levels with his great release and could translate into a perennial 20-plus goal scorer for the Red Wings.
Petr Mrazek
He got traded as I was writing this article!
(For the record, I had Mrazek going to the Flyers for a conditional 2018 3rd round pick.)
Gustav Nyquist & Xavier Ouellet
Detroit trades Gustav Nyquist and Xavier Ouellet to Carolina for Justin Faulk and Marcus Kruger.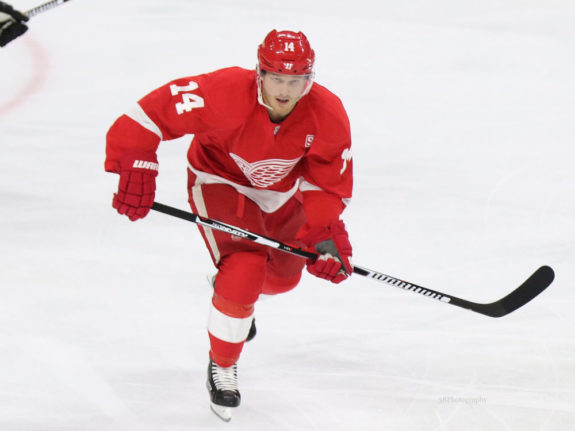 In this blockbuster deal, the Red Wings and Hurricanes would both come away happy. For Carolina, they instantly add a top-six goal scorer and a depth defenseman to pair with prospect Haydn Fleury. Plus, they can shed Marcus Kruger's overpriced contract that is presently buried in the minors.
For the Red Wings, Justin Faulk essentially replaces Mike Green and gives Detroit a long-term anchor on defense. Faulk's offensive abilities, right-hand shot, and youth will help balance out their present defensive group. As for Kruger, the veteran would join his fellow Swedes in Hockeytown and give the Red Wings an option to replace Glendening on the fourth line and/or help mentor Dominic Turgeon.
Kruger's contract expires following the 2018-19 season and Faulk's does the next summer. While Faulk would be an extension candidate prior to the summer of 2020, Kruger would be viewed as a rental player heading into next season. Instead of signing a veteran to a one-year deal, the Red Wings would already have Kruger in that role and would likely be made available for a mid-round pick at next year's deadline.
Rest of the Way Red Wings Roster
With these three trades completed, here's how Detroit's lineup would look as the 2017-18 season comes to a close.
| | | |
| --- | --- | --- |
| LW | C | RW |
| Anthony Mantha | Henrik Zetterberg | Justin Abdelkader |
| Andreas Athanasiou | Dylan Larkin | Tomas Tatar |
| Darren Helm | Frans Nielsen | Kasperi Kapanen |
| Tyler Bertuzzi | Dominic Turgeon | Martin Frk |
| |  Marcus Kruger | Luke Witkowski |
| | | |
| --- | --- | --- |
| LD | RD | G |
| Jonathan Ericsson | Trevor Daley | Jimmy Howard |
| Danny DeKeyser | Justin Faulk | Jared Coreau |
| Niklas Kronwall | Joe Hicketts | |
| | Nick Jensen | |
More Trades?!
In a different alternate universe, The Hockey Writers' Larry Fisher is the general manager for all 31 NHL teams. Check out his take on what the Red Wings should do.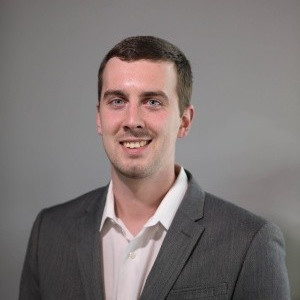 Tony Wolak is based in the Washington D.C. area and covers the Detroit Red Wings for THW. As a former junior and college hockey player, Tony has a unique perspective on Red Wings topics.