It's no secret that the Detroit Red Wings had difficulty scoring last season, and it was representative of the continued regression that the team's top six forward group has suffered since the 2011-12 campaign. In a five-year span from 2007-12, the team lead the entire NHL in goals for per game tallying 3.07 per contest. The last five years from the lockout-shortened 2013 to 2016-17? They were 21st, potting 2.60.
Many different factors have influenced this drop. Pavel Datsyuk, Nicklas Lidstrom, Brian Rafalski, and Johan Franzen, once anchors of the top six and defense, have all retired. Henrik Zetterberg and Niklas Kronwall are going to turn 37 this season. Justin Abdelkader, two seasons after potting 23 goals, scored a measly seven in 2016-17.
There is one problem, however, that is slowly emerging and starting to rear its ugly head, especially now with the report that Zetterberg plans to retire after 2018-19.
While the Wings have done a solid job of drafting the likes of Gustav Nyquist, Tomas Tatar, Anthony Mantha, and Evgeny Svechnikov to score from the wing, no one, outside of Zetterberg, has been able to solidify the center position to make these wingers that much better.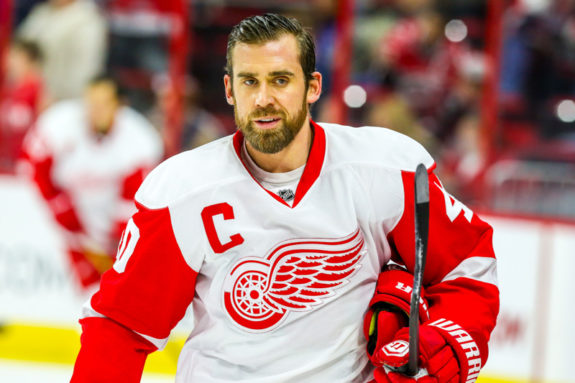 Don't believe it? Here is some visual evidence from Red Wing middlemen currently on the team. Their numbers are cumulative from the lockout shortened 2013 season to 2016-17. Each has played a minimum of 100 games:

Though Nielsen has had a solid five-year run, he's 33 and in the second year of a six-year deal. Datsyuk is gone, and Zetterberg will be sooner than his contract once suggested. In the grand scheme of things and after all the fanfare from the captain's two-year farewell tour fades, this team will be up against it dynamically at center with a blueline already in disrepair.
From questionable investments to unproven young talents, here is how the issue down the middle has failed to be addressed leading to the unclear times ahead with no clear short-term answers.
Stopgaps Aren't the Answer
When Datsyuk made it clear he wasn't coming back, general manager Ken Holland managed to trade his contract to the Arizona Coyotes at the expense of Jakob Chychrun to open up some cap space for Steven Stamkos, who was rumored to be testing the free agent market. The Wings never got a meeting before he re-signed with the Tampa Bay Lightning, leaving an extra $7.5 million burning a hole in Holland's pocket.
In an attempt to salvage the offseason, he inked Nielsen, 32 at the time, to that six-year contract worth $5.25 million per season. While the Dane did provide a defensive presence and solid production last season scoring 17 goals and 41 points, he won't be getting any younger throughout the course of his deal and the comparable contracts are unsettling.

As the top of the list indicates, the Wings have had a depressing recent history with signing stopgap centers. Stephen Weiss was bought out of his five-year, $24.5 million contract with three years remaining back in 2015, and will remain on the payroll until 2021. He scored 11 goals and 29 points in 78 games over those two seasons posting a 48.6% Corsi-for percentage, falling out of favor quickly at the tail end of his Wings career.
Brad Richards was another veteran brought in to act as a placeholder on a shorter term one-year contract, scoring 10 goals and 28 points. While he retired after one season and his depth was needed due to Datsyuk being injured to start 2015-16, he too masked the incoming problem the Wings would face when the Russian legend retired that year. It is a growing predicament that underperformers from the organization also have been unable to solve.
Red Wings Underwhelming Internal Performances
Riley Sheahan had an encouraging start to his NHL career after 2014-15. His offensive production of 13 goals and 36 points was complemented by a solid outing in the face-off dot, winning 50.3 percent of 963 draws. As a 23-year-old heading into his second full season, the Richards signing moved him around the lineup and even to the wing where he still scored 14 goals but saw a dip in his overall offensive production with 25 points.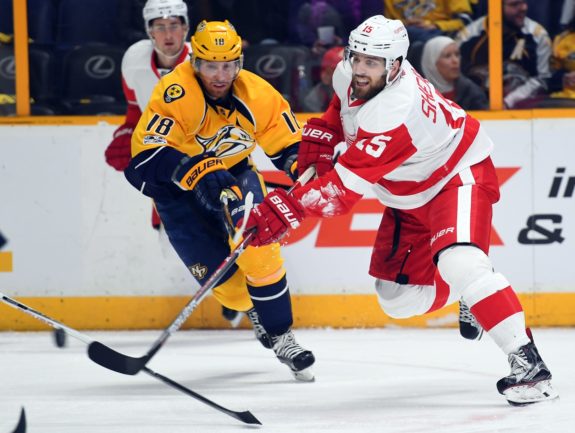 With two seasons behind him, Sheahan was an intriguing player in camp going into 2016-17, as he was expected to play the wing full time versus his natural center position. In a season where he took the least amount of draws in his career, winning them was the least of his worries, as the most of the hockey world knew. After going goalless in the first 79 games he played, he scored two dramatic goals in the final game at Joe Louis Arena, including the last recorded lamp lighter at 19 Steve Yzerman Drive.
While undeniably an incredible moment, Sheahan, now entering a contract year, has completely fallen from the depth chart down the middle and will likely be playing fourth line minutes this season with Luke Glendening and possibly Tyler Bertuzzi. Once a center with Nyquist and Tatar in the top six, his Red Wing career is now at a crossroads with Sheahan unable to consistently perform with them.
Darren Helm is another Wing that has overstayed his welcome. Signed to a five-year contract worth $3.85 million per season in 2015, the same inconsistencies that have plagued his 10-year career came to the surface again in 2016-17. He missed 32 games, the third time he's missed 30-plus games in a season.
While his return to his natural position helped his face-off numbers, the 20-goal, 40-point season that everyone in Wings management is waiting for may never come as he crosses the wrong side of 30 and his trademark speed erodes.
The fact that the Wings were relying on those two to carry the torch speaks volumes about their lack of dynamic depth down the middle.
Unproven Options
Dylan Larkin is likely going to play center this season after his impressive finish to last season from that position, tallying five goals and 13 points in the last 21 games, seeming to find that space that eluded him all season long. No longer having the luxury of starting 60 percent of his shifts in the offensive zone, Larkin had to adapt to a 51 percent usage rate as he sporadicly played down the middle and shifted to the wing on most nights.
In 2017-18, he should slot in at the third line center position continuing to grow and learn the skills of the trade, as the team will depend on him to handle more responsibility as Zetterberg moves on and Nielsen continues to age. While his usage on the wing would benefit him as an offensive player capitalizing on his explosive skating skills, speed will fade later in his career, but playmaking and defensive responsibly would not as quickly. Besides, Andreas Athanasiou is the man for the run-and-gun business.
Speaking of Athanasiou, his natural position is center as well, but there's just no room for him to play the role and he's succeeded at an impressive rate one-on-one, scoring five breakaway goals including two overtime winners last season in his 18-goal performance this past season.
However, he's at odds with head coach Jeff Blashill and is still a questionable defensive player as his 47.39% Corsi-for percentage and -1.3% on-ice Corsi-for relative ratio showed. Without any space, "Double A"'s days as a center may be over before they start.
Of course, Holland's answer to his team's internal center depth wouldn't be a fit without some sort of polarization. The Wings' ninth overall pick in this past entry draft, Michael Rasmussen, is years from climbing up the depth chart, but already has skeptics.
Though the 6'5", 230-pound behemoth turned in a solid campaign for the Tri-City Americans of the WHL scoring 32 goals and 55 points in just 50 games, 15 of the goals and 26 of the points came on the power play. His 1.52 even strength points per 60 minutes ranked 167th among forwards in the WHL. Now the captain of the Americans, he'll need to rebound from injury and turn in a reassuring season that shows an improved performance at five-on-five play.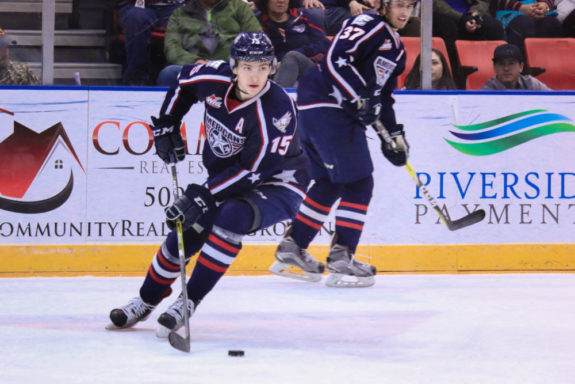 Other centers in the system do not appear to be top six drivers and rather look like more of the same depth that the Wings have up front now. Axel Holmstrom turned in a solid first season in the SHL in 2015-16 scoring eight goals and 23 points in 48 games as a 19-year-old, but had an injury-riddled 2016-17 and must rebound with the Grand Rapids Griffins this season.
Christoffer Ehn has two SHL seasons behind him but his offensive game has yet to shine professionally. Dominic Turgeon surprised many with an impressive 36-goal, 70-point season in his final WHL campaign in 2015-16, but that kind of production has yet to be seen consistently.
The Middle Going Forward
John Tavares is currently scheduled to be an unrestricted free agent next summer.
So was Stamkos.
While the Tavares situation seems more intriguing due to the inferior product the New York Islanders have to go along with issues in Brooklyn, he likely wouldn't want to sign with a team in a worse situation. The shine and glow of Little Caesars Arena will only do so much covering up the crumbling team around Tavares, so even if he does leave New York, Detroit shouldn't bank on that option.
Detroit likely wouldn't be players with new contracts on the way for Mantha and Larkin next summer in an already challenging financial state.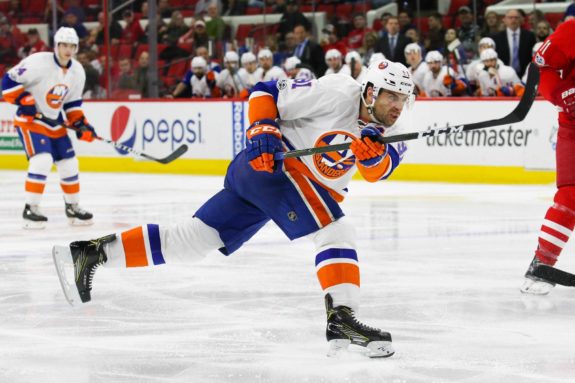 On the trade front, Matt Duchene incredibly is still sitting in Colorado with general manager Joe Sakic calling for the preverbal arm and leg and apparently not willing to budge on trade prices for his prize center. Any deal there would likely include Larkin, Svechnikov, Athanasiou, Mantha, or a multitude of those players to go with picks. That would defeat the purpose of the acquisition. Other high-end centers, many unavailable, would require relinquishing these assets that the incoming player would make better.
It's a pretty difficult situation to be in for the Red Wings braintrust as they're looking for cornerstones on defense and up front with a plethora of complementary pieces. The 2018 draft is a prime year for defenders, and there are not too many generational centers making noise. This is where the organization's past ability to find diamonds in the rough needs to come to fruition again in the coming years with better draft positioning more than likely.
There will be no easy path back to relevancy for an organization that commemorates their center ice logo with the trademark "Hockeytown" shining bright in black, bold font. The unclear situation on the top of the depth chart at the position will soon compound that. It's up to the organization to speed up that process in the best way possible conceding to a rebuild for the best opportunity at replenishing it with impact talent.
Rasmussen statistics courtesy of prospectstats.com.