What's The Grind Line? Apart from the once-famous line of Kris Draper, Kirk Maltby, and either Joe Kocur or Darren McCarty, The Grind Line is also The Hockey Writers' weekly column about the Detroit Red Wings. This week, Tony Wolak, Devin Little, Ian McNaughton, and Patrick Brown are the muckers who make up THW's forechecking unit and sound off on Red Wings topics.
Alright, we're ready to call it: the Red Wings are not going to make the playoffs this season.
With the Red Wings approaching the halfway mark with just seven wins, we here at The Grind Line feel it's a good time to remember that help is coming – we're just going to have to wait for it. Scott Wheeler of The Athletic recently ranked the Red Wings' prospect pool fourth in the league, with only the Ottawa Senators, the New York Rangers and the Los Angeles Kings ahead of them. (From "Wheeler: 2021 NHL prospect pool rankings" – The Athletic – 2/9/21) A few years in the basement have yielded a pool of prospects that not only has high potential, but legitimate depth as well.
But which ones are the best? Our panel here at The Grind Line shared their picks:
Tony Wolak: Swedish House Mafia
D Moritz Seider (sixth overall, 2019)
F Lucas Raymond (fourth overall, 2020)
F Jonatan Berggren (33rd overall, 2018)
F Joe Veleno (30th overall, 2018)
F Michael Rasmussen (ninth overall, 2017)
Detroit's prospects took over the SHL, huh? Moritz Seider put together one of the best 21-and-under seasons in league history and Jonatan Berggren's elite playmaking resulted in a few intriguing comparisons:
More importantly, everyone took tremendous strides this season. Seider and Berggren aside, Lucas Raymond looks like a future star after his second SHL season. In addition, Joe Veleno didn't have an overly impressive campaign from a statistical perspective, but rounded out his game with improved net-front play and tenacious backchecking. And finally, Michael Rasmussen looked NHL-ready during his brief stint in Detroit – perhaps he'll see more time in Hockeytown later this season.
Devin Little: You Want More Offense?
Lucas Raymond
Moritz Seider
Jonatan Berggren
Michael Rasmussen
Joe Veleno
It's all about the two at the top.
Raymond and Seider are both blue-chip prospects that should have an effect on the Red Wings as soon as they arrive. Seider looks better every time you see him, and has dominated the SHL this season. Raymond just oozes potential and was a stud for Sweden at the World Junior Championship. In the end, I think Raymond has the potential to become a top-50 player in the league, and while I am confident Seider will have great success in the NHL, I can't see that same upside.
Berggren is a step below those two, though I project him to be a legitimate middle six forward in the NHL. I'm excited to see him cross the pond. And then it comes down to Rasmussen and Veleno. I'm not convinced that either are going to hit their draft day ceilings, but I do think they still have a lot of growth ahead of them. At the end of the day, I like what Rasmussen can bring a little more than Veleno, though that could change on a moment's notice.
Ian McNaughton: Lethal Weapon(s)
D Moritz Seider 
F Lucas Raymond 
F Jonathan Berggren 
F Joe Veleno 
F Theodor Niederbach (51st overall, 2020) 
The group of prospects the Red Wings have is one of the best in the NHL. Seider and Raymond might have seen action with Detroit this season if not for the pandemic but they should be regulars in 2021-2022. Those players are a big reason why fans of this franchise have hope that this rebuild is going to be successful. 
After Seider and Raymond, there is a slight drop in talent. I went with Berggren, Veleno and Niederbach, but you can swap guys in and out for any spot and I wouldn't be upset. Those players are further down the list because I feel like they're further away from making the Red Wings than the first two players. That's not to say they're awful at all, it just means we'll see them play in 2022 instead of 2021.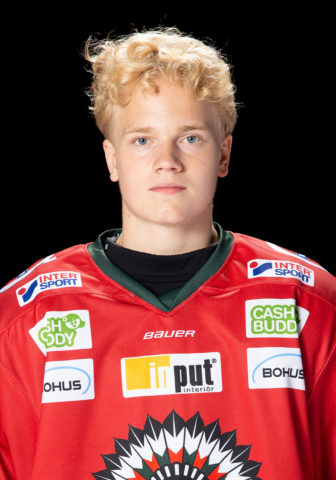 I couldn't find a spot for everyone but there are some prospects I should mention. Defenseman Albert Johansson has 17 points in 36 games for Farjestad BK in the SHL. He's looking better and better every day. Fellow D-man William Wallinder has six points for MODO Hockey in HockeyAllsvenkan, the second-highest league in Sweden. He's still trying to fill out his 6'4 frame so there isn't a rush to bring in the 18-year old. Goaltender Jan Bednar has an .867 save percentage in five games for HC Karlovy Vary of the Czech Extraliga, which isn't great, but there's nothing wrong with giving an 18-year old some pro experience. He's Detroit goaltender of the future, in my opinion, so we'll see if he can develop into a regular NHL goaltender at some point.
Patrick Brown: More Seider, Please!
Moritz Seider
Jonatan Berggren
Lucas Raymond
Joe Veleno
Albert Johansson (60th overall, 2019)
General Manager Steve Yzerman had some folks scratching their heads when he selected Seider sixth overall in the 2019 Entry Draft. Now, Red Wings fans everywhere are eagerly anticipating his NHL debut. The 19-year-old phenom has 26 points for first place Rogle BK in the SHL, good enough for fifth on the team. This despite playing only 35 games, the second-lowest number of any player on the team with 20 or more points. His 20 assists rank him 22nd in the league – not bad for a teenager. By the way, he also has fantastic vision and delivers massive hits.
Berggren has truly impressed this season, enough to move up in my opinion to the second-best prospect in the system right now. His 40 points not only rank the 20-year-old sixth in the entire SHL, it's tops on his team, Skelleftea. Berggren has not cooled off since storming out of the gate in the fall, and it's a great sign for Detroit fans starving for production. Raymond, though currently sidelined with an injury, has not disappointed this year, notching five points in five games at the World Juniors, and was playing at a very high level in the SHL before getting injured and requiring surgery.
Rounding out my final two spots are Veleno, who is playing very well with mediocre-at-best Malmo in the SHL (16 points in 37 games), and Johansson, whose 17 points in 36 games with Farjestad BK are tenth best on the team, and already surpassed his point output of 13 a season ago.
Want more Red Wings content? Tune into The Hockey Writers' Grind Line — a weekly show on YouTube and Facebook. Check out our most recent show below, and make sure you subscribe to the channel so you don't miss any upcoming shows.
---
---