The Winnipeg Jets finished February with an 8-3-1 record and are currently third in the North Division, one point behind the Edmonton Oilers with three games in hand.
The Jets' play in the first half of the month was marred with inconsistency. However, they got stronger as the calendar neared March and are currently riding a four-game winning streak.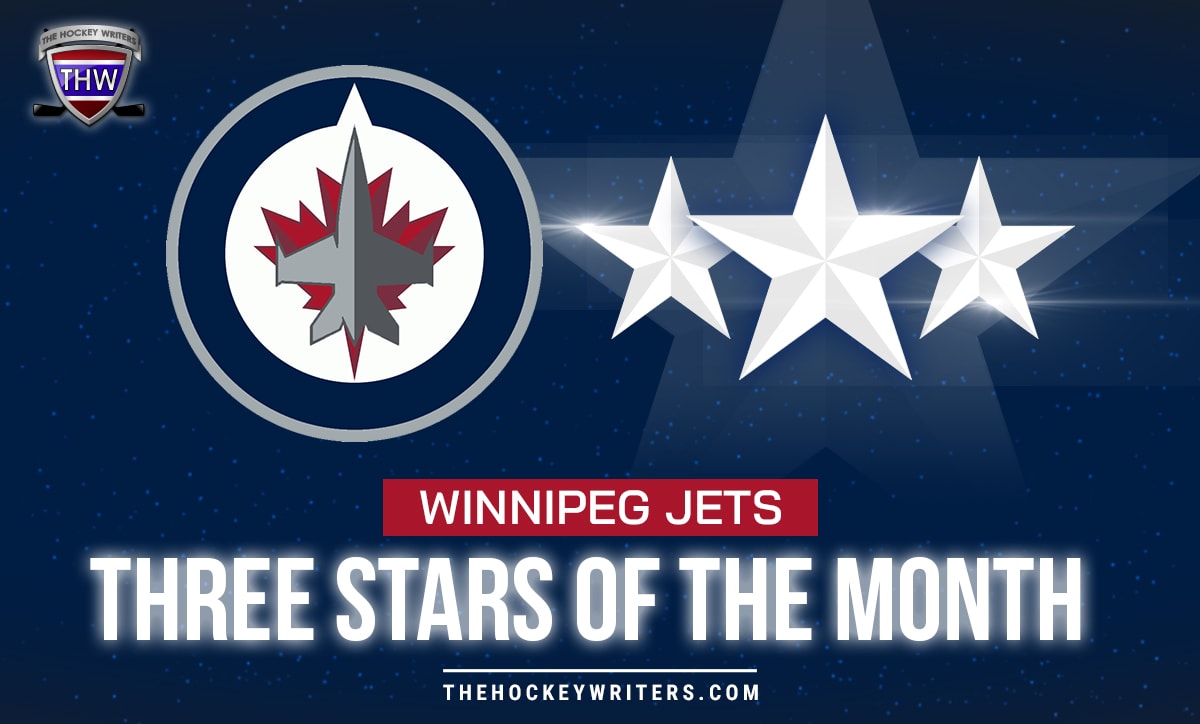 Three players in particular stood out in the second month of the 56-game 2020-21 season. Here are the Jets' Three Stars of February.
3) Nikolaj Ehlers
After getting off to a torrid start and taking the first-star honours for January, Ehlers did not slow down one iota. He notched six goals and five assists for 11 points and sits second on the team in points 22.
His 11 February points come on the heels of a five-goal, six-assist January.
The dynamic Dane continues to play at a high level. He's thriving with line mates Kyle Connor and Paul Stastny, creating time and space with his deft hands and superb speed through the neutral zone, and is making good zone entries.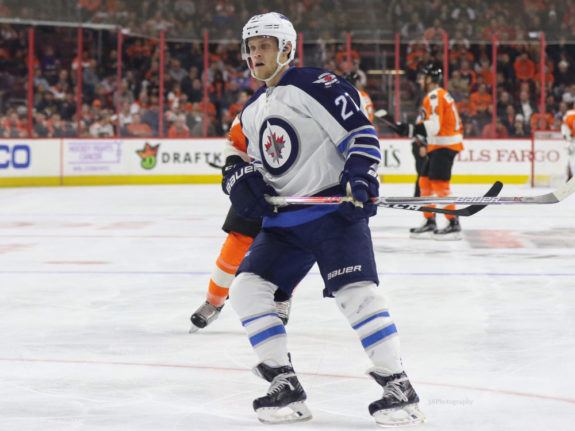 You can almost be guaranteed to see flashes of brilliance from the 24-year-old — who celebrated his birthday on Feb. 14 — every game. His strong play has led to more trust being placed in him, too. Hs average time on ice of 16:55 per game, is his highest since 2016-17, when the Jets weren't nearly as deep.
While still an excellent playmaker, a key to Ehlers' success this season has been shooting more. In seasons past, he often gave up a shot in favour of a pass to now-departed sniper Patrik Laine. The Jets' overtime goal in their most recent victory against the Montreal Canadiens is one example of the good things that happens when Ehlers puts the puck on net.
Related: Jets' Ehlers Proving to Be a Star
"I love when Nik Ehlers is shooting the puck," head coach Paul Maurice said after Ehlers had a goal and an assist against the Canadiens in that overtime win. "I love when he's thinking 'don't take it down the wall, I can beat a goalie from here.""
Ehlers also exhibited some feistiness, dropping the gloves with the Canadiens' Corey Perry on Feb. 25. He's not the guy you want fighting and Perry certainly got the better of him, but his teammates nonetheless appreciated his willingness to chuck knuckles.
2) Neal Pionk
No Jets fans are complaining about the Jacob Trouba trade these days. In fact, it shouldn't even be called the "Trouba trade" anymore — it should be called the Pionk trade.
Pionk, who had a breakout 2019-20 season after being acquired from the New York Rangers in exchange for the disgruntled Trouba, has been a defensive dynamo.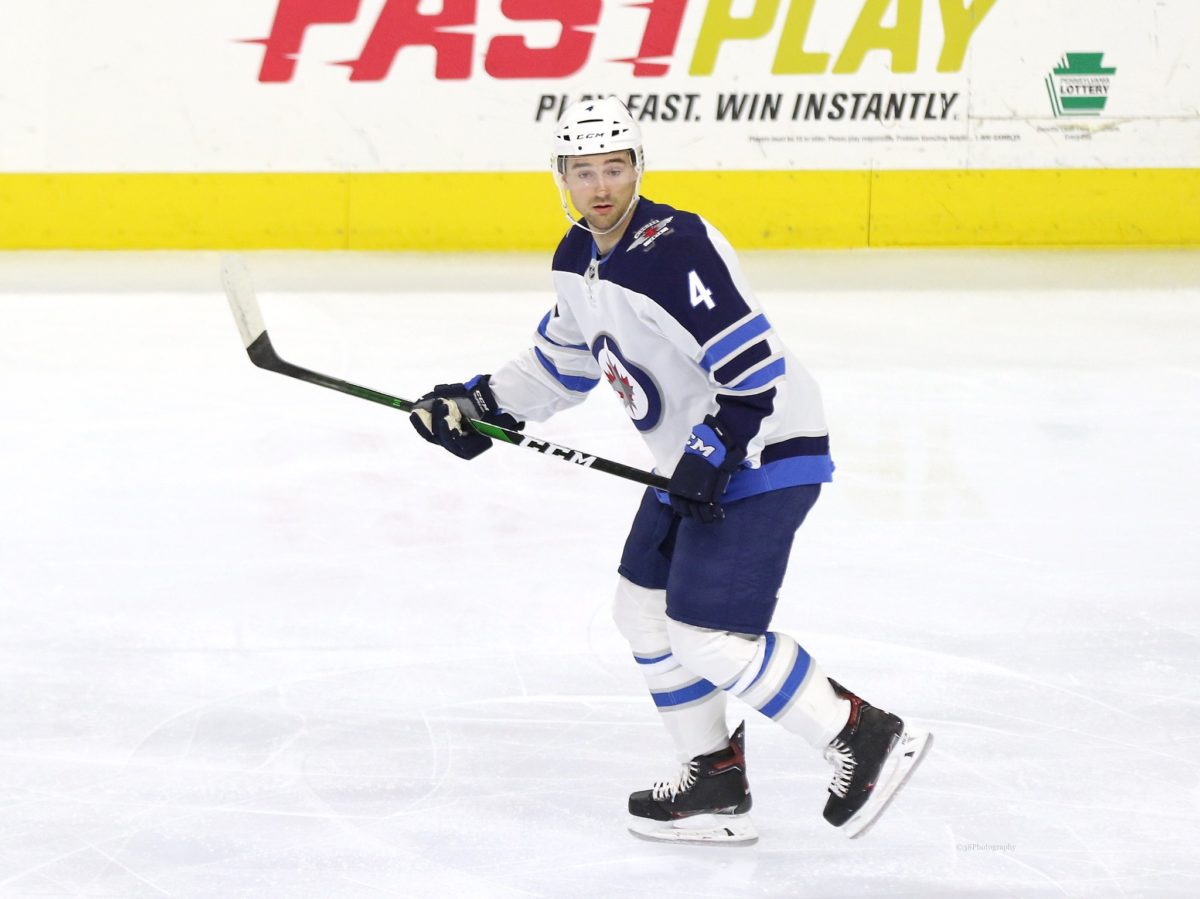 Pionk was outstanding on both sides of the puck this month. Without it, he was physical, dogged, and resolute when logging big minutes against the North Division's best players alongside fellow Minnesotan Derek Forbort.
There wasn't a single shift you could say he didn't give 100 per cent effort; although not a hulking specimen, he has dished out 45 hits.
Sportsnet's Ken Wiebe praised Pionk in a recent article, writing:
"Pionk's ability to handle the shutdown role… has been a massive development… his skill set, compete level, and ability to get inside leverage allow him to not only survive, but often thrive against the opponent's top players."

Ken Wiebe on Neal Pionk
His play with the puck was excellent, too. A smooth passer and confident power play quarterback, he recorded three goals and eight assists. Two of his goals showcased a facet of his game he didn't flash often last season: his cannon of a shot.
Pionk's strong month was not a fluke. This is the coming out party of a rather special player.
Pionk, who sits tied for seventh among all NHL d-men in points, set a few different milestones last month. In addition to tallying his 100th NHL point, he received his Bachelor of Business Administration from the University of Minnesota-Duluth.
Of completing his degree, he said that when he signed his first professional contract, he made a promise to his mother that he'd still finish — undrafted, Pionk was signed by the Rangers as a free agent out of college in 2017. He went on to say it was important to him to have a back-up plan and to be educated.
1) Mark Scheifele
Mark Scheifele quietly put together a career-best 11-game point streak last month, if doing that quietly is possible.
One of the NHL's most criminally underrated super stars — under-appreciated in even his own market at times — Scheifele notched eight goals and added 10 assists for 18 points, hitting the score sheet in every game but Saturday's against the Canadiens.
He had five multi-point efforts, two of which were three-point games. He leads the Jets with 28 points and is in sixth in scoring in the entire NHL.
Scheifele doesn't score as many "highlight reel" goals as Connor McDavid or Auston Matthews, but his sturdy all-around game and consistency in every zone makes him just as integral to the Jets as McDavid is to the Oilers and Matthews is to the Maple Leafs.
He's an excellent passer. He's an accurate shooter. He's a workhorse.
"He plays a consistent game every night, whether he's out there with the top line or we're playing with 11 forwards and he's out there with the fourth unit, fellow centre Paul Stastny told Sportsnet's Ken Wiebe lately. "He doesn't change his game. He hunts the puck, he's after the puck and he wants the puck all the time. When you're playing well like that, you're creating chances, you're creating turnovers and the puck seems to find you."

Paul Stastny on Mark Scheifele's play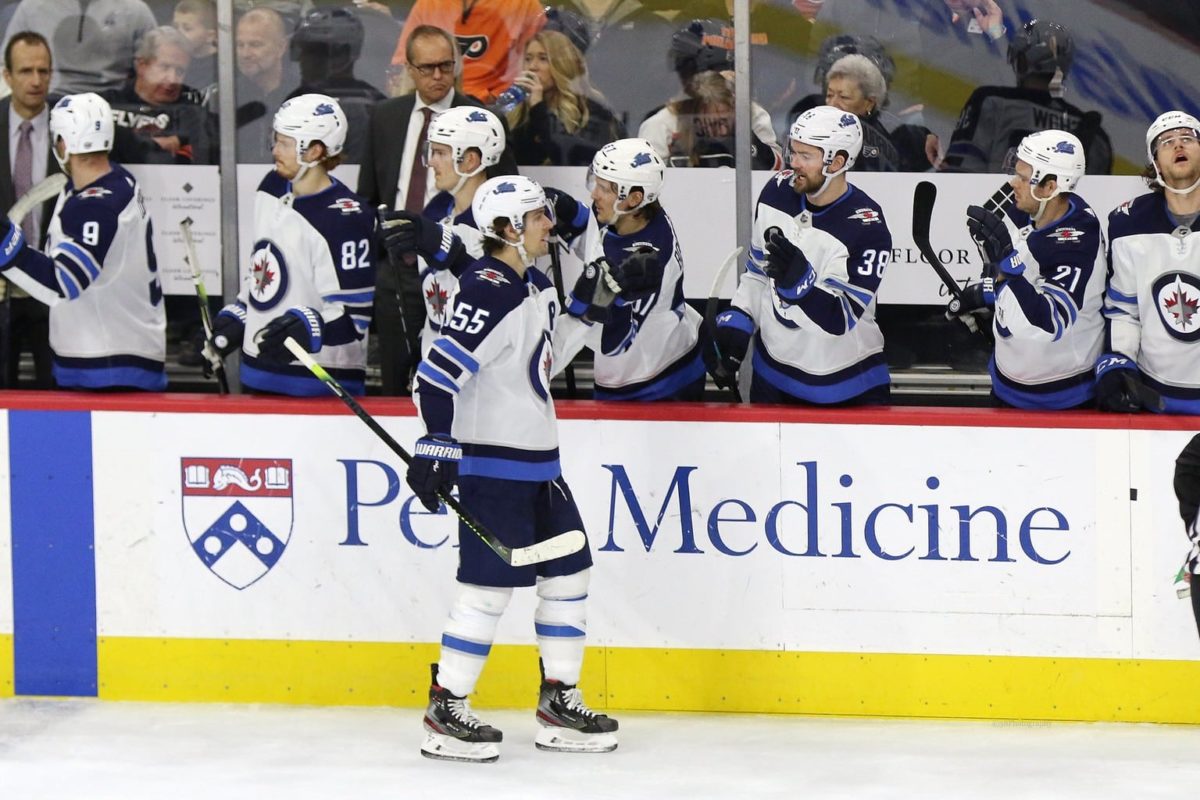 That's high praise, coming from a veteran of nearly 1,000 NHL games.
Scheifele's possession numbers still sit a bit below 50 per cent on the season, but he battled harder in February than he did in January without the puck, both down low and on the forecheck.
"You play good D, you have a good stick, you're in the right spots, you're making the right reads, good things can happen," Scheifele said recently.
"When you play with guys like Wheels and Doobie, (Blake Wheeler and Pierre-Luc Dubois, who has been playing on Scheifele's left wing for the past three games) when you capitalize on those chances, when you have a good stick, when you turn a puck over, when you make a good read in the D-zone, it's going to create three-on-twos, two-on-ones, offensive zone time," he continued.

Mark Scheifele on good defensive play translating into offensive chances
While he and Wheeler struggled at five-on-five last month, Scheifele has improved in that area more than the captain has, with 14 of his 18 points coming at even-strength. On the power play, he's been deployed in a new role: to occupy Laine's former "office" at the left-hand face off dot. He scored a pair of goals from that spot in two games against the Oilers.
Who's Next?
Will Ehlers, Pionk, and Scheifele continue to excel in March and capture three star honours again? Or will other Jets' players take centre stage?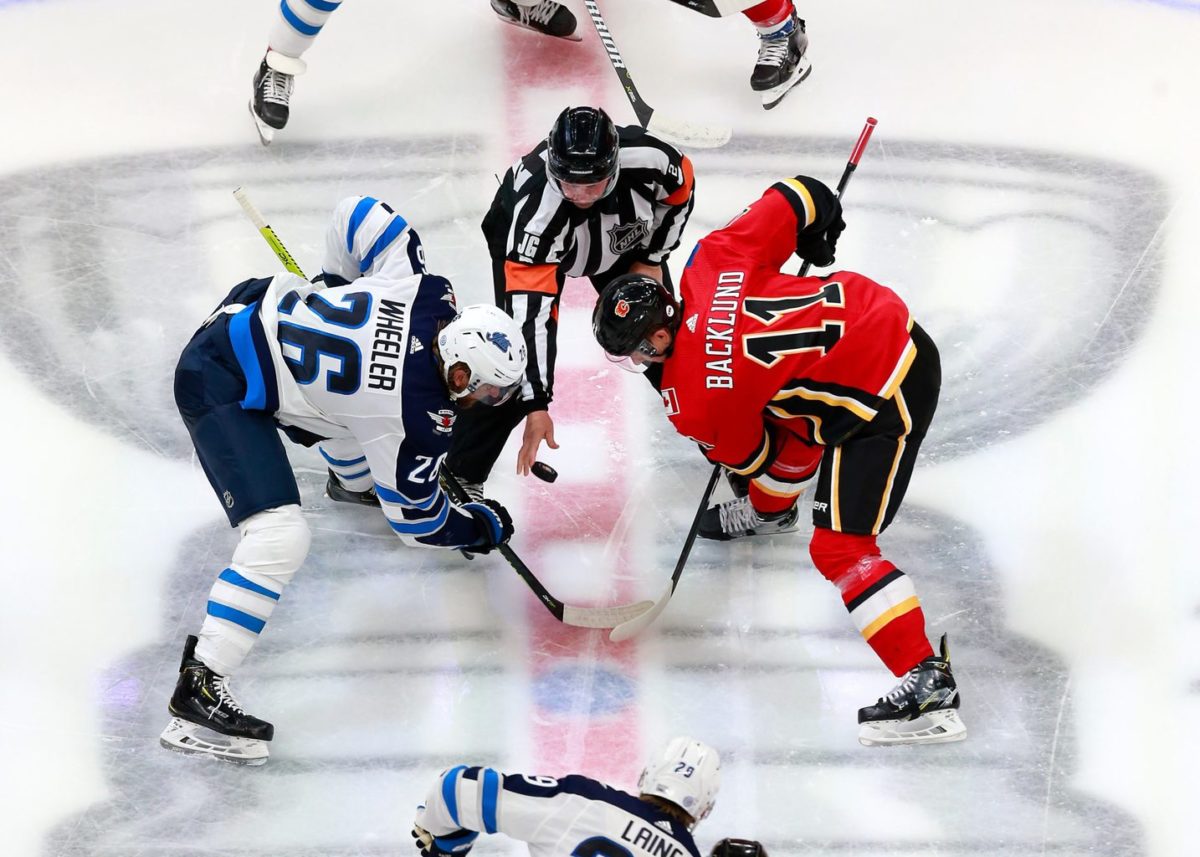 We'll see beginning tonight, as the Jets play the first of 17 games in the next 31 days and either maintain their place or rise in the North Division standings.
---
---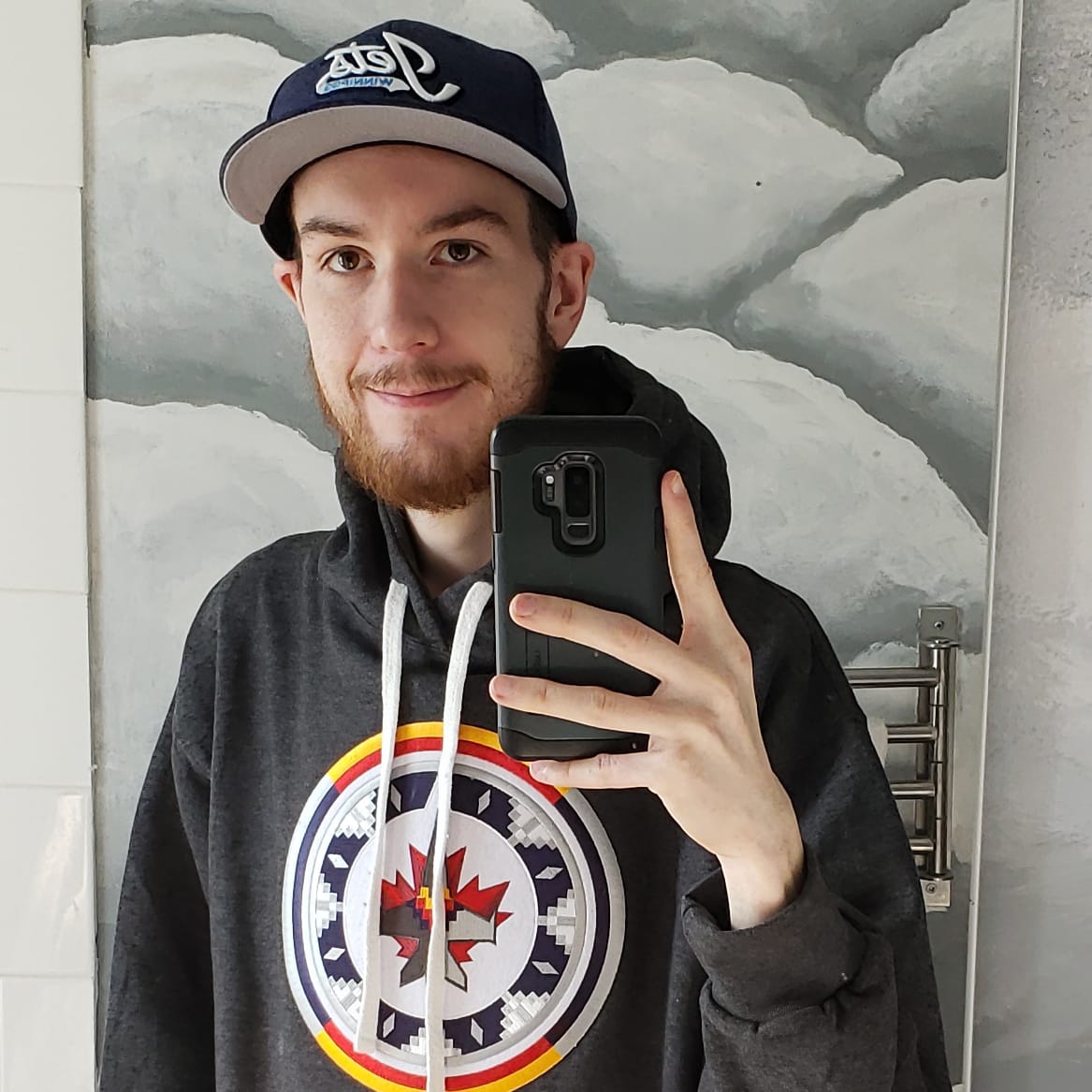 Declan Schroeder is a 27-year-old communications specialist and freelance journalist in Winnipeg, Manitoba. He holds a diploma in Creative Communications with a major in journalism from Red River College and a bachelors in Rhetoric and Communications from the University of Winnipeg.
Deeply rooted in the city's hockey culture, the original Jets skipped town when he was two and the 2.0 version came onto the scene when he was 17.