The Winnipeg Jets finished January with a 5-3-0 record through eight North Division battles.
Although the team's play was inconsistent overall, three players in particular truly excelled in the first month of the 56-game 2020-21 season. Here are the Jets' Three Stars of January.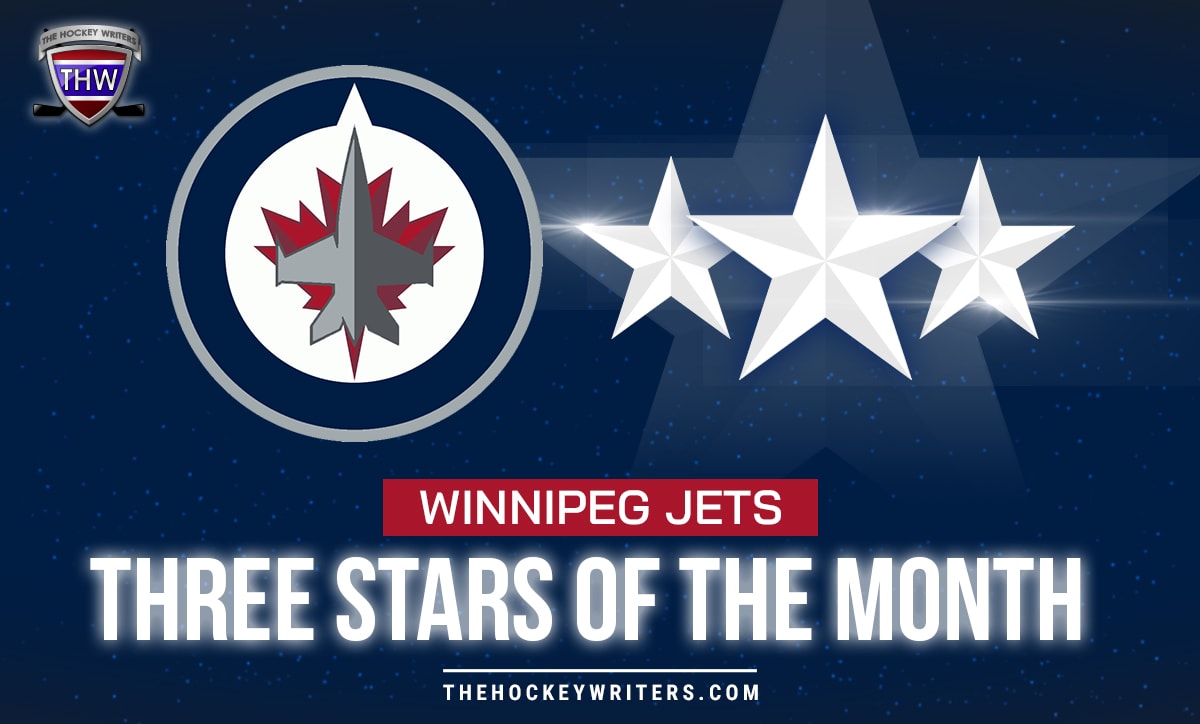 Third Star: Adam Lowry
In 49 games last season, Adam Lowry scored four goals and had 10 points. In eight games this season, Lowry has four goals already is just two points away from tying his output from all of 2019-20.
Lowry was unhappy with his play last season, in which he suffered a January injury and was on the shelf for nearly two months. He's certainly rebounded well.
"Last year was a frustrating year for me," he said on Jan. 26. "I don't think I played my best; I battled some injuries and things like that. I tried to use the last nine months, the time in between the bubble and the time after the bubble to make sure I was healthy and make sure that coming into this year I was going to be able to have a rebound season."
"I just feel good out there," he continued. "My line mates have been putting me in some pretty good spots to score some goals… I'm happy with it and hopefully I can just keep it going."

Adam Lowry on his strong start to the 2020-21 season
The 27-year-old centre, currently playing on the third line with Matthieu Perreault and Mason Appleton, is riding a six-game point streak and is fourth on the team with eight points (four goals and four assists.)
His torrid offensive start has taken some pressure off the top line — which has struggled — and has made the Jets' complement of forwards all the more dangerous. He's even drawing time on the power play.
Lowry was a highly productive player in juniors, and his skill has always been there. In his 416-career games with the Jets, however, he has been primarily a defensive and penalty-kill specialist known for his size, grit, and prowess in the face off dot, rather than for his ability to put the puck in the net.
All the more impressive is that he's added more offensive flair to his game without shirking his defensive responsibilities. He leads the Jets with 20 hits and his CORSI and Fenwick numbers are hovering around 57 per cent.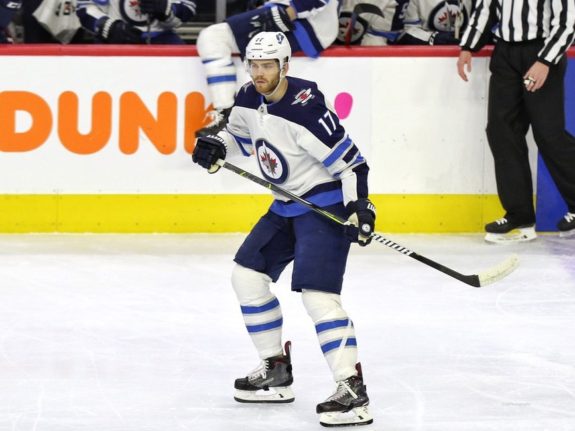 If he keeps up his current pace, he will easily set a new career-high in points (he would need 30) despite the shortened season. That would put him in good position to cash in nicely as an unrestricted free agent this summer.
Second Star: Andrew Copp
It's not very rare for primarily offensive forwards to develop better defensive habits as they mature (although some don't develop much in the way of defensive instincts at all.)
It's far rarer for primarily defensive players to develop offensive prowess.
Andrew Copp is a member of that latter rare breed. The historically-reliable shutdown forward has taken his offensive play to new heights in his very-important contract season.
Copp recorded four goals and five assists for nine points this month and had five-game point streak snapped in the final game of the month against the Vancouver Canucks (he nearly extended it on a nifty high-tip on the power play, but his deflection clanked iron).)
He is currently skating as the second line left-winger with centre Paul Stastny and Nikolaj Ehlers. That trio was assembled during a mid-game shuffle early in the campaign, and it's established itself as dominant after only six full games together. Copp, Stastny, and Ehlers create a good number of high-danger scoring chances while limiting their opponents', and possess the puck well.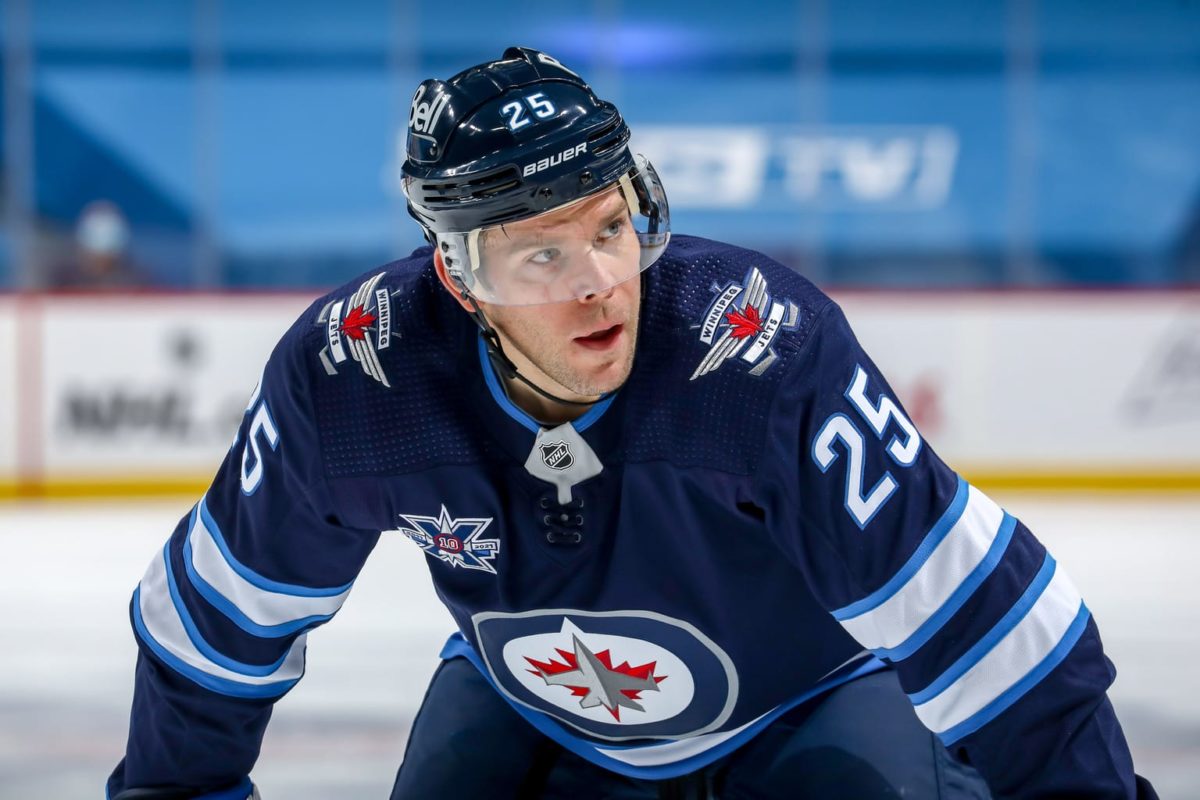 Copp was also one of the Jets' best players during their three-game Ontario road trip, one he began by playing with Adam Lowry and Mason Appleton. He's also played with Lowry and Mathieu Perreault this season.
Copp's versatility is a huge asset, Lowry says.
"We see every day the work he puts in and I've said it a bunch before, I think he's extremely underrated and kind of under-appreciated. He's one of those guys that can play in the middle, he can play on either wing, he can play on your first line, he can play PK. He's taken a period on D a few years ago when we were in Nashville, so he's kind of the guy that can do it all," Lowry said after Copp had a four-point performance Tuesday night versus the Edmonton Oilers.

Adam Lowry on Andrew Copp
At this point, it'll be tough to justify breaking up Copp's current line. However, Maurice will likely do just that when recently-acquired centre Pierre-Luc Dubois completes his quarantine period. Paul Stastny is pegged to move to the wing when Dubois takes over as second-line centre.
Related: Jets' Projected Forward Lines with Dubois
Regardless of where Copp plays after Dubois joins the lineup, he'll do well.
First Star: Nikolaj Ehlers
Now in his sixth NHL season, Nikolaj Ehlers is officially an elite forward and he's operating at high gear, working the puck into high-danger areas more frequently and using his teammates extremely effectively.
Using his superb speed and outstanding offensive awareness, Ehlers creates time and space out of nothing, and that is a big reason he leads the team in goals with five and points with 11. He also had a five-game goal streak, the longest of his career.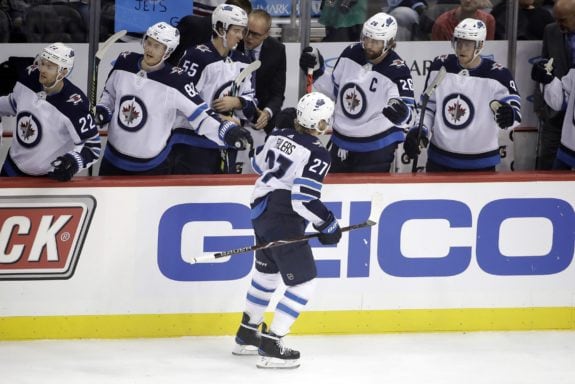 Take Ehlers' four-point Tuesday against the Oilers as a great demonstration of his skills.
One of his biggest assets is his ability to enter the zone cleanly and set his team up for success. That led to a pair of first-period power play assists.
On the Jets' first goal that evening, his clean o-zone entry — in which he took puck all the way from the defensive zone — set the team up. After dishing the pick to Neal Pionk, Ehlers got it back and put the puck on goal quickly. Andrew Copp banged in the rebound the shot created.
Another clean entry from Ehlers led to the Jets' second power play goal of that frame. After gaining the zone, he curled away from a tight-checking Kris Russel on the side boards, creating time and space.
He then dished it down low to Lowry, who put the puck on a tee for Perreault. Perreault one-timed the puck top shelf past Mikko Koskinen's glove.
Ehlers also scored the game-tying goal in the third period, switching sides with Paul Stastny on a partial break and getting himself open for a quick goal on a wrist shot from a sharp angle. He added his third assist of the night on Stastny's goal just 2:07 later.
Ehlers has really just picked up where he left off last season, in which he fired 25 goals and added 33 apples for 58 points in 71 games.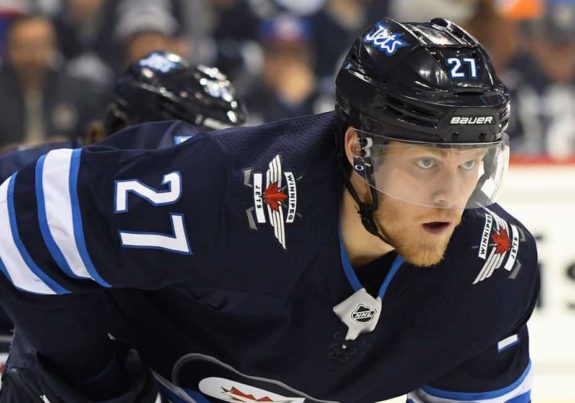 His disappointing 2018-19 campaign (21 goals and 16 assists for 37 points in 62 games) is a distant memory now. He terrorizing opponents as he recorded at least a point in six of eight games and had three multi-point nights.
His $6 million AAV is looking like more of a steal than ever.
Who's Next?
Will Lowry, Copp, and Ehlers continue to excel in February and capture three star honours again? Or will other Jets' players take centre stage?
We'll see beginning tonight, as the Jets play the first of 12 games in the next 28 days and look to give 60-minute efforts with more consistency.
---
---