After the Pittsburgh Penguins' recent win over the then-division-leading New York Rangers, here's a look back at how they again rose to the top of the most streaky division in hockey right now, the Metropolitan Division.
When You're Hot, You're Hot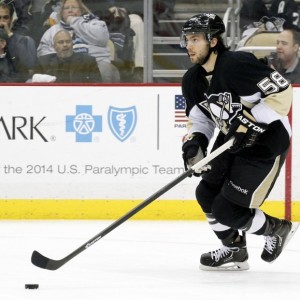 When checking for the Pens' last loss in regulation, you've got to go back 10 games, to Nov. 30 when the Penguins were humbled in a poorly played, 5-3 loss to the New York Islanders.
Since then, while enduring injuries to key members of their blue line (Kris Letang likely out until after the new year, Trevor Daley out with no timetable to return) there's been very few road bumps leading to their current position atop the Metro.
While winning streaks are all the rage right now in the Metro Division, another streak is helping the Penguins in a big way. Since the loss to the Islanders last month, the Penguins had a mere two-game skid where their combined goal output was one.
They endured overtime losses to the Los Angeles Kings (a shutout loss) and the Toronto Maple Leafs with a combined goals-for of one. Excluding those losses, though, and the total goals-for during those other games is a staggering 46 goals in eight games. That's production of nearly six goals per game in that span.
Contributions From Everyone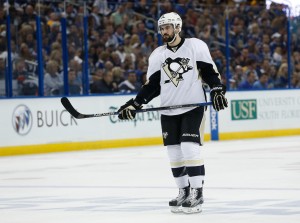 By this point, everyone knows that Sidney Crosby and Evgeni Malkin are hot right now. They've both scored at least five points apiece in their last five games, and they haven't shown any signs of slowing down. But even outside of the two star centers, there's been some fantastic production.
To say nothing of the recent play of Justin Schultz would be criminal. In his last five games, he's managed to produce seven points while looking poised, confident and absolutely ready to step up for the injured Trevor Daley and Kris Letang. Check out the recap video below and fast-forward to 2:48. Sure, Schultz is credited with the goal, and while banking a shot in off a defender might not have been his intention, he couldn't have looked more certain and purposeful with his play down low.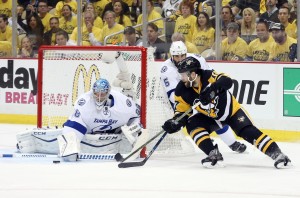 In the six games after that loss to the Islanders, center Nick Bonino managed to record only two points. However, now with five points of his own in his last five games, he's surging along with the team.
Points aside, though, a big improvement Bonino has made has come before the puck drops (well, sort of.) He's managed to increase his effectiveness in the faceoff circle since the beginning of December to around 55 percent, up from 47 percent during the month of November (he was spectacularly poor on draws in the last three games of November, winning only 36 percent of faceoffs during those games). So far, so good for Bonino this month.
Even Bryan Rust is getting in on some streaky action. With four points in his last five games, which includes three goals and a game winner, he's another contributor who isn't immediately thought of as a prime performer. His production helps quell the mini-slump that both Patric Hornqvist and Carl Hagelin have been enduring. Over their last five games, they've got exactly one point each — hardly up to their typical productivity.
Goaltending Controversy Over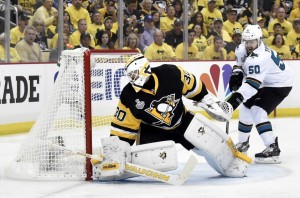 When the 2016-17 season opened and Marc-Andre Fleury was attempting to re-solidify himself as the No. 1 goalie, he was aided by the injury Matt Murray suffered at the World Cup of Hockey. Fast forward to now, we've seen Fleury ebb and flow with varying degrees of success.
After Fleury had given up four goals and was pulled at about halfway through their eventual 8-5 barn burner of a victory over the Ottawa Senators, he hasn't seen much ice time.
Murray, meanwhile, has produced monstrous numbers. With an overall record of 13-2-1 and a goals-against average of 1.85, if there were ever any questions about who might be the starting goalie in Pittsburgh, Murray has settled them. He's started six of the last eight games, and among those he hasn't started, he's found himself on the ice in those (for a variety of reasons). There's no doubt about it at this point in the season: Matt Murray is the undisputed No. 1 goaltender in Pittsburgh, and with ample reason. Check out the video below:
What's important is that these Penguins are stepping up for one another. When the tide recedes on a certain player's production, it rises with another. That kind of support has been a huge factor not only in their recent ascent to the top of the Metro, but also while coming together as a team throughout the last year. It makes for enjoyable hockey. And this type of hockey is a special, special thing.
Streaks eventually end, though. Injuries eventually heal. The Pens haven't lost their last regulation game of the season, yet. But for now, simply enjoying the stardom and the wins that come along with it is something to behold. Here in Pittsburgh, we're blessed to experience what we've been seeing regularly since 1984 – and that's some of the best hockey players and the most exciting hockey games in the world.