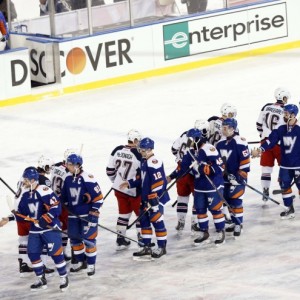 The Rangers-Islanders rivalry has fully moved to the five boroughs with the Islanders migrating to Brooklyn. Their new home, the Barclays Center is a mere subway ride from Madison Square Garden where the blueshirts have played since 1926.
There have been some classic battles in the world's most famous arena but also some great memories for both teams and fanbases in the Nassau Coliseum despite the shortcomings of the barn that led to the appropriate nicknaming of the mausoleum.
On Wednesday December 2 the crosstown duel entered a new age with the house that Jay-Z built playing host for the first time. The Islanders took the opening round in front of a crowd that fell close to an even split between red and orange complementing the sea of shared blue.
Leading up to puck drop the concourse in front of the arena was abuzz with energy as "Let's Go Rangers" and "Let's Go Islanders" cheers were exchanged with "Potvin Sucks" even making an appearance on perceived albeit new enemy territory.
Once the game started many features felt familiar, the same song and dance, in a good way. Manhattan suits and Long Island brutes shared the confines of the Fort Greene arena with the cheers from outside making their way indoors.
Though it has been well documented, I must throw my hat in the ring of those maligning the stadium layout. Whether it is the blind side of the arena which is most commonly insulted or the not much better upper deck that cascades so steeply that it is tough to see over the person sitting in front of you, if this is the long term home of the team they will need to make adjustments to make it more hospitable to the ice and boards.
During the skills competition, or shootout, the tension was spectacular and the explosion of cheers for the goaltenders when a save was made were equally as exciting at the near silence during the approach.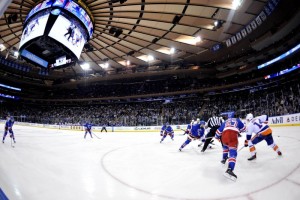 The best aspect of the move west was evident once again upon exit. In the past when the crowds spilled out of the Nassau Coliseum into the Hempstead night, they dispersed to automobiles before suffering through the traffic jam of leaving a driving destination stadium. With the central location that is afforded to being above Atlantic Terminal, the crowds lingered just a bit more, savoring victory, cursing defeat and a couple even getting on structures to attempt leading cheers.
Rather than rushing home in Long Island traffic, fans from both sides spilled out into the Brooklyn night continuing trash talk and season speculation in urban bars and subway cars.
My name is Jason Bisnoff and I am a native New Yorker and currently work for the International New York Times. I have been published in the New York Daily News, Albany Times-Union, Metroland, The Nabe, Florence Magazine, 219 Magazine and previously did hockey writing for Hockey This Week.