It is yet to be determined whether or not the Buffalo Sabres' No. 7 overall selection at the 2019 NHL Entry Draft will play his rookie NHL season in 2020-21. At 19 years old, Dylan Cozens is too young to play for the Rochester Americans in the AHL, leaving just two possible outcomes for the soon-to-be third Whitehorse-native player in NHL history – a jump to the Sabres, or another year with the WHL's Lethbridge Hurricanes. Widely regarded as the Sabres' No. 1 prospect, Cozens has proven himself as one of the best junior hockey players in the game and is primed and ready to make his debut in blue and gold next season.
An Elite NHL Player in the Making
Cozens managed to post an outstanding 85 points (38 goals, 47 assists) in 51 games played (GP) with Lethbridge this season, good enough to be named the WHL's Eastern Conference Player of the Year. In the previous 2018-19 season, he put up 84 points (34 goals, 50 assists) in 68 GP.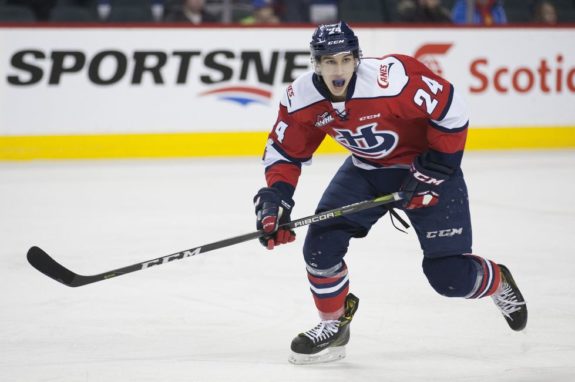 After improving from 1.24 points per game in 2018-19 to 1.67 in 2019-20, it is clear to see that Cozens has a very high ceiling and potential to develop into an elite offensive weapon at the NHL level. Not to mention, he is capable of playing both centre and wing, making him an extremely versatile player. A large body at 6-foot-3 and 185 pounds, Cozens makes his presence felt in more ways than just pure skill.
Related: The French Connection
With exceptional shooting ability, hockey sense, size, speed, and strength, Cozens is a rare talent and an extremely valuable asset to the Sabres. It is still hard to believe that such a naturally gifted player fell into their hands at No. 7 overall after he was a consensus top-five draft prospect in 2019.
A Drive for Success Unlike Any Other
Cozens' hockey background is far different than any other player in NHL history. He found his passion for the sport at a very young age when his father built him a backyard ice rink in Whitehorse, the only city in Canada's Yukon Territory (from 'Dylan's Rink,' Whitehorse Daily Star, 04/13/2017). Being in such a cold region, Cozens was able to pursue his passion of backyard hockey almost every day growing up.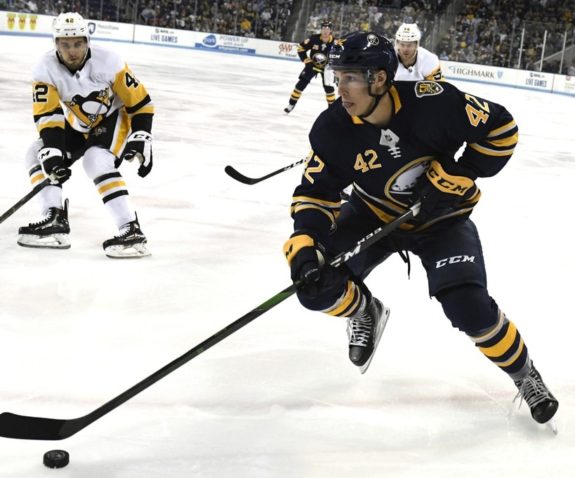 He began playing organized hockey at six years old. As the years went by, it became obvious that Cozens was on another level than his opponents. With a small population of around 25,000 residents, there were no real opportunities for Cozens to try his skill against players of similar skill and age in Whitehorse. He ended up playing men's recreational hockey until breaking his leg in a game at the age of 12. At 14, he decided to move to Delta, British Columbia all by himself to pursue his hockey dreams and play with the Delta Hockey Academy. He would later move to Abbotsford, B.C. to join the Yale Hockey Academy and build a name for himself.
In 2016, Cozens' hard work, dedication, and perseverance paid off as he was drafted 19th-overall by the Lethbridge Hurricanes in the WHL Bantam Draft. He would also go on to help lead his country to two gold medals at the 2018 Hlinka Gretzky Cup and 2020 World Junior Championships as the first Yukoner to play for Team Canada. His remarkable story is still unfinished, and in the next chapter, he will look to become the first NHL player from Whitehorse in 40 years when the puck drops for this upcoming 2020-21 season.
Related: How Sabres' Legend Taro Tsujimoto Came to Be
Cozens is set to become an instant fan favourite in Buffalo if the Sabres decide to utilize him on their full-time roster next season. With Cozens being too good for junior hockey and too young to join the Rochester Americans, it looks highly likely that the Sabres will use him somewhere in their middle-six forward group as a centre or right-wing. Sabres fans and Whitehorse residents should be very excited to see what the young forward has in store for 2020-21.
---
---