It seems like every prominent NHLer from the Greater Toronto Area is linked to the Maple Leafs at one point or another. Steven Stamkos was reportedly close to signing with the blue and white back in 2016, John Tavares actually did come home as a free agent in 2018, Jason Spezza followed suit in 2019, and rumours of P.K. Subban to Toronto will likely persist for the rest of his career.
And that's just the tip of the iceberg.
Related: Maple Leafs Rumor: Kyle Clifford Out, Wayne Simmonds Potentially In
With this year's free agency set to open on Oct. 9, Toronto's mainstream media outlets have found their next hometown boy to latch onto: Scarborough, Ont., native Wayne Simmonds.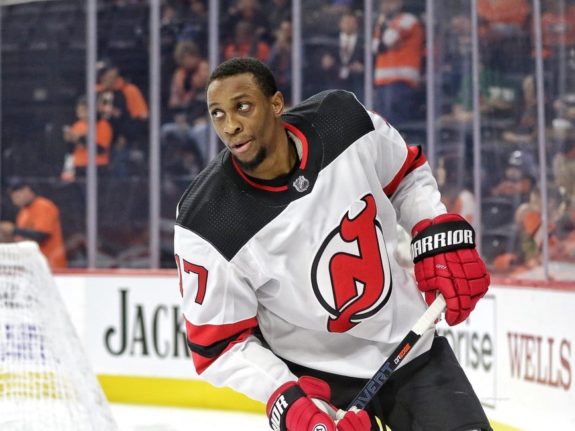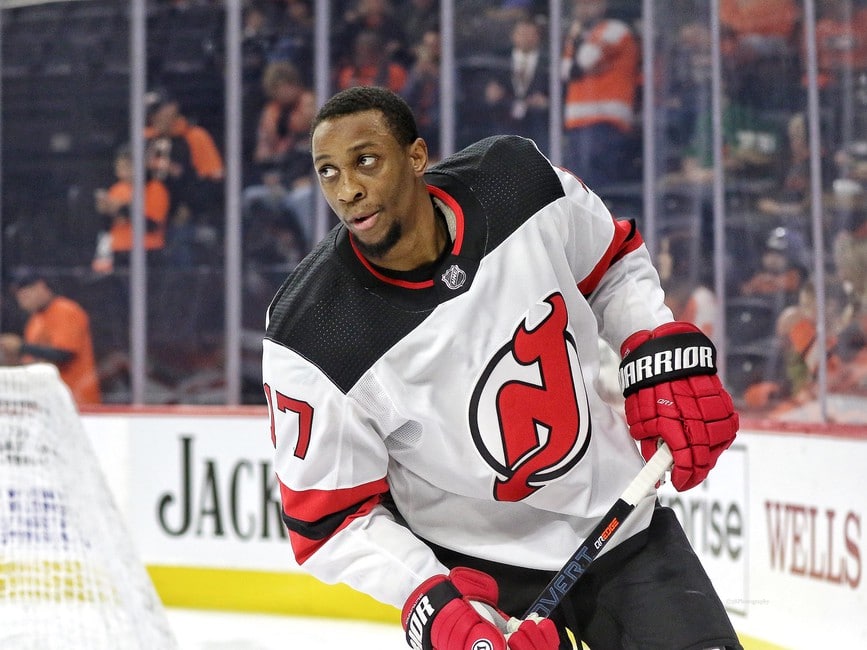 Now on the surface, the idea is somewhat appealing. Simmonds is a proven NHL veteran with 251 goals and nearly 500 points in over 900 games, and he brings a level of toughness, physicality, and grit that the Maple Leafs have seemingly lacked for the last few seasons. The debate rages on, but many would argue that the team's lack of jam – that desire to do literally anything to win – is what has held them back from achieving success in the playoffs. And the argument is that a big, physical power forward like Simmonds would bring a level of tenacity (and skill) that might rub off on the Maple Leafs' young core.
"My whole career, I think I've been that guy who is willing to do all the dirty work. I pride myself on doing that type of dirty work," Simmonds told The Athletic's Pierre LeBrun. "I want to be a difference-maker, I want to be a piece to a puzzle that's not yet complete but I can help push over the top.''

(From "LeBrun: What does the future hold for Wayne Simmonds in new NHL economy?" – The Athletic – Sep. 8, 2020
But while the story of Simmonds coming home to lead the Maple Leafs to victory is heartwarming, it really doesn't make much sense for Toronto. Let's explore why the team would be better served to look elsewhere in their hunt to beef up their roster this offseason.
Simmonds Is Well Past His Prime
The idea of NHL aging curves is still in its relative infancy, but one thing is quite clear: players are generally far less effective and productive in their 30s. The aging effect is even more exaggerated for those players who rely heavily on physical tools such as skating and hitting, and Simmonds fits that mold to a tee.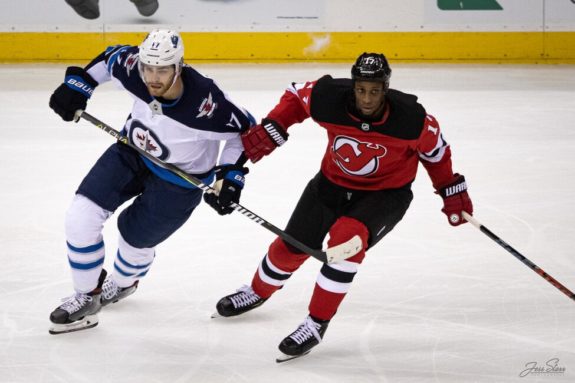 A perennial 30-goal, 50 to 60-point scorer from 2011-12 to 2016-17, Simmonds formerly was one of the NHL's premier power forwards. At 6-foot-2 and 185 pounds, his physical gifts and quick hands made him one of the best net-front players in the league, especially on the man advantage. However, a combination of aging, injuries, and declining power-play time has largely worn away at his effectiveness.
Over the last two seasons, Simmonds has scored just 25 goals and 55 points combined – a paltry 14-goal, 31-point pace over 82 games. At 5-on-5, he ranks 383rd in points per hour (P/60) and 374th in goals per hour (G/60) out of 431 forwards with at least 500 minutes played. For reference, tough guy Kyle Clifford ranks 253rd in P/60 and 227th in G/60 over that same span. Put simply, Simmonds is hardly even producing like a fourth-liner at this point.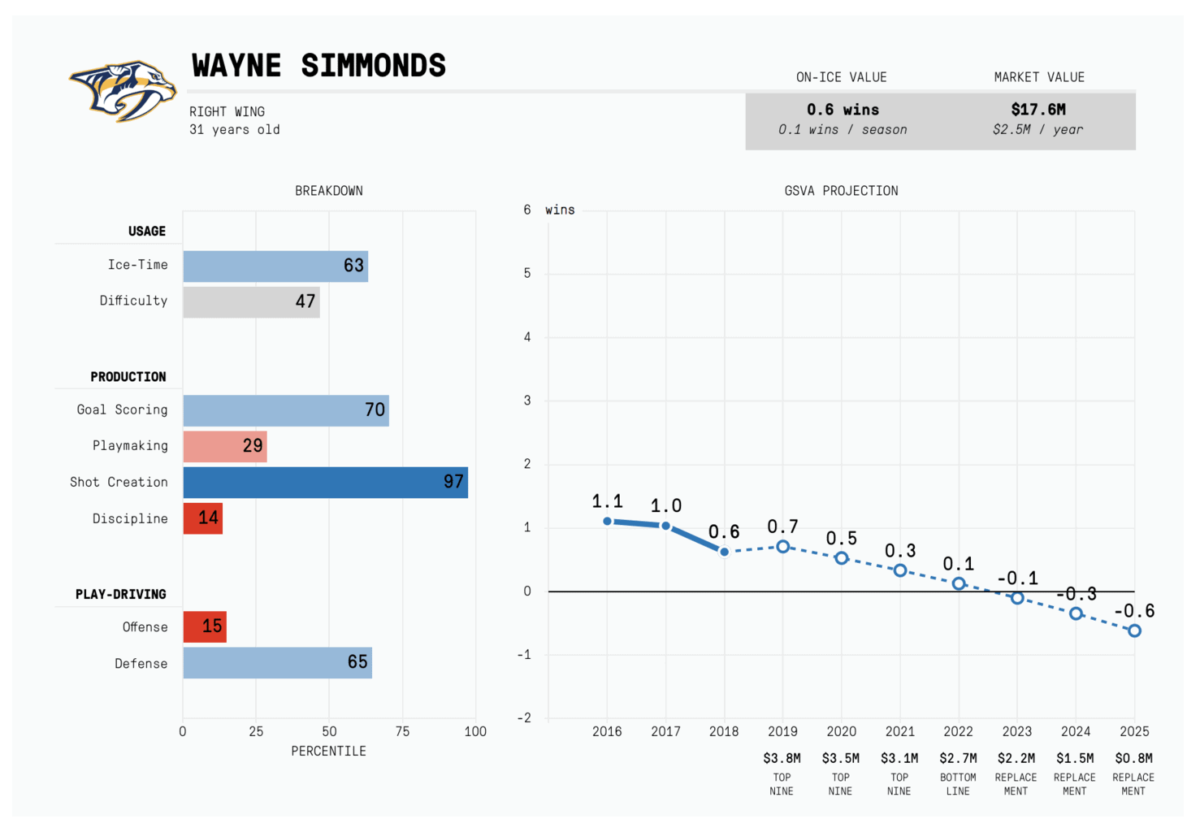 Using Dom Luszczyszyn's model from 2019, we can see that Simmonds' game was already on the decline in 2018. He hasn't been able to drive offensive chances at even strength for several years now, so without substantial power-play time, his value is extremely limited. That didn't stop the New Jersey Devils from paying him $5 million on a one-year deal last summer, but it doesn't mean the Maple Leafs should make that same mistake – even at a heavily discounted price.
Related: Maple Leafs Hit a Home Run With Kapanen Trade
Coming off a disappointing 8-goal, 25-point campaign split between New Jersey and Buffalo, Evolving Hockey projects Simmonds to earn $1.65 million on a one-year deal this October. The Maple Leafs do have a bit more cap flexibility with Kasperi Kapanen's $3.2 million now off the books, but they are still pretty tight with several key players like Travis Dermott, Ilya Mikheyev, and others to re-sign. If the front office wants to keep their window of contention open for as long as possible, they'll have to spend money wisely, and betting on a declining asset like Simmonds just isn't a smart investment at this point.
The Maple Leafs Have Better Options
Now 32 years old, it's clear that Simmonds is a shell of his former self as he hasn't been able to keep up with the pace of the modern game. While he may offer some physicality and intangible qualities that the Maple Leafs are arguably lacking, there are better options out there to fill the same role. The most obvious choice would be a familiar face in Clifford.
Outside of a booming hit on Columbus Blue Jackets defenceman Dean Kukan in the qualifying round, Clifford's time with the Maple Leafs was relatively quiet. Following his trade from the Los Angeles Kings, the 29-year-old tough guy tallied just one goal and two assists in 16 regular-season games for Toronto and went largely under the radar during his brief stint with the club.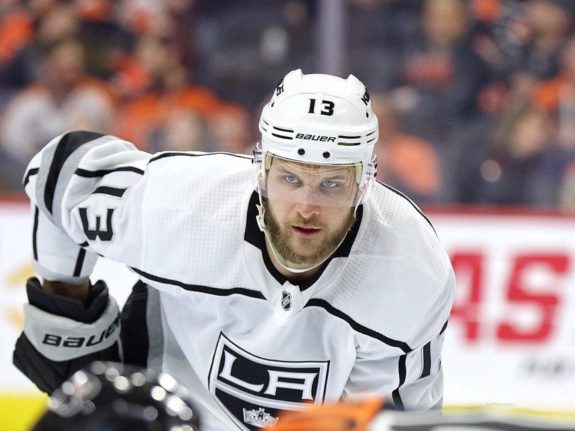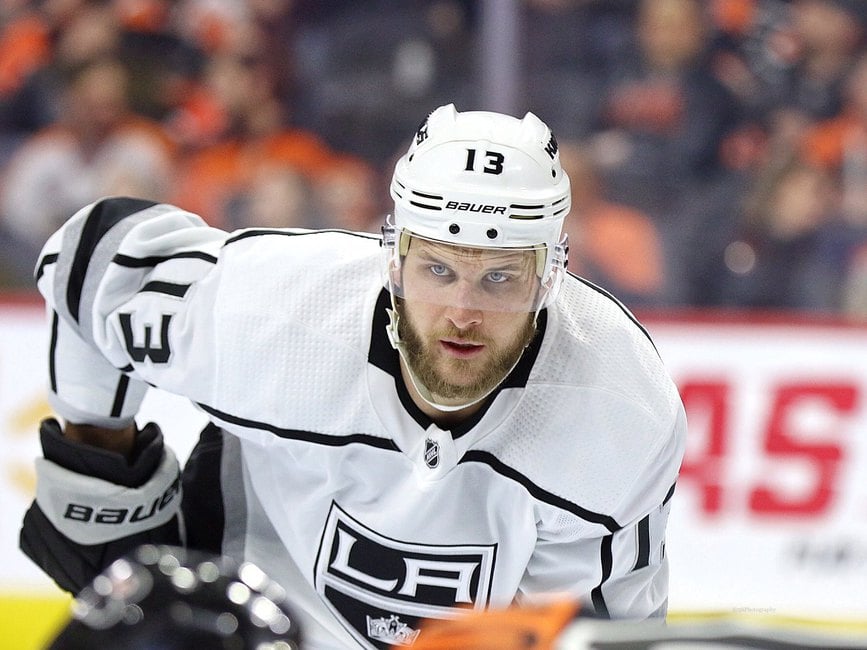 The thing about Clifford, though, is that he's always been effective at driving play and tilting the ice in his team's favour – especially on the defensive side. Whether it's through his physical play or simply being in the right position and cutting off passing lanes, he has a track record as a strong defensive player. And even though he isn't the most gifted offensive player, Clifford does have a positive influence on his team's ability to generate chances, which is more than we can say about Simmonds at this point in his career.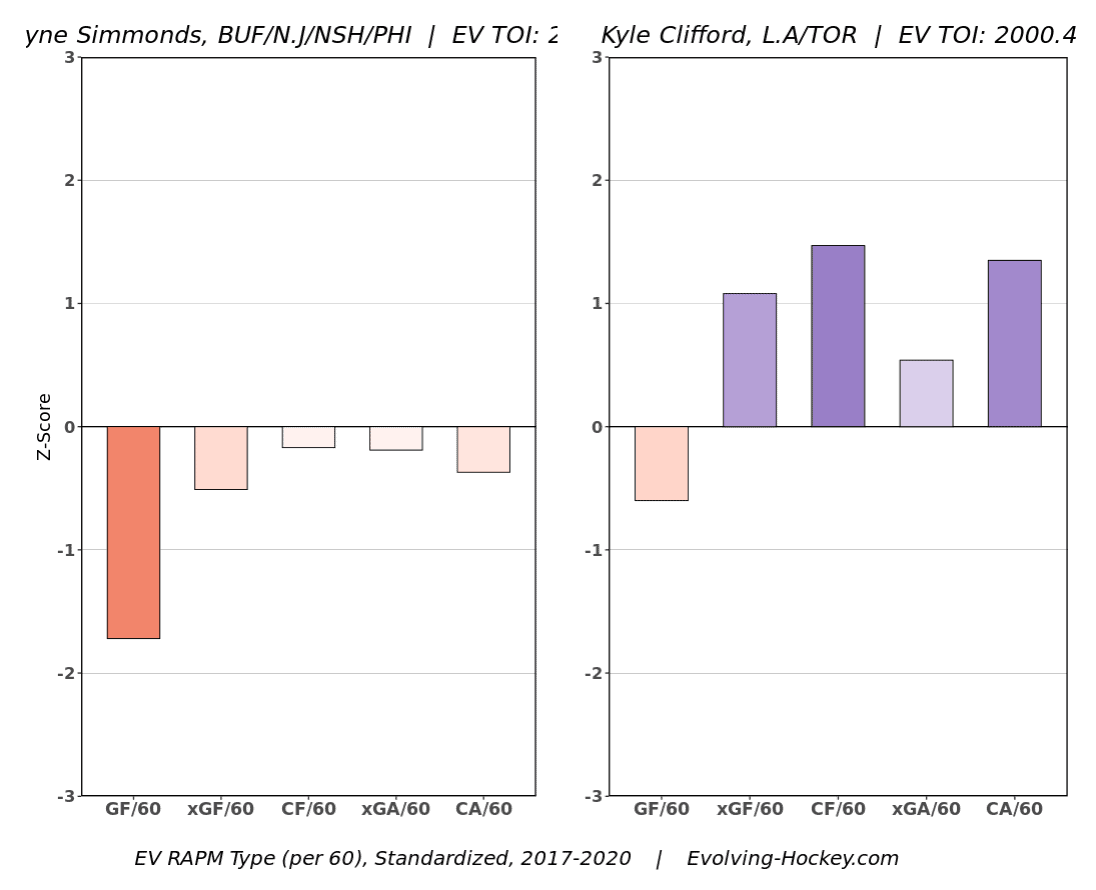 An unrestricted free agent this October, Clifford is coming off a contract that paid him $1.6 million per season – about the same that Simmonds will likely command on a short-term deal. Per Evolving Hockey's contract projections, Clifford will actually be even cheaper than Simmonds at just over $1 million on a one-year deal (or $1.7 million on a two-year deal). Considering that he's more productive, has a stronger two-way game, and is already familiar with the team, the Maple Leafs would be better off signing the Ayr, Ont., native instead of Simmonds.
Beyond Clifford, there are a few interesting (although pricier) options in free agency that would provide some grit and scoring touch. New York Rangers winger Jesper Fast has gone somewhat under the radar as a potential bargain-bin signing this offseason, with Tomas Nosek of the Vegas Golden Knights also looking like an intriguing option. Both are far more productive than Simmonds while bringing, more or less, the same level of physicality.
Related: Rangers Will Have Trouble Re-Signing Jesper Fast With Flat Salary Cap
While it's tempting to believe that the Maple Leafs are just this one piece away from solving all of their problems, it's unlikely that a player like Simmonds would provide much of anything that the team didn't already have last season. He's not going to score you many goals and he isn't providing any additional grit that wasn't already there with Clifford.
The Maple Leafs should certainly look into rearranging their bottom-six this offseason, but they'll need to look beyond Simmonds for answers.
Player stats from https://www.hockeydb.com/ and http://www.naturalstattrick.com/
---
---