Numerous members of the Buffalo Sabres have had aspersion cast upon them throughout the team's struggles in recent memory. But of all of them, Victor Olofsson probably stands out the most. Drafted in the seventh round (181st overall) by the Sabres in 2014, Olofsson was a longshot to make the NHL, but quickly rose through their system and found himself with the team full time for the 2019-20 season.
---
Latest News & Highlights
---
But though he defied the odds to make it to the professional ranks, the winger has still experienced his fair share of ups and downs, and it's caused fans and the media alike to question his abilities. However, like many of his teammates, Olofsson has persevered through the tumult and this season is proving to be his best to date. As a result, the Sabres have yet another weapon in what has become a lethal offense and are keeping pace in a tight Eastern Conference playoff race.
A Promising Beginning Cut Short
Olofsson's career got off to a sparkling start when he joined the Sabres full time after scoring 30 goals in his lone season in the American Hockey League (AHL). His power-play prowess became quickly evident and he scored the first seven goals of his career on the man-advantage (an NHL record) while his two-way play was also praised. His chances at the Calder Trophy as Rookie of the Year were dashed when he missed a month due to injury, but he still finished with 20 goals and 22 assists in 54 games and was named to the NHL's All-Rookie team.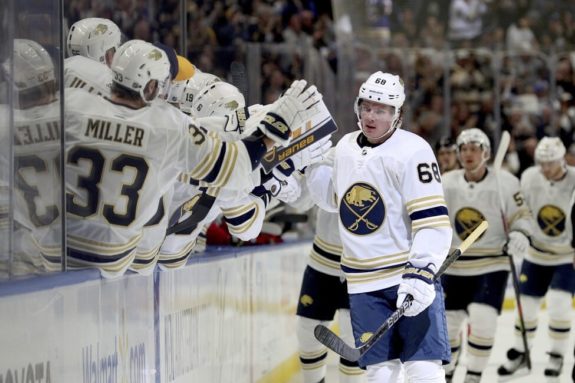 However, the proverbial sophomore slump claimed yet another victim and his production fell to 13 goals and 32 points in 56 games the next season. But to be fair, it wasn't that steep of a drop, and he was in good company. The COVID-shortened 2021 season was disastrous for the Sabres as a whole and numerous players struggled. But early in the 2021-22 campaign, it appeared that Olofsson had rediscovered himself when he scored five goals in his first eight games. It proved to be short-lived, however, as he was sidelined once again due to injury and was held without a goal for 30 straight games after he returned.
By this point, the perception of the then-26-year-old changed radically. Once viewed as a talented offensive threat who would help propel the Sabres back to respectability, fans and critics alike found themselves asking if he had just been a flash in the pan. But as has been the case with so many other Sabres players recently, that was when the switch flipped.
Goalofsson Returns With a Bang
When he finally scored on Feb. 15, 2022 for the first time in 107 days, Olofsson found the ignition and tore it up down the stretch. After recording just seven goals through his first 38 games, he made up for lost time by posting 13 in his next 34. He finished with 20 once again alongside a new high of 29 assists in 72 games.
Though it would have been tough to picture during that 30-game drought, the winger finished with the best numbers of his career and showed that his star had not fallen. After becoming a restricted free agent (RFA) in the offseason, the Sabres acknowledged his efforts by re-signing him to a two-year, $9.5 million contract in July 2022. And he has proven it was the right call.
At the halfway point of the 2022-23 season, Olofsson has already set a new career-best with 23 goals and has been on the rampage since the calendar turned to the new year. After scoring in last night's victory over the Winnipeg Jets, he has 10 goals in his last 14 games dating back to Jan. 7th. It's helped make the Sabres' offense, which has transformed into one of the best in the NHL this year, all the more lethal and has been a welcomed addition as the team currently fights for a playoff spot.
Is Olofsson In Buffalo to Stay?
Despite his breakout this season, some criticism of Olofsson remains. His biggest problem is his streakiness and he frequently oscillates between stretches of red hot and stone cold. His play-making has also been called into question (he has just six assists on the year) and many still view him as a one-dimensional shooter. However, his play has also evolved this year in one particular fashion and it's gone largely unnoticed.
Entering this season, 27 of the Swede's 55 career goals had been on the power-play. But only five of his 23 have been so far this year, proving that he's adjusted his even-strength play, allowing head coach Don Granato to trust him with important minutes. Though far from a Selke Trophy candidate, his two-way play remains above-average and he rarely gets caught in bad spots.
Related: Sabres' Organization Shows Improvement With Miller Night
But above all else, he remains an offensive force and his lethal shot makes him a go-to on the right side with the man advantage. With an equally dangerous Tage Thompson on the left side, Buffalo's power-play unit has been dominant and currently has the fifth-best percentage in the league at 26.0%.
Even so, it remains unclear what Buffalo's plans are for Olofsson going forward, as he will become an unrestricted free agent (UFA) after next season. Though his play has been very good overall and the Sabres aren't likely to let him walk away, it's debatable if he's impressed enough to command a long-term contract. But if he continues at the rate he's currently going at, the team may have no choice but to lock him up.
---
---