MONTREAL — Martin Jones made 39 saves as the San Jose Sharks snapped a four-game losing skid with a 3-1 victory over the Montreal Canadiens on Sunday night.
Justin Braun, Brent Burns and Joe Pavelski scored for the Sharks (13-10-5). Jones improved to 7-1-0 in his career against Montreal.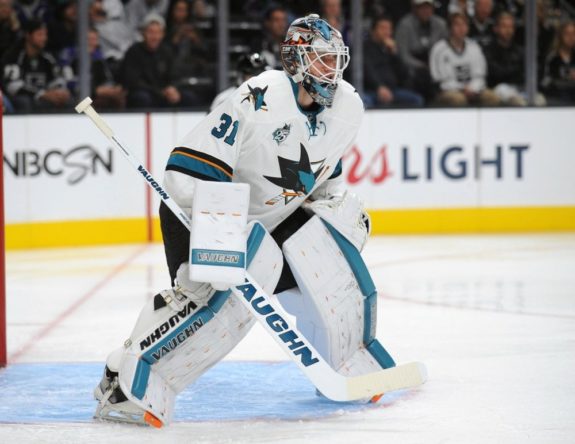 Jeff Petry scored the lone goal for the Canadiens (12-10-5), who fell to 1-3-0 on their current five-game homestand. Carey Price, making his fourth consecutive start in goal, stopped 26-of-29 shots in defeat.
Both teams were playing a second game in as many nights. The Canadiens downed the New York Rangers 5-2 on Saturday while the Sharks lost 6-2 in Ottawa.
The Sharks have won seven straight, and 11 of their last 12, against Montreal.
San Jose was imposing, fast and physical during the game and Claude Julien's men struggled to keep up. The Canadiens were better in the third period, outshooting San Jose 22-7, but they couldn't beat Jones.
The visitors needed just 2:55 to find the back of the net, with Braun beating Price after a bad giveaway by Petry in his own end.
With San Jose playing 5-on-3 hockey, Burns made it 2-0 with a wrist shot from the slot at 10:29 of the first to extend his point streak to four games.
The Sharks finished 1 for 4 with the man advantage.
Petry made up for his earlier turnover when he scored at 12:15 of the second to cut the deficit in half. Just moments after shooting the puck off Jones' mask, the Canadiens defenceman got his stick on a pass from Jonathan Drouin for his third of the season.
Shaw had an assist on Petry's goal for his 200th career NHL point.
Pavelski capped off a give-and-go with Burns and Logan Couture to make it 3-1 at 15:51 of the second — the Sharks captain's team-leading 17th goal of the year.
Jones stopped 22 shots in the third period alone for his 10th victory of the season.
Notes: Radim Simek made his NHL debut. … Timo Meier missed his third straight game with an undisclosed injury. … Former first-round draft pick Nikita Scherbak is no longer with the Montreal Canadiens after being claimed off waivers by the Los Angeles Kings earlier on Sunday.
Kelsey Patterson, The Canadian Press