The San Jose Sharks are starting to find consistency. Despite a logjam currently in the Pacific Division, San Jose is slowly gaining separation from the pack, having won seven of their past eight games. While even-strength play has carried the bulk of the Sharks' offense, special teams have been non-existent.
The offense has been a problem since the start of the season. However, the recent string of success has San Jose trending in the right direction offensively. The Sharks currently sit 21st in goals per game after being near the bottom of the league earlier this season. Not only has offense been better, but the defense has been the biggest factor. San Jose is fourth in goals against and ninth on penalty killing.
However, for a team stacked with offensive threats such as Joe Pavelski, Logan Couture and Patrick Marleau, San Jose's power play is not getting the job done. Anaheim had better chances short-handed in all four of San Jose's power-play opportunities in both teams' first game since the break. The Ducks are probably still scratching their heads after controlling play most of the night only to come up short in overtime.

For a team looking to return to the Stanley Cup Final, sitting 20th currently on special teams will not get the job done come postseason. Since Dec. 9, San Jose is 4-for-35 with a man advantage.
The Sharks' have looked one-dimensional in attacking. Teams are aware the top unit is seeking to set up Brent Burns for a one-timer. Also, San Jose has been unable to sustain pressure in the attacking zone where only one chance generates before the puck clears down the ice.
Despite prevailing against Anaheim, energy was lacking from a poor effort by San Jose. In efforts to fix the problem, head coach Peter DeBoer mixed up the power-play units during practice. Joel Ward was seen replacing Marleau on the top line. Marleau moved to the second unit, skating with forwards Mikkel Boedker and Kevin Labanc.
As of now, DeBoer will be satisfied getting two points regardless of how the job gets done. Ultimately, the power play will pan out later in the season. Chances are the Sharks' power play will become lethal when the playoffs begin.
Hertl Back on Ice
After a minor procedure from an injury, Tomas Hertl has been quietly rehabbing. The jury is still out if Hertl can hit his full potential. However, time is on his side to have an impact long term for San Jose.
Hertl was back on the ice skating without any gear, getting a feel for his knee. However, no exact timetable as to when he comes back on the ice is unclear. He probably is not sure himself as to when he gets clearance for contact. If I had to guess, Hertl most likely would make a return after the All-Star Game festivities.
Lineup Changes Leaving Some Players with Uncertain Futures 
When Hertl finally comes back, San Jose will have some decisions to make. Recently, Micheal Haley has been a mainstay in the Sharks' lineup. He certainly has been an impactful fourth liner, getting into a fight and creating some offense against Anaheim. Despite not playing significant minutes, Haley has been making the most of his ice time.
I do not understand the scratching of defenseman David Schlemko in recent games. He certainly has not done anything on the ice to warrant DeBoer having him not play. Schlemko was an excellent signing for San Jose during the offseason as he provided puck-moving capabilities. While important to see if Dylan DeMelo can play defensively by playing games, perhaps Schlemko's absence would improve San Jose's power play.
Haley's presence in the lineup has possibly sent a message to Doug Wilson to trade Matt Nieto. He is no longer part of the Sharks' future and his time is best served elsewhere. He simply just does not bring consistent play seen by current rookie standout Labanc. Timo Meier is still adjusting but will continue to make strides.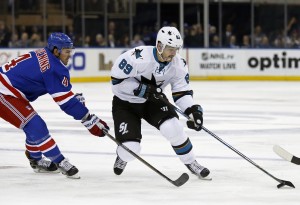 Ditto to Tommy Wingels, who also did not dress against Anaheim. Like Nieto, the winger has not provided an impact seen in recent seasons for San Jose. It looks like its time for Wingels to get a change of scenery.
Finally, seeing Boedker have more of an impact in recent games is a good sign for an inconsistent Sharks' offense. I wrote about Boedker's struggles and how DeBoer benched him during a match. He apparently got the message and had been making plays. Although he should have scored a few goals on quality chances, his game is trending upward. For a forward who may have been hanging in the balance for playing time, look for Boedker to have a bigger role.
My name is Andrew Bet and I am a graduate of the University of Oregon School of Journalism and Communications. Born in Bethlehem, PA and raised in San Mateo, California it was easy for me to kindle an interest in sports considering all the college and professionals teams who call the Bay Area home.