Are Dennis Wideman, Deryk Engelland and Troy Brouwer overpaid or over the hill? Maybe, but the Calgary Flames needed them to beat the Stanley Cup Champions. Okay, they also needed this amazing goal from Johnny Gaudreau. Still, the scapegoat story line is something no one would've expected when the Flames played the Penguins in a key tilt earlier this week.
After all, Gaudreau's goal would've been in vain if it hadn't been for a great defensive play from Brouwer on Evgeni Malkin late in the game and a couple of rare goals from Engelland and Wideman. These key contributions helped keep the Flames incredible win streak alive at ten games giving them a chance at glory as they aim to set a new franchise mark for consecutive wins when they take on the Boston Bruins on Wednesday night.

A Brief Vindication for Dennis Wideman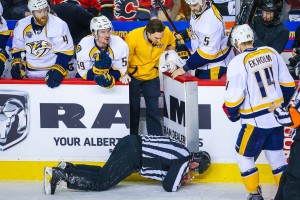 No Flames player has endured more criticism over the last two seasons than Wideman. I have levied plenty of it against him myself in a previous column. Unfortunately, it has become a sad fact that whenever the Flames lose most fans are quick to blame it on either Wideman's bad defense (his foot speed is pretty atrocious) or the "Wideman effect". This was the term created when the Flames went from being the least to the most penalized team in the NHL after Wideman received a 20 game suspension for running over and possibly ending the career of referee, Don Henderson.
Is the Wideman effect real? The best answer is maybe. I don't think anyone could realistically argue the Flames haven't been taking a bunch of deserved and undisciplined penalties, especially in the offensive zone. As a team they have the most in the NHL at 784 minutes. The biggest offenders have been Matthew Tkachuk and Sam Bennett who rank in the number five and the 12th spots respectively for most minor penalties. After that, Dougie Hamilton is in 16th spot and Mark Giordano occupies the 21st spot.
So, that's four players in the top 30 which is the most of any NHL team, though the Canadiens and Senators both have three players in the top 30 as well.
Yet, the Flames also rank seventh in the league for penalties called against their opposition at 715. The differential is 69 penalty minutes which is the third most in the NHL. This suggests there could be a bias especially since the Flames were actually the least penalized team in the NHL over the 130 games before Wideman brutally cross-checked Don Henderson on Jan. 27, 2016. But, will the Wideman Effect ever be proven? No.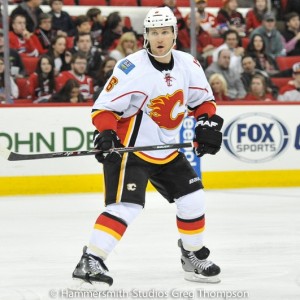 The best thing for both Dennis Wideman and the Flames will be when his $5.25 million contract expires on July 1, 2017. Both groups will no doubt be excited to put the struggles of the last two seasons behind them and move on. Though, as a NHL veteran that was scratched in eight of the last ten games, Wideman had to have felt great when his game-tying goal went in after deflecting off a number of Penguins. It doesn't fix everything of course but it was a nice change of pace for a player in the final stages of his career with the Flames.
Brouwer Makes Himself Useful
In the game against Pittsburgh it was very clear that both Sidney Crosby and Evgeni Malkin were on a mission to avenge the Pens earlier loss in the season to the Flames on their home ice. Crosby was all over the ice setting up Conor Sheary for the Pens first goal and then he controversially tied the game when he knocked a puck from Brian Elliott's glove into the Flames net with just a few minutes to play.
It looked like the game would go to overtime but then Evgeni Malkin and Phil Kessel stole a neutral zone puck and appeared to have a two on one. That's when Brouwer saved the day with a strong back-check and steal that stymied what could have been a fatal scoring chance that could have killed the Flames historic winning streak.
It was a shining moment and one that many fans thought they would see more of when Brouwer signed this past summer. At the time many fans felt that the Flames had obtained the winger the team needed to play alongside Sean Monahan and Johnny Gaudreau but unfortunately it hasn't unfolded that way at all. Despite being given considerable time on the Flames top line and getting great match-ups with lots of minutes, Brouwer hasn't been that productive regardless of the measure.
The Flames waived one of these guys and signed the other to a 4 year, $4.25M deal. pic.twitter.com/WYxKGeg6F8

— Kent Wilson (@Kent_Wilson) March 13, 2017

His analytics are terrible, his point production is low and the only thing he does consistently well is hit the opposition.
This isn't the kind of value that fans or the organization were seeking when he inked a 4 year, $4.25 million dollar deal. It's also the biggest reason many wish the Flames had re-signed Paul Byron for a much lower price tag and are suggesting that Brouwer could surprisingly be left exposed in the upcoming expansion draft.
Let's just hope he lives up to his reputation for being a playoff performer or his contract could be an albatross hanging around the neck of Brad Treliving for quite some time.
Is Steady Engelland Too Expensive?
Most people couldn't believe that the Flames would pay almost $3 million a season for three years to acquire a solid veteran like Engelland to play as their 5th or 6th best defenseman. It was perhaps a high price to pay but I would argue that no defenseman on the team has been more consistent to earn his salary throughout the entire season than Engelland.
It's also why I was so pleased to see him open the scoring for the Flames against the Penguins in what was probably the single most exciting hockey game that the Flames have played this season.
Engelland has averaged around 18 minutes of ice time this season and ranks second among all Flames defencemen with a plus/minus of plus-nine while being a steadying influence regardless of the many different partners he has played with this season. He's also on pace to exceed his career best in points due to, at least in part, his clocking of more than three minutes per game more than he averaged last season.
So, with his contract also expiring on July 1, the Flames are in a much different situation with Engelland than they are with Wideman. He, in fact, might be someone the Flames would like to re-sign though I'm sure it would be at a much lower cost.
At 35 years of age, Engelland is not a young option but his physical presence, leadership skill and strong positional play could help him go from being an over-priced scapegoat of fiscal irresponsibility to a solid and affordable defensive option in the 2017-18 season.
No matter what happens it was nice to see three players who have consistently been under scrutiny make such a big difference in a historic Flames victory. Considering the ups and downs that have characterized this season for the Flames, it's actually kind of fitting.
Jon is a Calgary resident and life-long Flames fan who is a new contributor on TheHockeyWriters.com. You can follow Jon on Twitter @sportfanyyc where you'll probably learn a bit more about sledge hockey as well.