This year's trade deadline has just wrapped up, and it was quite the snooze-fest from the Ducks camp in terms of player movement. The "twitterverse" was by no means crashing with TradeCentre hash tags involving any of their players, but just weeks ago that was not projected to be the case this time around. In fact, it was felt to bethe exact opposite.
With virtually half of the their roster — most notably Getzlaf, Perry and Bobby Ryan all being rumored as trade-bait for a rebuild or retooling — 'Seller' was the name that we gave the not-so-mighty (sorry), struggling Ducks of Anaheim.
Sellers no more, as the teams stretch of 19 wins in their last 28 games has single-handedly changed the face of the deadline.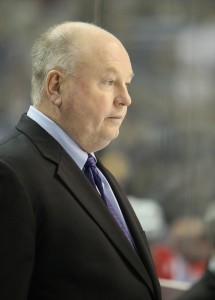 It goes without saying that many Anaheim fans are not buying into the sudden resurgence of this team under new bench-boss Boudreau, with good reason. Most may look at this scenario as worst-case, given how deep the grave is that they've already dug themselves into. By no means are the Ducks completely out of the race for 8th (currently held by Dallas) in the west, who are 6 points back with 20 games to play (10 at home), but it is always hard not to expect, in this case, that your team will likely go home empty handed without playoff hopes or a top pick in their back pockets.  Everything gets worse on deadline day.
Such is the strategic nightmare, the direction juggle that must be done by every team that ends up in this type of limbo.
The post-season in store for the Ducks may very well entail playing a game where minuses are a good thing, but this team has some components worth holding onto that few other teams have.
Just a couple:
#1.  With the 2007 Stanley Cup winning offensive core still in tact, I would implore naysayers to covet their chemistry that is surely by all accounts timeless. Also, it is worth noting that said core doesn't seem to include a resident Ovechkin kicking against the pricks under Boudreau.
 #2.  Teemu. Enough said, but I'll explain. Bias aside, whether he is my favorite player of all time or not, this man is not a man at all. Selanne is an absolute cyborg. An old, but very well oiled machine that is currently 26th in the league in scoring. You will be extremely hard-pressed to find a 41-year-old man that radiates the energy that he does.
You just don't take the chance in dealing pieces like this. Regardless of what is sure to be overwhelmingly great returns for any top player on the Ducks roster.
Plus, if Selanne was dealt to the Jets on this deadline day, I was fully prepared to start a strong, official petition to bring back the Iceman mascot, and with him the Disney nightmare WildWing jersey that captured the hearts of so many Anaheim faithfuls. If you don't remember the Iceman, I wish I were you.
It should be noted that Visnovsky, Hagman and Blake were being listed on TSN as particular trade targets. Visnovsky was absolutely not going to be moved in my opinion, but picking up Hagman or Blake as a somewhat-dispensable role guy wouldn't have been bad idea for any team in the running with a need for speed and quick hands up front. Having said that, I feel the Ducks are better for hanging onto them.
I should hope that logical fans would agree with the immediate direction that has been taken, and are relieved that GM Murray stood pat when he could be drowning in very valuable draft picks as we speak.
Follow me on twitter @AmosLegault