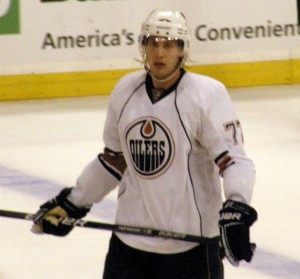 When winger Ales Hemsky was taken off the market with a new contract, many wondered what kind of action would be coming out of Edmonton on trade deadline day. The team has a lot of needs, most specifically on defense. They have good puck movers in Ryan Whitney, Tom Gilbert and Jeff Petry, but are in need of more physical defensive defensman. There were very few trades in the early going of the day, and the Oilers were one of those few. With Petry's emergence on the blue-line, someone was going to be expendable, and it was Tom Gilbert.
In six seasons with the Oilers, Gilbert had 33 goals and 158 points. His career plus/minus total was -29. Gilbert scored a career high 13 goals in the 2007-08 season, but hasn't hit more than 6 in a year since then. He had 3 goals and 17 points so far this season. He's seen as mainly an offensive defenseman and had struggled in his own zone over the past few years. The Oilers traded Gilbert to the Minnesota Wild for defenseman Nick Schultz. Schultz has spent all 10 of his seasons in Minnesota, and complied 26 goals and 128 points. He's more of a defensive type guy, and at 6″1 and 200 pounds should fit in nicely in a top four role with the Oilers. Both players are 29, and both players have two years left on their contracts, but they have very different styles of play. Schultz will be part of the Oilers shut-down pairing, and his experience will be a big boost for the blueline.
Gilbert spoke very quickly after the trade happened, expressing his excitement to head to his native Minnesota. Schultz, on the other hand, along with his teammates, was very stunned at the deal. But Schultz mentioned that he cheered for the Oilers growing up, and he's excited to be a part of what they're building there. For Gilbert, while it's always hard to say goodbye to a place you've been a long time, it's also nice to be heading home.
"He was a big part of this team, so it's tough to see him go. But he's a Minnesota boy so I'm also happy for him." – Oilers Ryan Jones on Gilbert. (Edmonton Oilers)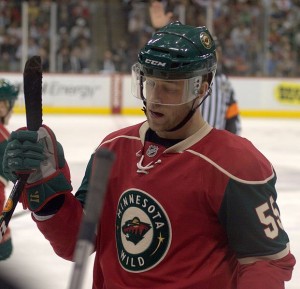 The Oilers were quiet for the rest of the day, but that can be attributed to a number of factors. So many teams are on the playoff bubble, and therefore are being very careful about what and who they are giving up. The Oilers also wanted to hang onto a few more assets because they believe they are closer to contending, as appose to last few seasons. But the market is a tough one due to the impending CBA changes, so there isn't a lot of surprise that it's been a quiet day. GM Steve Tambellini had this to say on his team's action:
"There's great flexibility of where (Schultz) can play- both on a more defensive pairing or with a puck moving partner. We are pleased with today. Our scouting staff have worked very hard the past few months. They did a great job". – Steve Tambellini (Edmonton Oilers)