He just needs a little more confidence.
That's what everyone was saying and hearing when Ottawa Senators forward Drake Batherson was discussed.
Evidently, he has that confidence and more.
Batherson's snipe from the high slot laser beamed past Calgary Flames' goalie David Rittich Monday night, giving the 22-year-old winger goals in six straight games.
"I've been getting shots all season and they seem to be going in now," Batherson said in a media Zoom call Saturday. "So I'll keep shooting."
After one of the worst starts in franchise history, the Senators have won six out of nine games heading into Tuesday night's game in Montreal.
"We're just gelling as a team overall," Batherson said. "I've been getting some looks and creating chemistry with Timmy (Stützle) and whoever is playing centre right now. Hopefully we can keep building off that."
In Monday's 5-1 win over the Flames, Batherson scored two goals. A few minutes after rifling his first one past Rittich, he intercepted a clearing pass from the Flames goalie and beat him for his second goal. Batherson now leads the Sens with 17 points and has moved into a tie with Brady Tkachuk for the team lead in goals with nine.
"Everything I'm shooting is going in," Batherson said on a Zoom call after Monday's win. "The boys are making some great plays for me. The second one was lucky tonight."
Tied Franchise Record
Batherson is the first member of the Senators to score in six straight games in 11 years when former captain Jason Spezza notched goals in six straight. Other Senators to accomplish the feat are Dany Heatley, Daniel Alfredsson and Bob Kudelski. Only six players have had longer goal-scoring streaks, and the group of players Batherson may join is staggering. Teemu Selanne had an eight-game streak and then a nine-game streak in the 1992-93 season. Pavel Bure also had an eight-game streak. Steven Stamkos, Alex Ovechkin, Ilya Kovalchuk and Eric Lindros have all had seven-game streaks.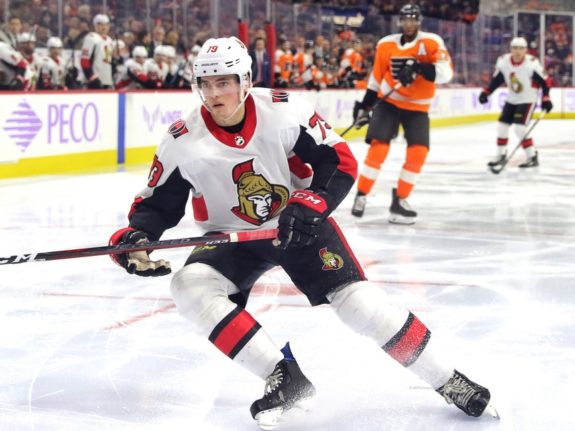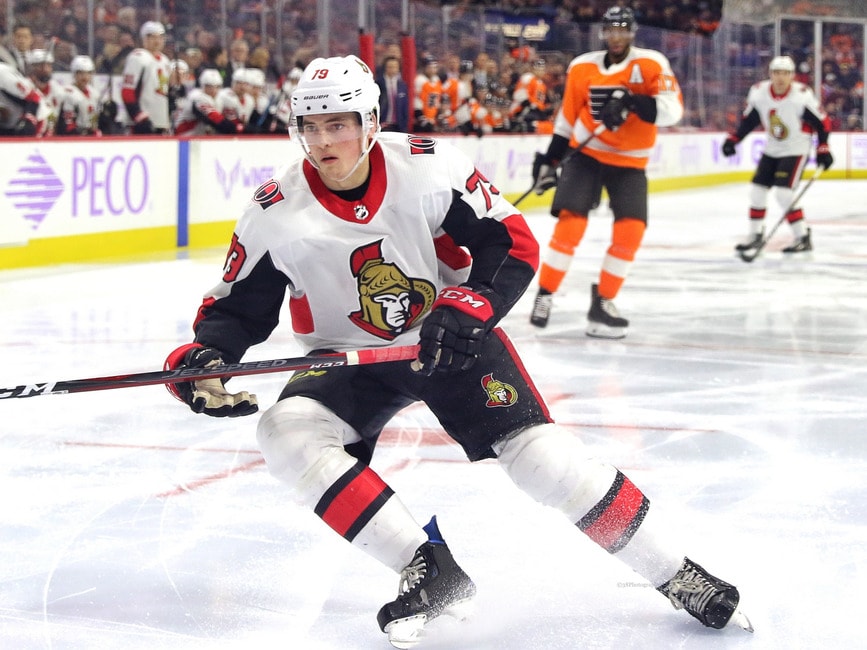 While Batherson's breakthrough may seem like a from-out-of-nowhere scenario, it is more of an it's-about-time situation for others. Last season, he was sixth in AHL scoring, with 16 goals and 38 assists for 54 points in 44 games. He was the only player in the top 20 in scoring who played fewer than 45 games and one of only three who played fewer than 50.
The Belleville Senators were well-represented in the 2019-20 AHL scoring race. In addition to Batherson, Josh Norris was fourth in scoring with 31 goals and 30 assists for 61 games on his way to being named the league's rookie of the year. Alex Formenton, who may be the next big offensive weapon to join the Senators from their AHL affiliate, was seventh in scoring with 27 goals and 26 assists for 53 points in 61 games.
Logan Brown is also in the pipeline. He had a goal and seven assists in 23 games in Ottawa last season but was impressive in Belleville. Brown scored seven goals and had 21 assists for 28 points in 25 games with the B-Sens. With Derek Stepan now out for the season, there is an opening for a playmaking centre in Ottawa. If Brown gets off to a hot start with Belleville, he may get a shot.
Batherson burst onto the future star radar at the 2018 Word Junior Championship, where he scored seven goals in seven games for Team Canada. Batherson was born in Fort Wayne, Indiana, while his father, Norm, was playing for the Fort Wayne Komets. Norm led the Acadia Axemen to a Canadian university championship and then signed to play for the Senators' AHL affiliate in Charlottetown, PEI. After Fort Wayne, he spent six seasons in Germany. Drake was introduced to the game as a child in Europe and then jumped right into the Canadian Minor Hockey system when his family moved to New Minas, Nova Scotia.
Sid, Nate, Brad…and the Drake
In the offseason, pre-pandemic, Batherson got the opportunity to train and play on the ice with a few other notable Nova Scotians. Sidney Crosby, Nathan MacKinnon and Brad Marchand, three superstars and the nucleus of Canada's Olympic team, invited Batherson to play with them regularly. The experience helped him tremendously.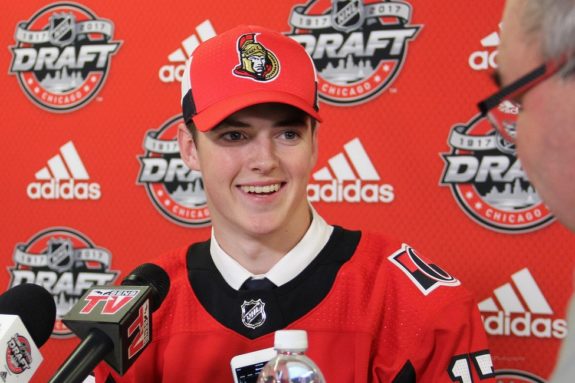 "They play at a pretty high pace," Batherson said in a 2019 interview of Crosby, Marchand, MacKinnon and the other NHL players he spent three summers on the ice with two to three times per week. "The biggest thing I learned from them is their work ethic. Even though they are the best players in the world, they work really hard. That's why they are so good. I have learned a lot from them."
Heading into this season, the Senators were hoping that Batherson could continue to develop and become a top-six forward in the NHL.
It looks like he is already there.
---
---
Jeff Morris has been a hockey writer for more than 30 years. He began his career working for small town newspapers in Eastern Ontario before becoming the editor of Canadian Sports Collector magazine in St. Catharines, ON. While there, he also freelanced as a Buffalo Sabres beat writer. Morris would move on to Dallas to become the NHL brand manager at Pinnacle Brands, Inc. From there, he worked in the sports trading card and collectibles division at Shop At Home TV in Nashville and Denver, and then moved to Seattle to be the VP of Marketing at Pacific Trading Cards, Inc. in Seattle. He had continued to cover the NHL as a freelance writer, and while in Seattle, he became a weekly hockey columnist for ESPN.com. During the 2005 NHL lockout, he returned to Ottawa and became a newspaper and magazine publisher and editor, and was also an NHL contributor for Fox Sports Radio. He also began covering the NHL for Hockeyology.com, and also covered the Ottawa Senators for his own publications. He went to Carleton University to study journalism, and graduated as the school's all-time scoring leader in football and was a conference all-star three times. He had several pro tryouts and played semi-pro football for 10 years while pursuing his career as an NHL writer. He remains involved in football as a coach and referee, and is a Canadian Football League off-field official.